Facelift with Dermal fillers Case #1024
By replenishing the lost facial fats, dermal fillers such as Juvederm Volux and Restylane Volume are effective for a facelift. The fillers are cross-linked hyaluronic acid gel devices implemented by certified cosmetics injected on the dermal level. The procedure results in an aesthetic improvement in the facial anatomical feature without any therapeutic effect.
Dermal Fillers injection
Different cosmetic injectors have different techniques for dermal filler injection. Therefore, the HA filler, such as Juvederm, is only a tool implemented according to the professional opinion of the injector after a mutual agreement with the client.
Case 1024 
A client in her mid-sixties with apparent fat loss and facial skin sagging. The Albany Cosmetic and Laser Center team injected the fillers using a TSK 25G blunt cannula for better results and a lower risk of share needle injection.
Results of dermal fillers for a facelift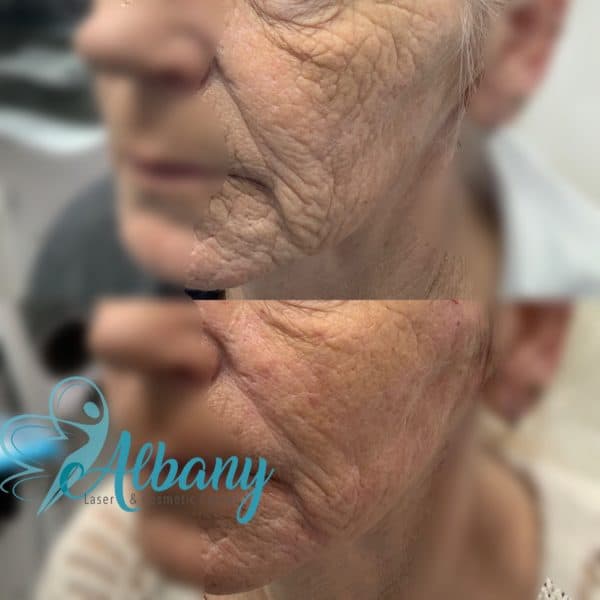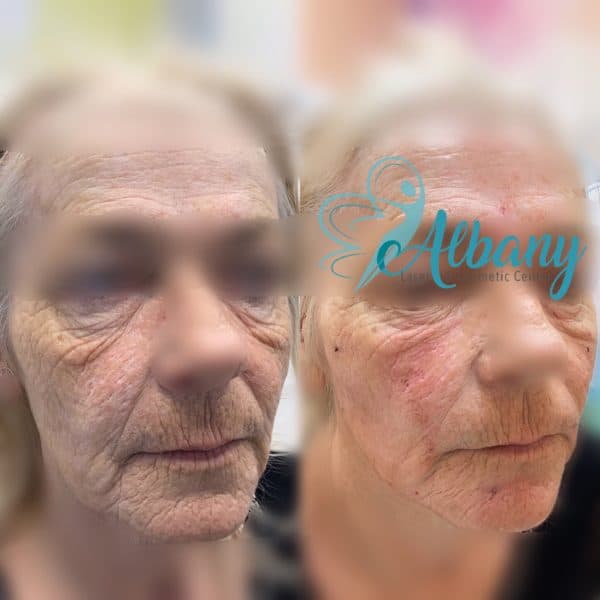 What is the definition of a liquid facelift?
A liquid facelift involves numerous injections of dermal fillers, which are substances that restore facial volume and give the face a youthful appearance. "The ultimate goal is to plump up the skin," Ishii explains. "The benefit of this operation is that it is frequently completed in a single session."
Before beginning, your doctor will numb the region using a local anesthetic. Each injection takes only a few minutes and can treat a variety of places, including the temples, lower eyelids, and Flabby cheeks; the nasolabial folds, also known as marionette lines, are located between the nose and lips. Creases next to the mouth that result in jowls
The facelift cost varies according to the amount of filler used by the surgeon and your location. "Pricing in Edmonton is different than in Baltimore," Dr. Alhallak explains.
Different Types of Dermal Fillers for Facelift
Today, you can choose from various injections when undergoing a liquid facelift. Because dermal fillers do not last indefinitely, you will require periodic injections to preserve your results.
Popular fillers include the following:
Hyaluronic acid: This is the most often utilized type of filler. The results last approximately eight months and are fully reversible – if you are unhappy with the appearance, doctors can inject a chemical to break the hyaluronic acid.
Calcium hydroxyapatite: These irreversible fillers take 12 to 16 months to degrade.
Poly-L-lactic acid: This type of dermal filler increases collagen formation and lasts up to 24 months. The results take time to manifest, and it takes three to four injections throughout sessions.
Collagen: Collagen and fat injectable fillers, often known as soft tissue augmentation, are a temporary therapy option for wrinkles and scars. This filler category involves fat grafting from the patient's own body. Treatments for soft tissue augmentation typically last three to twelve months.
Among the promising new treatments is platelet-rich plasma that we take from the patient's tissue. The practitioner injects the plasma back into the patient's face. Plasma contains platelets and growth factors, which may encourage collagen formation. However, this is not confirmed.
"The drawback is that its longevity is less predictable," Dr. Alhallak explains. "We have no idea whether it will survive six months or six years."
Filler injection teamwork
In this facelift case, the following team members collaborated: R.N Dima Omran, Dr. Kamal Alhallak (Ph.D. in Pharmacy), and M.D. Dr. Salem Tomi