facelift without surgery
Nonsurgical facelifts have been performed by healthcare providers for many years. Men and women are becoming more aware of nonsurgical procedures as they become more safe and successful. According to the American Society of Plastic Surgeons (ASPS), the United States performed over 15,700,000 minimally invasive procedures in 2017. What is a nonsurgical facelift, exactly? Allow for an explanation from a board-certified plastic surgeon.
What exactly is a nonsurgical facelift?
A nonsurgical facelift combines non surgical and minimally invasive techniques to rejuvenate and renew the appearance. In comparison to surgical facelifts, these procedures do not require large incisions, general anesthesia, or an overnight stay in the hospital. The minimally invasive treatments allow patients to be in and out of the doctor's office quickly, with minimal post-operative discomfort and downtime. Despite the fact that you will not be "going under the knife," the anti-aging benefits of a non surgical facelift are enormous.
Nonsurgical Facelift Benefits
Quick
Minor Disappointment
No general anesthesia will be used.
less costly
Reversible
They are administered by other health care providers, such as nurses and pharmacists.
Components of a nonsurgical facelift
Each nonsurgical facelift is customized to the patient's unique needs. Numerous non invasive treatments are available for fine lines, deep creases, sagging skin, thinning lips, sunken cheeks, large pores, acne scarring, and volume loss in the face. The following are some of the most frequently used components of a nonsurgical facelift:
Dermal Fillers
Dermal fillers play a significant role in nonsurgical facelifts. These smooth-gel injectables instantly restore volume to the cheeks, temples, lips, and area around the eyes. Sunken areas are plumped, and dark shadows are eliminated, creating a youthful glow. When used in conjunction with the Nasolabial Folds or Marionette Lines, fillers can help define and smooth tissues for a wrinkle-free appearance. Dermal fillers are available in a variety of materials, including moisture-retaining Hyaluronic Acid (HA). Their plumping and smoothing properties may last up to a year.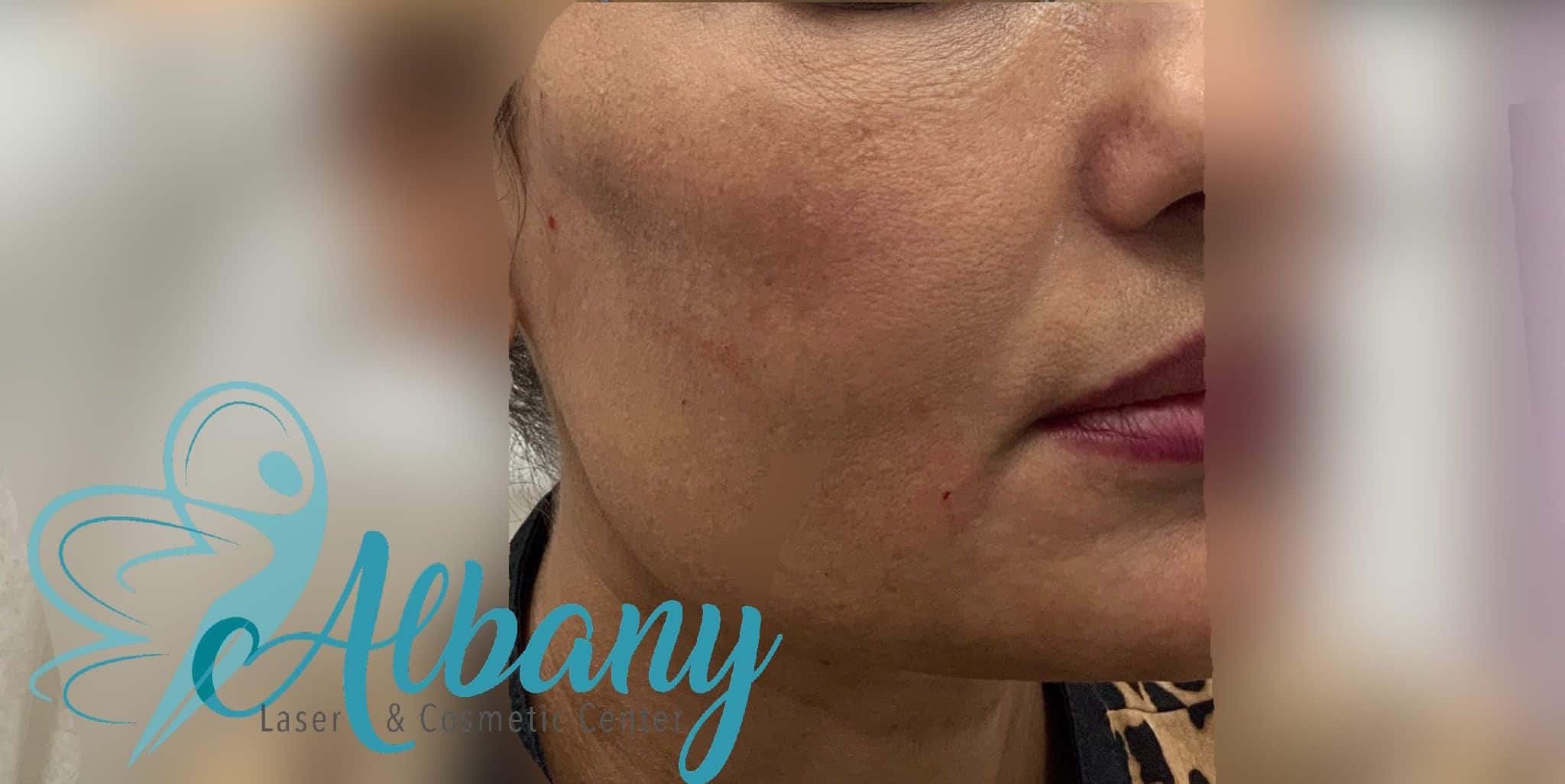 Botox injections for dynamic lines
Botox is a critical component of the nonsurgical facelift puzzle because it offers unmatched wrinkle reduction. Botox can be used to reduce the appearance of any dynamic wrinkle, including those on the forehead, frown lines, and crow's feet. Botox temporarily relaxes the targeted muscle, smoothing wrinkles associated with repetitive expressions. Although Botox does not immediately reduce wrinkles, patients should expect to see results within one to two weeks. The effects of Botox can last up to three months.
Threads to repair sagging skin
Threads in a variety of colors and shapes are available and are approved by Health Canada. Threads work by mechanically lifting the skin and stimulating collagen synthesis.
What happens following the procedure?
To maintain the nonsurgical facelift's optimal results, noninvasive treatments must be repeated every few months. Bear in mind that the more committed you are to maintaining these nonsurgical treatments, the fewer additional treatments you may require overtime. Because the skin and muscles relax following a Botox treatment, expression lines do not worsen, implying that less product may be required in the future to achieve comparable benefits. Additionally, the HA in dermal fillers stimulates the production of collagen in the body, resulting in a robust scaffolding layer beneath the skin. Due to the shallowness of the wrinkles, fewer syringes of filler may be required later.
All Inquiries
For all service inquires, please fill out the form and we'll get back to you as soon as possible.
We'll be happy to answer all of your questions and make sure you have an amazing experience at our salon.
Albany Cosmetic and Laser Center
Where To Find Us