SMILE LINES TREATMENT WITH BOTOX
Can Botox help remove smile lines? To find out if Botox for smile lines works, Read on. You may have heard this adage… Always laugh when you can, it helps you heal.
Yes, this is true, but who would have thought that laughing a lot comes at a cost? Years of talking, smiling, and laughing can cause lines to develop around the mouth. For most people, laugh lines can affect their confidence. These creases and lines run from one part of your nose to the side of your mouth. Over time, this may cause your face to lose volume and elasticity, which accompanies aging. Smile lines can make you look unhappy, stressed, and unhappy. But you can change this, but first, let's find out what causes these laugh lines and the available treatments.
What are the types of smile lines?
Smile lines are fine lines that are part of facial expressions. There are three types of smile lines: the perioral lines, Periocular lines, and nasolabial lines.
Perioral lines
These are fine grooves that develop by the upper lips. They are caused by smoking or pressing your lips together and outwards. They are called smoker lines, but it does not everyone has them are smokers.
Nasolabial lines
These are folds that occur along the sides of your mouth. Further, the lines develop from talking, giggling, and smiling years. In all cases, these lines occur when your skin stops supporting your lip's movement.
Periocular Lines (Craw feet)
There are the lines that appear to the lateral (outside) the eye sides when we smile.
Are women more prone to smile lines than men?
As people age, wrinkles develop in different parts of their faces. They occur under the eyes, the forehead, around the mouth, and between the eyebrows. While everyone develops smile lines eventually, women develop wrinkles around the mouth more than men. This is due to the structure of their skin. Like other wrinkles, laugh lines are caused by genetics, aging, and sun exposure. Other factors that cause smile lines include loss of elastin and collagen and weight changes.
Botox for smile lines
According to research, smoking, sun damage, and aging can make these lines apparent when your face is at rest. That doesn't mean you should stop laughing. Try one of the most effective treatments for these smile lines – Botox. You may have heard of Botox, but are you aware that it helps reduce the appearance of perioral smile lines?
Yes, Botox, also known as Botulinum toxins, Dysport, and Xeomin, can reduce the look of laugh lines. Also, it helps rejuvenate the face for smoother and softer skin.
How does Botox work?
Botulinum Toxin injections help relax facial muscles that cause wrinkles. So, when you smile, your skin won't fold around your mouth. Since Botox functions by paralyzing facial muscles temporarily, you'll notice optimal results within 5 to 7 days. Also, deep dynamic wrinkles will improve gradually, alongside early improvements shortly after treatment.
Further, the results will keep improving until you look your best. But, the effects of the treatment wear off gradually over the next 4 to 6 months. Afterward, you'll need to retreat the smile lines.
Are there any treatments aside from Botox for smile lines?
While Botox for smile lines gives results, some people combine the treatment with skin resurfacing procedures. Dr. Alhallak (Ph.D. in Pharmacy) of Albany laser and cosmetic center says different types of lasers can further improve the appearance of the skin. Whether Botox is used together with lasers or not, the effects of both procedures last for approximately three months. Afterward, you'll need to visit your doctor (or injection-certified pharmacists)for another procedure.
Are you scared of needles? The FDA does not yet approve a topical Botox formulation. But If the FDA approves it, you can smooth out smile lines and crow's feet without Botox injections.
Hyaluronic acid fillers
For smile lines, hyaluronic acid fillers like Juvéderm, Restylane, Juvéderm Voluma, and Sculptra are good options. Your doctor (or injection-certified pharmacists) will apply these solutions through injection along the lines. These lines run from your nose to each side of your mouth. Hyaluronic acid fillers will help fill in the creases, and the results can last for six months to one year.
Those annoying folds and smile lines, Juvéderm target this by restoring hyaluronic acid in the skin. Overall, Juvéderm helps reduce the look of folds and wrinkles around the mouth.
Presently, the use of dermal fillers has evolved. Fillers do not only reduce wrinkles, but they also help add volume to the face, which occurs with aging. One benefit of dermal fillers is that the effects occur immediately. Plus, they're reversible. Suppose you wish to change the look after the treatment. In that case, your doctor (or injection-certified pharmacists) can apply hyaluronidase to reverse the effects.
Thermage
Thermage helps diminish jowls sagging skin and improve laugh. You may ask how. Thermage transfers heat to the (epidermis, which helps increase collagen production. Also, it helps tighten any existing elastic or collagen in the skin. The procedure involves radiofrequency technology, which emits electrical currents. This current makes the collagen in your skin contract and reform gradually. No wonder patients feel dramatic smoothing and tightening of their skin over six months after treatment. You don't need recovery time for this procedure since it doesn't affect the outer layers of the skin. Do you know the most (amazing thing of all? The effects of one Thermage treatment last up to 10 years! What this means is you can laugh off your smile lines.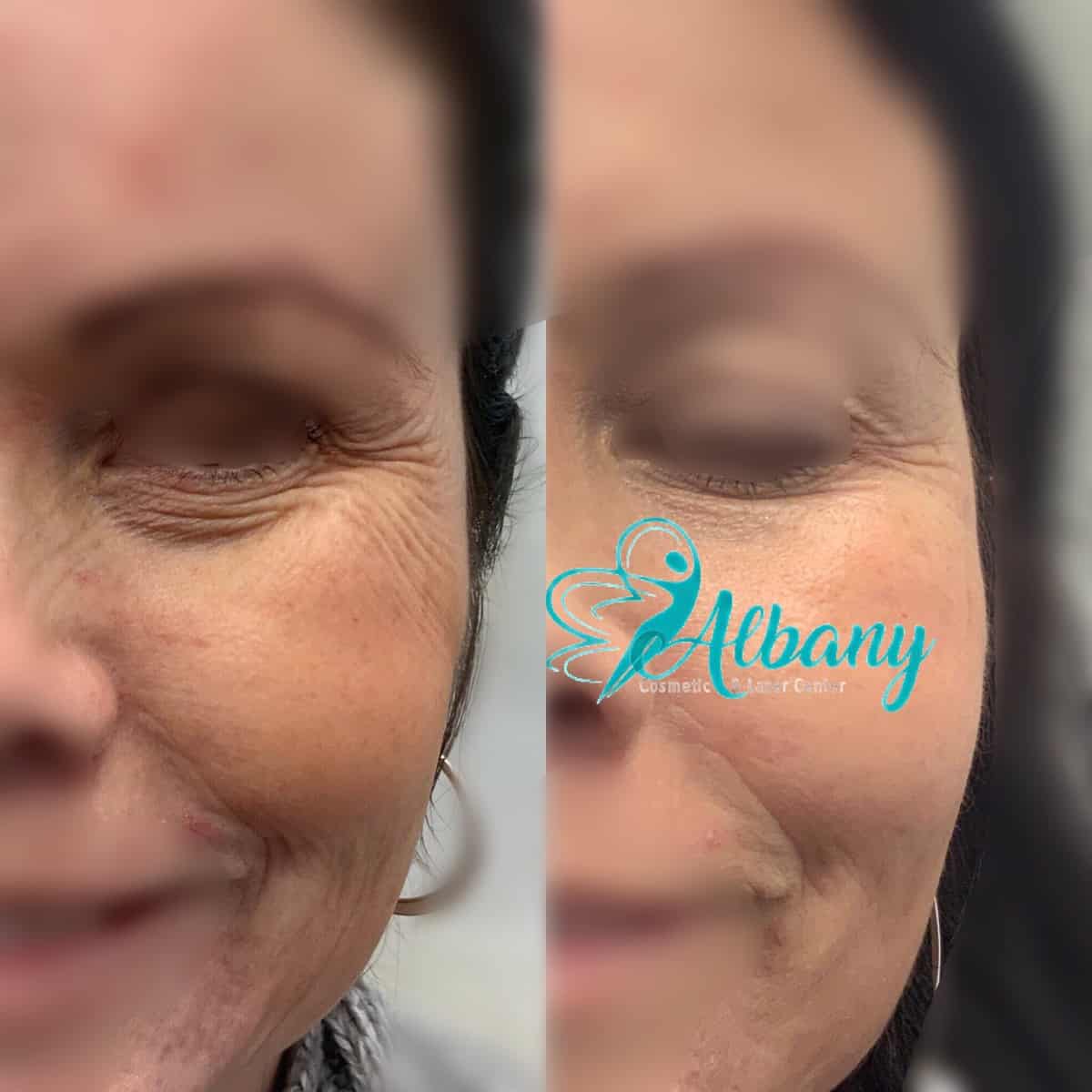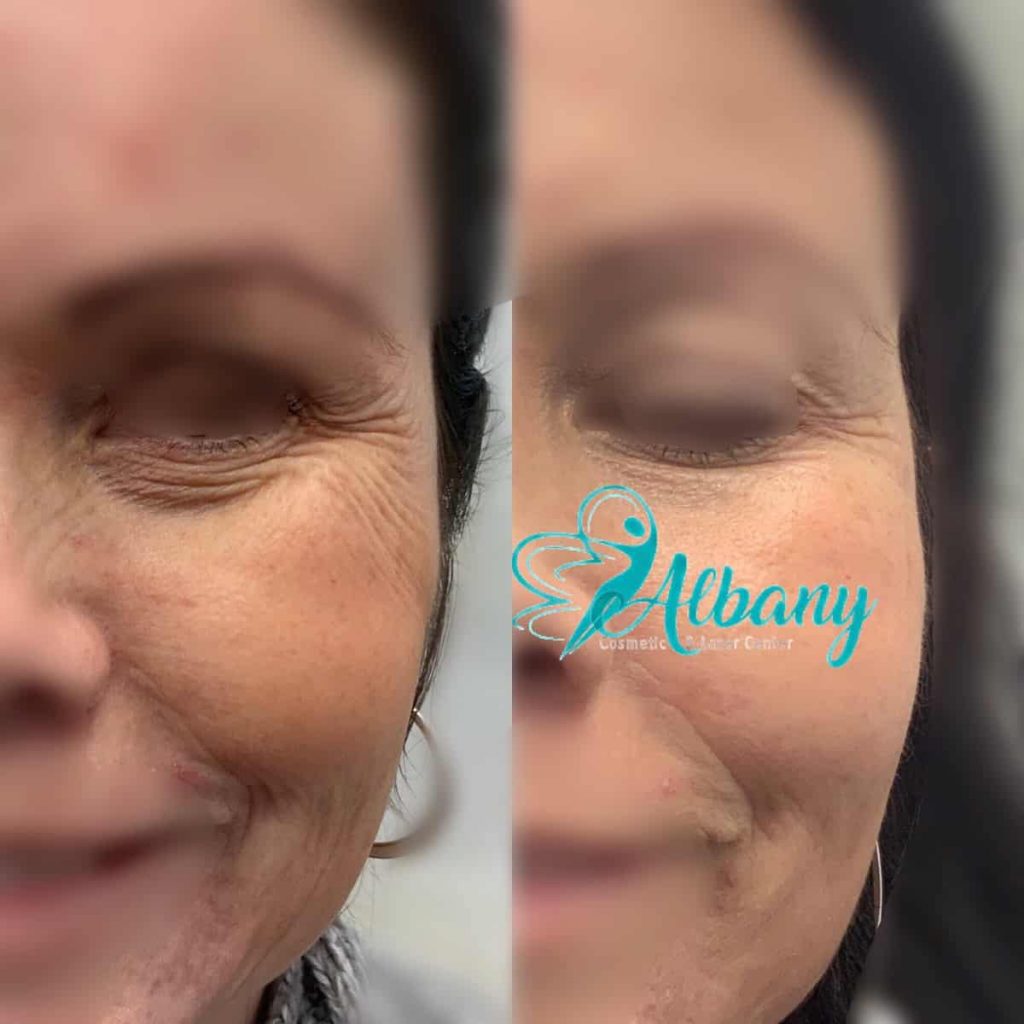 How to prevent smiles lines and wrinkles
We're bound to experience aging, but there're steps to take to prevent smile lines and wrinkles. While Botox for smile lines can help diminish wrinkles, always wear sunblock, drink a lot of water, and exercise often. If you're ready to remove those smile lines and creases on your face, you have many options. Your esthetician will examine the health of your skin and the depth of the smile lines. Afterward, your doctor (or injection-certified pharmacists) will recommend the right treatment for you.
At Albany laser and cosmetic center, we offer various skin enhancement procedures. We have certified and experienced staff who various aesthetic procedures. What's more, we use only advanced techniques and innovative laser technology. To learn more about Botox and other treatments we offer.
We look forward to helping you remove your smile lines.