Navigate the Treatment Details
Discover the Power of Ultherapy in Edmonton
Welcome to Albany Cosmetic and Laser Centre, your premier destination for Ulthera and Ultherapy services in Edmonton and St. Albert. We are proud to offer this cutting-edge, non-surgical skin lifting and tightening treatment to help you achieve a more youthful and revitalized appearance. With our state-of-the-art facility and a team of experienced professionals, you can trust us to deliver exceptional results. Explore our website to learn more about Ultherapy and discover how it can transform your skin without the need for surgery or downtime.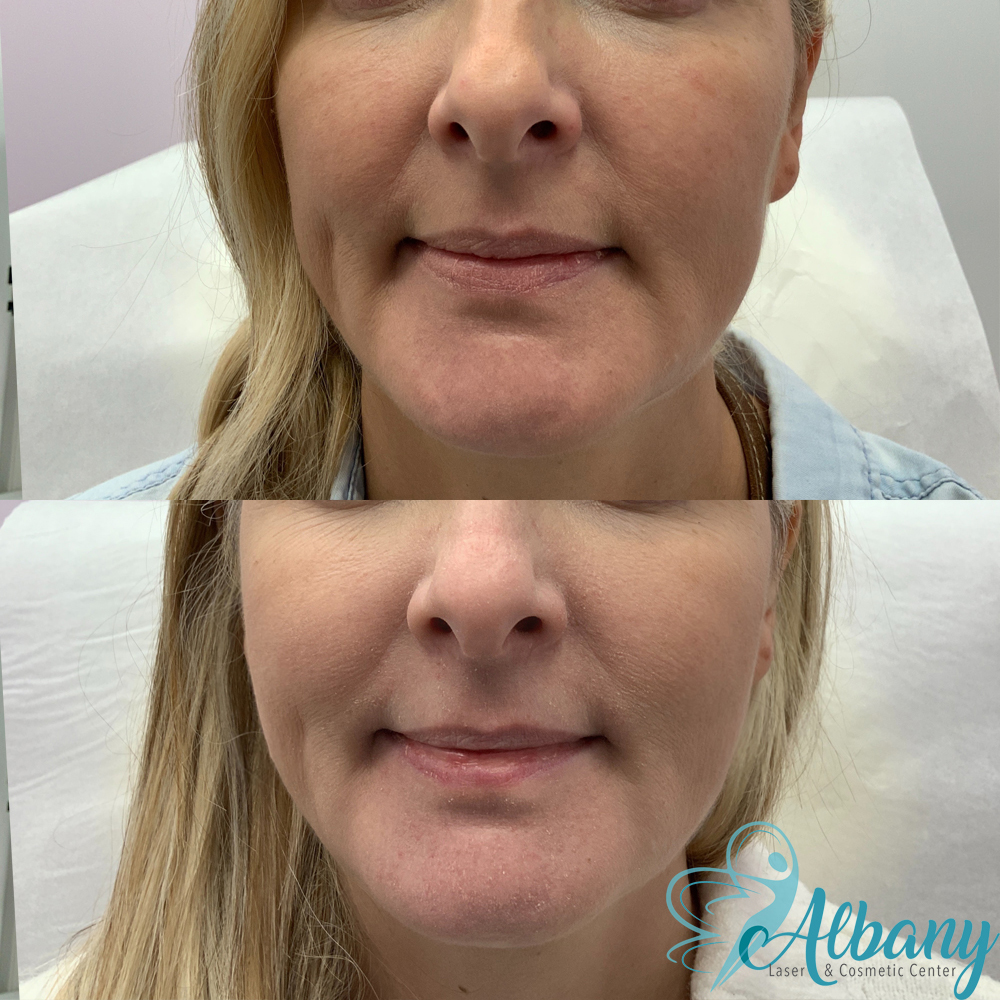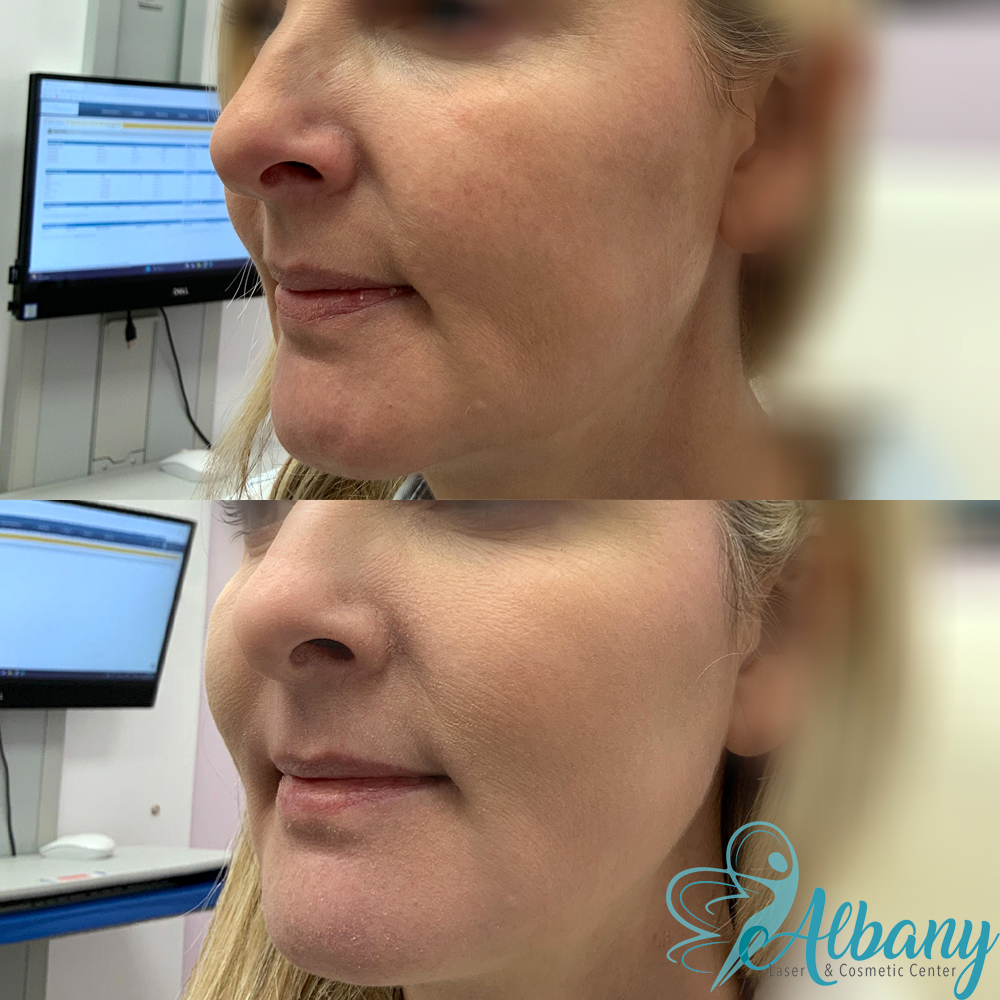 The results of Ulthera, or Ultherapy, are both immediate and progressive. Directly after the treatment, some patients may notice an initial effect. However, the ultimate lifting and toning will take place over 2-3 months as tired collagen is replaced with new, more elastic collagen.
The skin begins to lift and tighten on the neck, chin, and brow, creating a more youthful appearance. In some cases, improvements can continue for up to 6 months post-treatment.
The results are natural-looking and noticeable without radically changing your facial features.
It's important to note that while Ultherapy is not a replacement for a surgical facelift, it's a clinically proven non-invasive alternative for those not ready for surgery—and can even be an option for patients who wish to extend the effects of cosmetic surgery.
As with any cosmetic procedure, results may vary from person to person, depending on the body's natural aging process and lifestyle factors.
Client Reviews and Testimonials
I recently had Botox treatment at Albany Clinic for my frown. I'm really happy with the results. Moreover, the staff was friendly and professional, making me feel at ease throughout the procedure. They use freezing cream and leave it long enough to work. So I highly recommend them!
"I'm very happy with the results of the laser hair removal at Albany Centre. The procedure was quick and comfortable. I did not feel rushed and provided me with many towels to change. So, I recommend them to anyone.
"I had an excellent experience with Albany Centre for lip fillers. Moreover, the team was so welcoming, and the results were just what I wanted. My lips look natural but bigger and with a heart in the middle!"
Witness the Difference That Our Cosmetic Treatment Made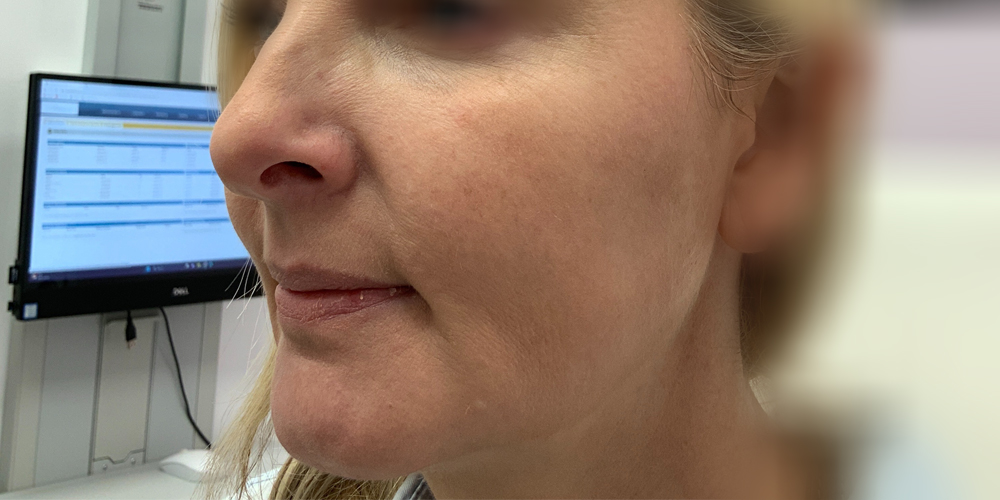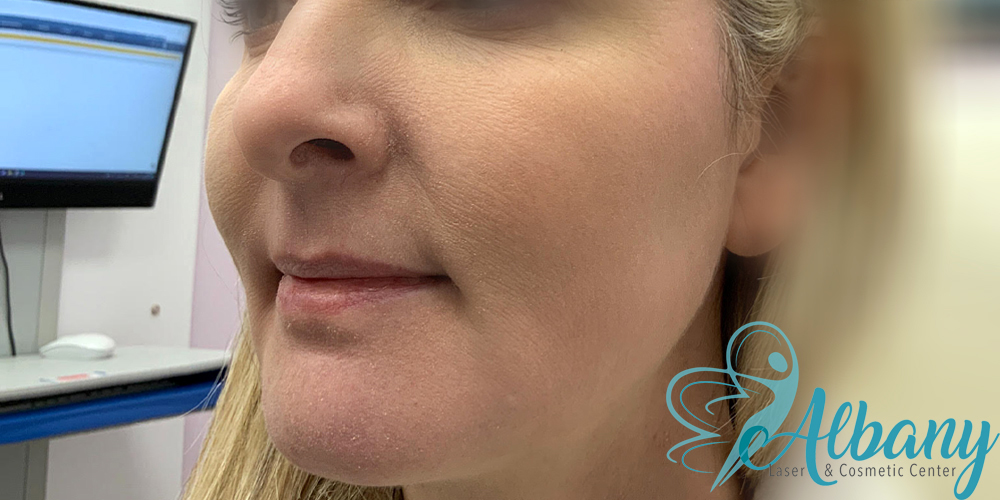 Move the slider to see the difference after the treatment. 
Discover Ultherapy and Feel the Difference: Non-Invasive Skin Tightening Solutions
What is Ulthera? The Science Behind Non-Surgical Skin Lifting
Ultherapy is a non-surgical skin lifting and tightening treatment that utilizes High-Intensity Focused Ultrasound HIFU energy to stimulate collagen production in the deep layers of the skin.
This revolutionary treatment targets the foundational layers of tissue, helping to gradually lift and tighten sagging skin without any incisions, needles, or downtime.
FDA-cleared and clinically proven, Ultherapy is safe and effective for treating the face, neck, and décolletage.
The treatment can help you achieve a more youthful appearance by addressing common concerns such as sagging eyebrows, loose skin on the neck, and visible lines and wrinkles on the chest.
Discover the benefits of Ultherapy and how it can help you achieve your aesthetic goals at Albany Cosmetic and Laser Centre.
What to Expect During Your Treatment
At Albany Cosmetic and Laser Centre, we are committed to ensuring that your Ultherapy treatment is tailored to your unique needs and desired outcomes. Here's what you can expect during your Ultherapy journey:
Consultation: We begin with a thorough consultation to discuss your concerns, assess your skin, and determine if Ultherapy is the right treatment for you.
Treatment plan: Our experienced team will create a customized treatment plan to address your specific concerns and aesthetic goals.
Treatment session: During the session, our skilled practitioner will apply the Ultherapy device to the target areas, delivering focused ultrasound energy that stimulates collagen production.
Recovery and aftercare: Ultherapy requires no downtime, and you can return to your daily activities immediately. You may experience some mild redness and swelling, which typically subsides within a few hours.
Results: Results will gradually develop over the course of 2-6 months as your body continues to produce new collagen, providing you with natural-looking skin lifting and tightening.
Ulthera vs Laser Treatments: Understanding the Key Differences
Ulthera, also known as Ultherapy, and laser treatments represent two distinctive approaches to cosmetic treatments, each with its own set of strengths.
Ulthera is a non-invasive procedure that uses focused ultrasound technology to stimulate collagen production in the deeper layers of the skin. This helps to lift and tighten sagging skin, primarily on the neck and under the chin, and even on the eyebrow.
Unlike Ulthera, laser treatments work by emitting light energy that is absorbed by the skin, converting it into heat. This heat can remove or resurface the skin, stimulate collagen, or target specific pigments or vessels depending on the type of laser used.
It's commonly used for addressing issues like wrinkles, spots, scars, or veins on the surface of the skin.
Therefore, while both methods aim to improve the appearance of the skin, Ulthera focuses on deep tissue lifting and tightening, while lasers focus more on the skin's surface and pigment changes.
Ultherapy Cost in Edmonton
At Albany Cosmetic and Laser Centre, we believe that investing in your skin's health and appearance should be accessible to everyone. We strive to offer competitive pricing for our Ultherapy treatments, ensuring that you receive the highest quality care at an affordable cost.
Our pricing for Ultherapy treatments varies based on factors such as the area(s) being treated and the individual needs of each client.
During your consultation, we will provide you with a personalized quote tailored to your specific treatment plan.
We understand that financing your treatment may be a concern, which is why we are pleased to offer flexible financing options to help you achieve your aesthetic goals without breaking the bank. Contact our team to learn more about our financing options and how we can help make your Ultherapy treatment a reality.
Why Albany Cosmetic and Laser Centre is Your Top Choice
Choosing the best Ultherapy clinic requires careful consideration of several key factors. Here's what to keep in mind:
Qualifications and Experience: Ensure that the clinic has qualified and experienced practitioners who are specifically trained in performing Ultherapy treatments. Ask about their credentials, years of experience, and the number of Ultherapy procedures they've performed.
Reputation: Look at the clinic's reputation. Check online reviews and testimonials from previous patients. You may also want to ask the clinic if they can provide before and after photos of their previous Ultherapy clients.
Consultation Process: The best clinics offer a comprehensive consultation process where they explain the treatment, assess your suitability, and answer any questions you may have. They should also provide you with a realistic expectation of the results.
Facility and Equipment: The clinic should be clean, comfortable, and equipped with the latest FDA-approved Ultherapy devices. It's important that the clinic regularly updates and maintains its equipment to ensure the safety and effectiveness of treatments.
Personal Comfort: Lastly, choose a clinic where you feel comfortable. The staff should be welcoming, professional, and respectful, and should make you feel at ease before, during, and after your treatment.
Remember, investing in quality treatments from a reputable clinic helps ensure you achieve the best possible results and have a positive experience with Ultherapy.
Ultherapy Transducers: Customizing Your Treatment
Ultherapy utilizes different transducers to deliver focused ultrasound energy at various depths within the skin's layers. At Albany Cosmetic and Laser Centre, we use a range of transducers to ensure each treatment is customized to the unique needs of our clients. This allows us to target specific areas of concern and achieve optimal skin lifting and tightening results.
Our experienced practitioners select the appropriate transducer based on factors such as skin thickness, treatment area, and desired outcome. The most common transducers used in Ultherapy treatments include:
DS 4-1.5 mm
Ideal for treating delicate areas like the upper eyelids and around the eyes, targeting superficial skin layers.
DS 7-3.5 mm
This penetration depth guarantees excellent effects on wrinkles and enhances skin tightening and tone improvement. Suitable for treating the face and neck, reaching the mid-to-deep dermal layers for collagen stimulation.
DS 10-4.5 mm
The SMAS layer is located at a depth of 4.5mm from the facial surface and means a layer of tissue that covers, surrounds, and attaches to the deeper tissues and structures of the face. The facial muscle gets sagged when this layer is loosened, making you look older.
By delivering energy to the muscle fascia and creating focal coagulation points, Ulthera tightens the muscle fascia and gets excellent lifting results. Designed for lifting and tightening skin on the lower face, neck, and décolletage, focusing on the deep dermal and superficial muscle layers.
By utilizing a combination of transducers, our team can provide highly personalized treatments that address your specific concerns and help you achieve the best possible results with Ultherapy. Schedule a consultation to learn more about how our customized approach can help you attain your skin rejuvenation goals.
Ultherapy Frequently Asked Questions