THE BOTOX LIP FLIP: THE NEWEST LIP FILLER
The lips are an important part of every woman's facial beauty. They can be full or thin or just average. The lips can help add beauty to an imperfect face – talk about a beautiful smile, huh. It emanates from the lips! What's more, the volume of your lip plays a part in creating that perfect look. Hence, lip augmentation is the procedure commonly performed to enhance overall beauty. We can say thanks to Kylie Jenner that lip enhancements have become the moment's rage. After all, who doesn't want fuller and natural-looking lips!
Lip Flip in Edmonton
There is a new lip augmentation beauty trend called the "Lip Flip," It uses Botox to achieve a pout – yes, that volume you get when you push your lips forward to take a selfie. It was recently discovered that the wrinkle cure, Botox injections do wonders in contouring or reshaping the lips. This helps us achieve those perfect full lips we all want. According to each person's specific needs, it can be used either by itself or in combination with other fillers. According to Allure, the "Botox Lip Flip" involves administering Botox into the muscles around the mouth. This makes the area look more pronounced.
The Botox lip flip
Surgery? You don't want to go through with it? That means you are like me. The Botox lip flip is a non-surgical procedure designed to add fullness to the upper and lower lip. In reality, it's just an illusion as it doesn't help your pout. You know what it does – It simply relaxes the superficial layers of mouth muscles (these muscles are called Orbicularis Oris). It also flips the upper lip, giving the illusion of fuller lips. And the pain of Botox injections? It's only minimal and described as a small stinging sensation due to the injection.
Regular lip fillers are different from Botox injections.
Lip filler is made of hyaluronic acid that adds volume to the lips – whereas Botox is a toxin that, when injected, relaxes muscles. Botox adds no volume and doesn't fill out the area where injected. Everyone likes the easy way outright, but the Botox Lip Flip procedure is quite complicated. The Botox only needs to be injected into the target layers of the muscle in the right dosage.
What would this then mean for people in Edmonton?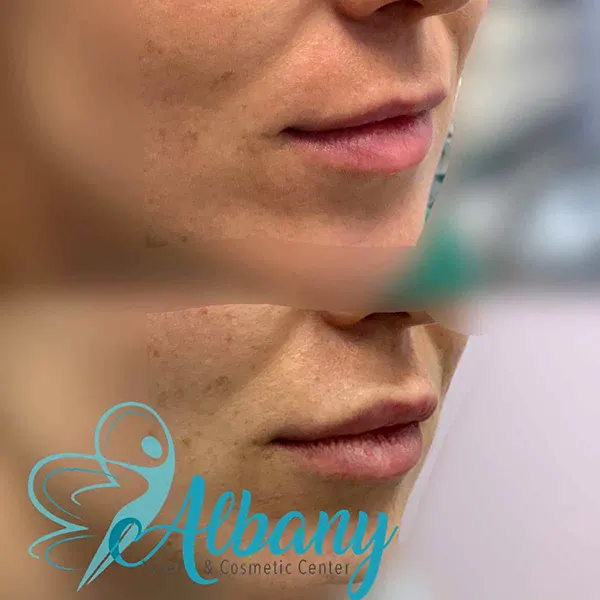 The thing is, if the procedure is not done in the right way, issues arise. This may mean that there would be no eating and drinking for you. If the doctor doesn't get the dosage right, the pouty effect won't be there for too long. ifIfour the injector uses a high dosage, there would be issues, too; therefore, professionals should only administer Botox when done right, the treatment, Botox Lip Flip, only requires around ten units of Botox (sometimes less), and the effect could last up to four months also, the cost varies from clinic to clinic his means what you'd get into clinic A is different from clinic B  Now that you know what to expect, would you want to give the Botox Lip Flip a try?
LIP FILP FAQs
Where can I go in Edmonton for the finest Botox for Lip Flip treatment?
Albany Cosmetic and Laser Centre's Expert injectors are specialists for a reason. Cosmetic injectable treatments are our specialty since we administer over 6,000 of them each year. We have a proven track record of hundreds of satisfied customers who enjoy their outcomes and our clinic's whole experience. What distinguishes us from the competition is our dedication to individualized care. We think that no two customers are the same and that this is not a one-size-fits-all approach. We must understand each client's unique face structure and aspirations.
Albany Cosmetic and Laser Centre is directed by Dr. Alhallak, a cosmetic consultant with years of expertise and hundreds of procedures. He educates and instructs other physicians and nurse injectors on a nationwide scale in sophisticated injection procedures. Dr. Alhallak has a Ph.D. in Pharmacy and Pharmaceutical Sciences from the Univerity of Alberta.
What is Botox?
We can use neuromodulators like Botox and Dysport to eliminate fine lines and wrinkles on our faces. So, what is Botox  Botox is made from a neurotoxin made by the bacteria clostridium botulinum. These bacteria also make botulinum toxins. While this may sound scary, they lay the groundwork for getting rid of stubborn forehead wrinkles and crow's feet when used in small amounts. When a skilled injector provides Botox, it can do more than make us look better  Botox may help with medical problems such as a bad headache or a lot of sweat.
I'm pregnant. Can I undergo the Lip Flip treatment?
Due to the lack of research, we do not give this therapy to pregnant women. On the other hand, Albany Cosmetic and Laser Centre believes in providing the finest skin treatments in Edmonton to everyone. If you're pregnant, we offer a variety of non-invasive light therapies and skincare products that are safe to use throughout pregnancy to help you keep a bright glow.
How long do the Lip Flip treatment's results last?
The duration of action is variable. Regularly, those new to the technique may need therapy more frequently. We provide you with just the units you need. You will only need this treatment 4-5 times each year with regular, excellent therapy.
How many units do I need for the best lip flip?
The amount of units needed varies according to the patient, the therapy areas being addressed, and the patient's prior treatment history.
Could Botox hurt me?
Any injection can cause an unpleasant response, so you should consult a health professional about the lip flip. Though the risk of bad reactions is minimal, Albany Cosmetic and Laser Centre is delighted to offer Edmonton residents safe Anti-Wrinkle treatments. Our director is often consulted when patients from other clinics report bad reactions to skin treatments.
Is this procedure painful?
When performed by a trained practitioner, anti-wrinkle treatments should be painless. At most, you will get a brief prick or pinch-like sensation.
Are there any unintended consequences?
When properly provided by a highly qualified practitioner, this therapy has an extremely low risk of negative effects. You may have some redness, but this should be Slight temporary bruising is also possible, but it is uncommon. We refer to anti-wrinkle treatments such as Botox and Dysport as "lunchtime treatments" since you may come in on your lunch hour, have your Botox, and return to work immediately.
How much does the Lip Flip procedure at the Albany Cosmetic and Laser Centre cost?
We are proud to provide Regional Pricing to ensure that you get the finest outcomes possible  Lip Flip anti-wrinkle treatments cost between $60 and $120 at the Albany Cosmetic and Laser Centre. We provide real, properly administered neuromodulators such as Botox and Dysport and quality filler at Albany Cosmetic and Laser Centre. Unfortunately, other service providers may dilute items to give a reduced unit cost. We utilize consistent, dependable materials with proper dilutions.