Botox Injections at Albany Cosmetic and Laser Centre
At Albany Cosmetic and Laser Centre in Edmonton, Alberta, Botox injections offer a safe, non-surgical way to reduce common signs of aging, such as wrinkles and fine lines. The cosmetic benefits of Botox are used to improve the appearance of facial features such as the forehead, around the eyes, nose, mouth, and jawline.
After receiving treatment with Botox at Albany Cosmetic and Laser Centre, our clients notice effects within three to five days following their appointment. Results typically last up to four months but may last longer with regular maintenance treatments.
How Many Botox Units do I Need?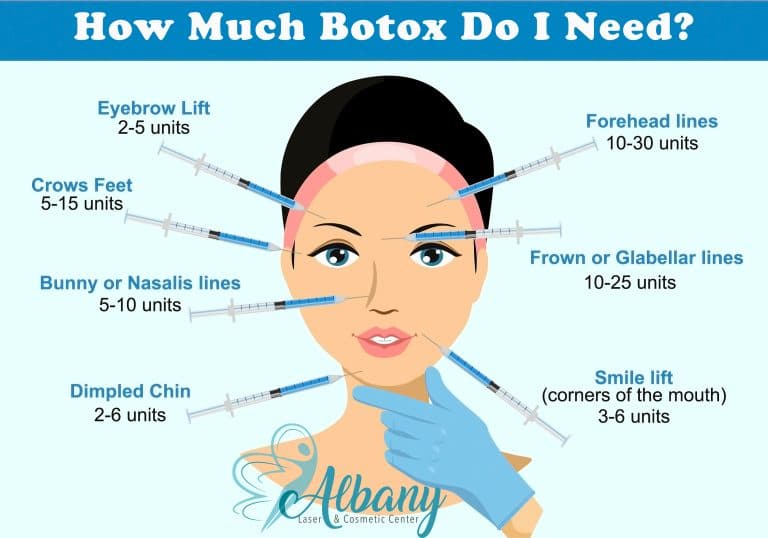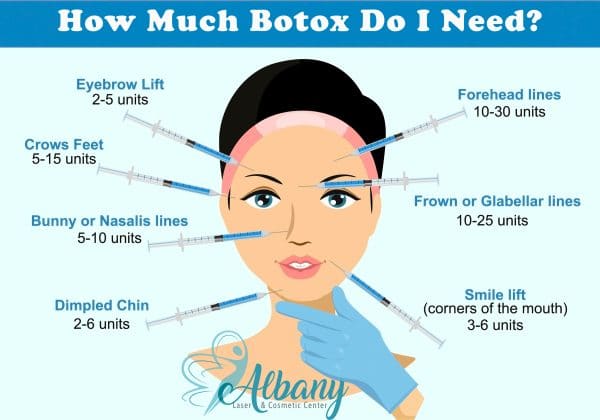 | | |
| --- | --- |
|  Area |  Number of Botox Unites |
|  Forehead Lines |  10 to 30 unites |
|  Frown lines |  15 to 30 unites |
|  Bunny lines |  5 to 10 unites |
|  Crows feet |  5 to 15 unites |
|  Dimple Chin |  2 to 6 units |
|  Eyebrow lift |  2 to 5 units |
Dysport is a type of botulinum toxin that is used for cosmetic purposes to temporarily reduce the appearance of wrinkles and fine lines. It works by blocking nerve impulses that cause muscle contractions, resulting in a smoother, more relaxed appearance. Dysport is similar to Botox in that it is a cosmetic injectable that uses botulinum toxin to produce a youthful look. However, there are differences between the two. Dysport is said to spread more easily in the target area than Botox, potentially resulting in a more natural look. Additionally, Dysport is formulated differently, and some people may find that they have a better response to one product over the other. Ultimately, the choice between Dysport and Botox depends on individual factors such as the person's specific concerns, the location and depth of their wrinkles, and the desired outcome.
Nuceiva is a neurotoxin like Botox, but it is a different molecule and is used for cosmetic treatment of wrinkles. Unlike Botox, which is derived from the bacterium Clostridium botulinum, Neuvea is derived from the bacterium Hallina rostriformis. Neuvea has a slightly different chemical structure, which may result in a longer duration of action compared to Botox. 
Who performs the Botox injections at Albany Cosmetic and Laser Centre?
Yes, Botox and fillers can be combined in the same session. Botox is used to relax the muscles that cause wrinkles while fillers add volume to restore facial contours and plump up wrinkles. Combining these two treatments in one session can achieve a more comprehensive and customized cosmetic result. However, it is important to note that the specific combination and amount of each treatment used should be tailored to the individual patient's needs and desired outcome, and should be performed by a qualified medical professional.