Botox Injections at Albany Cosmetic and Laser Centre
At Albany Cosmetic and Laser Centre in Edmonton, Alberta, Botox injections offer a safe, non-surgical way to reduce common signs of aging, such as wrinkles and fine lines. The cosmetic benefits of Botox are used to improve the appearance of facial features such as the forehead, around the eyes, nose, mouth, and jawline.
Botox treatments involve the injection of diluted botulinum toxin into the affected areas. This medicine helps relax the muscles and temporarily immobilize them so that wrinkles are less visible. At Albany Cosmetic and Laser Centre, each client's treatment plan is tailored to their specific needs and goals so that they can achieve natural-looking results without surgery or downtime.
The team at Albany Cosmetic and Laser Centre includes experienced medical practitioners who specialize in administering Botox treatments safely and effectively. They use advanced techniques that ensure minimal pain during the injections. Furthermore, patients can be assured that all products used are approved by Health Canada to ensure safety and quality standards are met.
After receiving treatment with Botox at Albany Cosmetic and Laser Centre, our clients notice effects within three to five days following their appointment. Results typically last up to four months but may last longer with regular maintenance treatments.
How Many Botox Units do I Need?
It's difficult to say how much Botox you'll require in Edmonton without knowing your individual goals and desired results. However, in general, most people require between 20 and 40 units of Botox for full coverage of the face. You may need less if you're looking to target specific areas, such as the forehead or crow's feet. The same is true if you're aiming for a more subtle effect. On the other hand, if you're looking for a dramatic transformation, you may need more. Ultimately, it's best to consult with Dr. Alhallak, who can assess your needs and recommend the right amount of Botox.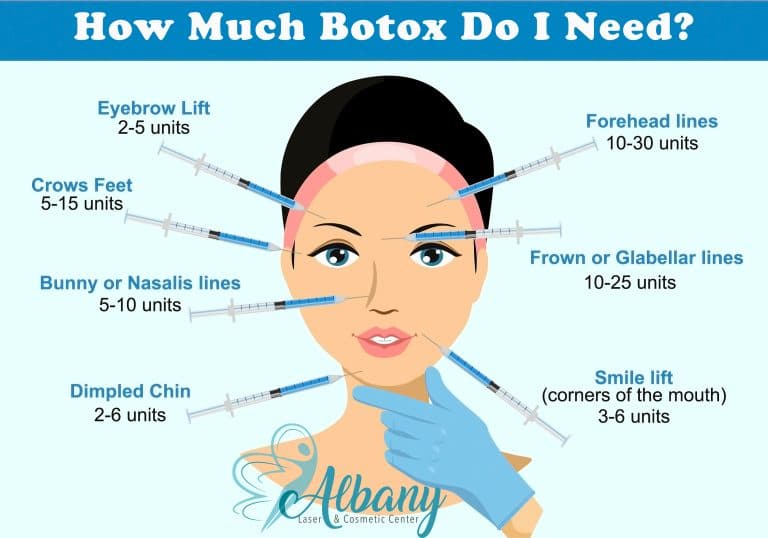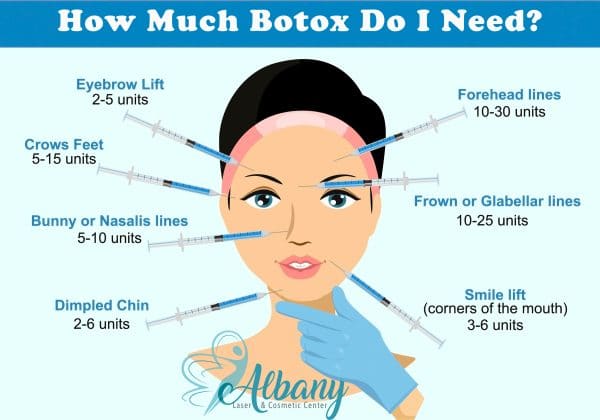 | | |
| --- | --- |
|  Area |  Number of Botox Unites |
|  Forehead Lines |  10 to 30 unites |
|  Frown lines |  15 to 30 unites |
|  Bunny lines |  5 to 10 unites |
|  Crows feet |  5 to 15 unites |
|  Dimple Chin |  2 to 6 units |
|  Eyebrow lift |  2 to 5 units |