The art of Laser skin tightening
Photoaged skin is a challenge for most women over 40 years old. The prolonged exposure to UV radiation disrupts skin structure on epidermal and dermal levels. Briefly, Keratinocyte and Melanocyte activity will be affected, resulting in irregular cellular division and melanin production. The Extracellular matrix will be changed as well due to higher enzymatic activity. The results will be rough, dull skin with pigmentation lesions and deep wrinkles.
The difference between normal and photoaged skin
With many different technologies available now, such as microneedling, fractional non-ablative laser, microdermabrasion, filler, and nanosecond laser, how an aesthetic medical professional would choose the best treatment?
First of all, at Albany Cosmetic and Laser Center, we make sure that our patient understands that 20 years of sun exposure will not be erased in one treatment, regardless of the chosen treatment. Therefore, we always offer a treatment and maintenance package rather than a single treatment.
Secondly, we try to understand the client's main complaint to be on the same page as her. Remember, it is her face, not yours. And she should be satisfied, not you. You see them only once or twice a year, but they see themselves in the mirror every day. Listen to them and try to understand their point of view.
1- If the primary complaint is dullness and rough texture, we usually recommend microdermabrasion using a silk peel dermal infusion, followed by carbon peel using the lutronic spectra nanosecond q-switch laser.
The microdermabrasion has mechanical resurfacing properties that will help to get rid of the outer layer of the skin immediately (actually, you see the debris of the dead skin in the chamber); it also helps to infuse the serum of choice into the skin, different serums are available.
microdermabrasion
silk peel
Please watch this video to know more about microdermabrasion in skin tightening.
The carbon peel is a gentle yet unique and effective laser skin peel. The technique involves using a mask of colloidal charcoal suspension on the face. The carbon particles ( The size is in the micron range)  will penetrate the disrupted epiderm; remember that the epidermis is not a fully functional barrier). Once they reside inside the top layer of the skin, these carbon particles act as powerful chromophores. The Lutronic spectra q-switch laser delivers a high energy laser beam in short pulse width ( in nanosecond range). The carbon particles will convert the laser energy to heat, and since they are buried in the skin, this will heat the skin deep inside. The results are fabulous when skin is glowing, reducing the size of enlarged pores.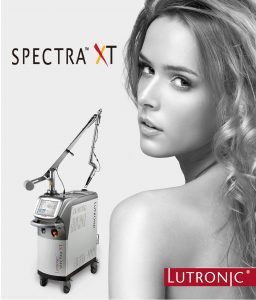 .
Spectra q-switch nanosecond laser
Please watch this video to know more about laser carbon peel.
2- On the other hand, if the primary complaint is wrinkled, saggy skin, we have to go for more aggressive treatment. The word aggressive might scare some people, but if the treatment settings are chosen, the risk of having adverse incidents carefully is minimal. By staying aggressive, we mean that the treatment is more powerful, resulting in higher pain and more extended downtime.
To reach the desired skin tightening results, we need to penetrate the skin deeply (about 3 mm). Two main technologies can do so, the Microneedling fractional radiofrequency (MFR) (Infini from Lutronic is the industry gold standard MFR system) and Fractional non-ablative Laser (Fraxel Dual is the industry gold standard). Both systems offer great results with skin tightening and work by creating coagulation columns in the skin, producing a micro-wound environment, and urging the skin to heal itself and shed the tired layers.
Infini Microneedling system
Please watch this video to know more about the Infini Microneedling system in skin tightening and wrinkle removal
https://business.facebook.com/albanylaser/videos/365121313937278/
The microneedling systems are equipped with gold-coated needles (the number of needles varies between 25 to 96 according to the manufacturers). Once deep into the skin, the needles release a current of radio frequency that is transformed into heat (due to the tissue's electrical resistance). The advantages of the microneedling systems are very short downtime, no restriction on sun exposures, no risk of hyperpigmentation. The disadvantages are that there is always pinpoint bleeding and high pain endurance, and some patient has "needle-phobia."
Fraxel dual laser system has two different wavelengths, 1550 and 1927. Both wavelengths use water as a chromophore. Therefore, the skin surface needs to be dry before applying the treatment. Since water is abundant in all tissues, including skin, it is mandatory to have fractional properties. The Fraxel system uses roller tips to deliver the laser in point beams (virtual needles) that penetrate as deep as 3 mm. ( The shorter wavelength has less water affinity, so it penetrate deeper into the skin). The laser will meet the water, as a chromophore) and the energy will turn into heat (photothermolysis).
Fraxel dual fractional non-ablative laser for skin tightening
Please watch this video to know more about Fraxel laser in skin tightening and wrinkle removal
The fractional non-ablative systems have the advantages of having no blood involved or mechanical needles, and it is also more efficient if there is a pigmentation lesion involved. The main disadvantages are restricted non-sun exposure or tanning for at least months and PIH risk.
From the discussion above, we can conclude that each machine has its pro and cons. Therefore, it is essential to design a specific protocol for each patient that combines initial and maintenance treatments and take-home products to get the expected results. Please do not hesitate to contact us for a free consultation. We have trained medical estheticians on staff with long experience in Skin tightening, wrinkle removal, acne scar removal, acne treatment, skincare, rejuvenation, skin resurfacing, pigmentation, and melasma treatment, fractional laser, laser hair removal, body shaping, and fat removal.
Sincerely
Dr. Kamal Alhallak
Ph.D., MSc, CDE, CRE, APA, MBA candidate
Director of Albany Cosmetic and Laser Centre INC
_______________________________________________________________________
Edmonton once had a nuclear reactor. However, It was made inoperative in 2015.
____________________________________________________________________________