Fraxel Laser in Edmonton
Have you been in search of an all-inclusive treatment that helps with all your skin issues such as acne, scars, pigmentation, texture, damaged skin, sun spots, sun damage, enlarged pores, and laxity? Search no more, we have helped thousands of clients like you with Fraxel Laser acne and skin treatment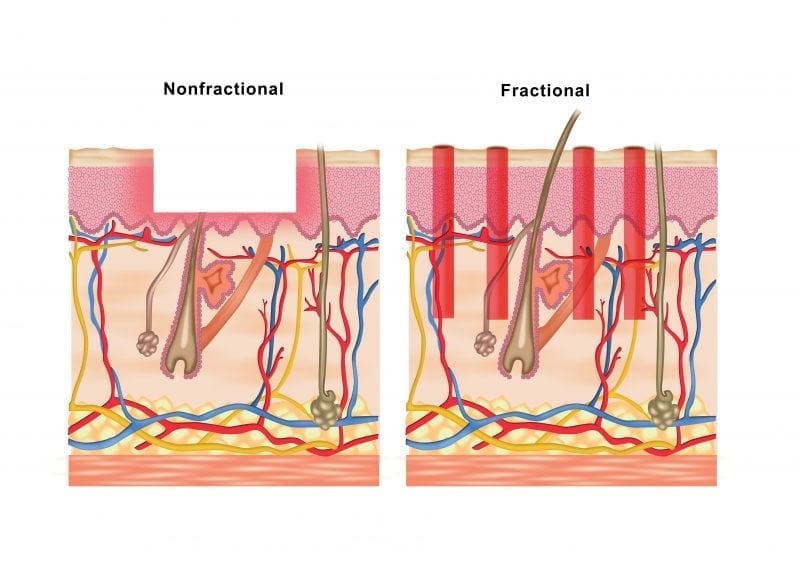 Fraxel is the best non-ablative fractional laser with Dual wavelengths 1550 and 1927 nm for full face, neck, and chest provided by Albar Center in Edmonton. The non-ablative laser keeps the top layer of the skin (stratum corneum) intact without removing it but can reach the underlying skin layers to stimulate collagen production, rejuvenate the skin and provide skin tightening and pigmentation. The fractional property is a brilliant addition to the Fraxel technology to minimize skin damage and after treatment downtime.
Why the fraxel laser resurfacing machine has two wavelengths?
The concept of using two different wavelengths is to target two different lesions, namely wrinkles and pigmentation, at the same treatment. The first pass using 1550 nm targets the dermis for skin tightening and wrinkles reduction, and skin pass with 1927 nm target the pigmentation lesions. Both wavelengths have water molecules as chromophore that absorbs the photon energy of the laser. The water in the skin has less affinity to 1927 nm laser rather than 1550 nm laser
fraxel for chest and neck In Edmonton
Therefore, Fraxel works on skin resurfacing to improve skin texture and reduce wrinkles and fine lines
Deep Mode = 1550 nm laser
–Reduced fine lines and wrinkles around the eyes
–Improved appearance of acne scars and surgical scar.
Superficial Mode = 1927 nm laser
–Smoother, fresher, younger looking skin
–Pigmentation and Melasma treatment
–Effective treatment of pre-cancerous lesions
Fraxel showed better results in treating Melasma and Pigmentation in Caucasian patients when compared with darker skin patients. All the Staff at Albany Cosmetic and Laser Center in Edmonton have extensive training and certified Laser aesthetician.
before and after acne scars treatment
They performed hundreds of Fraxel Laser treatment on different skin types and color. Our satisfaction rate is over 90% and we promise to work with our clients from Edmonton to achieve the best results with any treatment
Treatment combination
Fraxel laser can be combined with different other treatments such as PDO threads, Ulthera, and Thermage for best results
WHAT RESULT SHOULD I EXPECT AFTER THE TREATMENTS?
The treatment downtime values between patients to be between 3-7 days. Most of the discomfort is related to the heat, allowing enough time for the Freezing cream to work and the use of the cryo chiller will make the Fraxel treatment more comfortable. The patient might experience some immediate discomfort in the form of swelling, redness and pinpoint bleeding.
Swelling and Redness— This is a common side effect of Fraxel laser and it usually subsides after a couple of hours to days depending on the treatment settings. More aggressive treatments take longer time. Itching — Healing process is accompanied by itchiness, so there is nothing to worry about unless the patient has eczema or dermatitis
Acne or Cold sore — It is frequent to see acne and cold sore breaks after Fraxel treatment, Acne usually resolve alone, and it is recommended to take a course of anti-viral Valtrex 1 day before the treatment in highly susceptible patients.
Performing Fraxel Laser Dual to help treat acne and smooth out acne scars on our wonderful client Rianna. #fraxel #fraxellaser #dualfraxel #acne #acnescars

Publicado por Albany Cosmetic & Laser Centre em Segunda-feira, 12 de novembro de 2018
WHAT ARE THE ADVANTAGES OF FRAXEL DUAL LASER?
Since Fraxel dual combines the fractional and non-ablative properties of Laser, the downtime after the treatment is way shorter than using Ablative and non-fractional Laser such C02. Additionally, both wavelength of Fraxel dual has lower affinity to water than the 10600 nm CO2 laser. This results in fewer side effects such as Post-inflammatory hyperpigmentation PIH. The low melanin absorption of Fraxel laser makes it safe to treat all skin color including African American.
How to Care for Your Skin After  Fraxel Treatment?
To alleviate the heat sensation, treat the area treated with Fraxel similar to sunburn treatment. Applying moisturizer and ice packs will help to make the after treatment less comfortable. A thin layer for Vaseline may be applied to protect and moisturize the treated skin. Please allow the skin to naturally slough and peel, do not scrub or use exfoliating products. Keep away from any irritants such as harsh detergents and coarse cloths
The first week after Fraxel
During the first week after the treatment try to avoid alcohol, sun exposure, intensive exercise, and swimming as the pool water might have some harsh chemical. Once the sloughing and peeling are completed and the new skin gets the normal color, you may go back to use Retin A and glycolic acid product if necessary. We advise applying PRP mask directly after the treatment to provide the best results with less downtime
Sun Block
Using 30+ SPF  sunscreen is very important to minimize long-term side effect and get the best results from the treatment. Apply the sunscreen 20 minutes before going out. reapply another layer directly before going out. We also recommend using a hat during the first two weeks. Make sure that the moisturizing creams are not too oily or occlusive, most of the good sunblock can also be used for that purpose as well. You can read more and the before and after treatement instruction here