BODY SHAPING BY COOLSCULPTING
COMPARISON BETWEEN COOLSCULPTING, SCULPSURE, AND VELASHAPE FOR BODY SHAPING
Body shaping is a process of changing and reducing unwanted fats and saggy skin to achieve the desired body shape. When it comes to body shaping, there are lots of options to consider to help exercise and nutrition/diet and healthy lifestyle. Some areas such such love handles and upperarmsare very tough to remove through diet and exercise. Some FDA and Health Canada cleared machines, including the coolsculpting, sculpsure, velashape and tightsculpting, provide targeted fat removal with/without skin tightening
CoolSculpting
Coolsculpting, also known as cryolipolysis or Fat Freezing, is by far the most famous non-surgical process of eliminating fat. The applicator freezes the fat cell and results in graduate, by significant slimming effect. This machine was approved by the FDA in 2010. While Coolsculpting produces satisfactory results for fat removal, it does not produce any skin tightening effect, compared to Tightsculpting or sculpsure.
Tightsculpting and Scuplsure work through heating the fat cells, rather than freezing them. Both machines use almost the ND-Yag Laser wavelength (1060, 1064). We love and are thrilled with the result of the Fotona Tightscuplt especially when we combined both deep and superficial heating. Sculpsure, on the other hand, failed to show satisfactory results, on tolerable settings (most patients were not able to tolerate higher settings)
How do they work?
Coolsculpting works using a controlled cooling handheld device that freezes the fat cells of the affected body. The fat cells gradually die off while the body naturally gets rid of the dead fat cells after some time.
Sculpsure works using a hands-free heat laser belt of known and specified wavelengths and heat to break down and melt away fat cells without damaging other tissues. Once the fat cells reach a high enough temperature, they go through a self-destruction process. Then after, the body processes the dead cells and ejects it out of the body as stool and urine.
Velashape, an older machine, employs the use of bipolar radio frequencies and infrared laser light energy. The velashape devices have a mechanical roller that massages and smoothens the skin while the radio frequency infrared light melt and breaks away the fat cells. To achieve the best results, the company, Candella, advised using Ultrashape with Velashape together
Tightsculpting is a new treatment by Fotona laser, and we love the results so far. To be honest, it has more results on tightening than removing fats. Therefore, we combine it most of the time with Coolsculpting to get the best results on both domains
How much is the cost of coolsculpting, sculpsure, and velashape?
As of 2016, the average cost of a coolsculpting session is about $1000 to $1500, depending on the area and applicator. Most patients need 2-3 sessions over 3-6 months to see the best results. Sculpsure costs almost the same as coolsculpting, as two sessions are required (we stopped offering it at Albany Cosmetic and Laser Center).
Tightsculpting cost between 300-600 a session according to the size of the treated area. We are the only clinic in Edmonton that own the T-scanner for optimum results. We usually package one coolsculpt with two tightsculpt for best results
How long does it take to start seeing the effects of coolsculpting, sculpsure, and velashape?
With coolsculpting, biological changes begins immidiatly after the treatment, but the desired effects will be more eminent within 2 to 3 weeks, with max results after 3 months.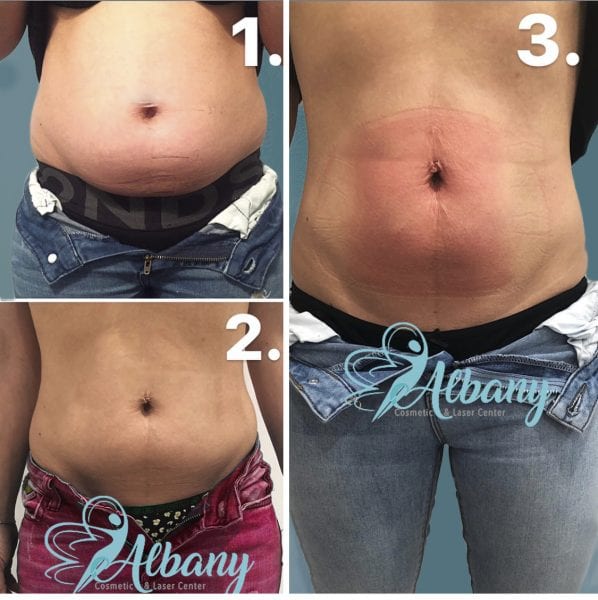 Fat Freezing with CoolSculpting in Edmonton
How many treatments are required before the desired results can be achieved?
We noticed that 80% of our clients are happy with 2 packages, that is a total of 6 sessions (two coolsculpting and 4 tightesculpting)
What are the Areas and parts of the bodies that can be treated with coolsculpting?
Coolsculpting can be used to perform minor treatment in the abdomen, under armpit, flanks, love handles and double chin.
What are the advantages of coolsculpting, sculpsure, and velashape over each other?
Advantages of coolsculpting
Coolsculpting gives a natural effect as dead fat cells are processed naturally by the body, therefore it has a long-lasting result. the client might gain fat again if regular exercise and diets are not considered. Therefore, results look natural as fats are gradually destroyed. It is by far the most used bodyshaping machine.
CoolSculpting side effects
Side effects of coolsculpting are pulling sensation around the affected region, pain and ache during treatment. Other effects include temporary redness, swelling and skin sensitivity which is caused by exposure to cold temperature. The temporary redness, swelling can still be visible for about a week after the treatment.
Advantages of sculpsure
Sculpsure has shorter treatment time as the processes take like 25 minutes to complete, unlike coolsculpting which takes up to one hour and velashape which takes up to 3 treatments to achieve desired results. There is no risk of nerve damages in sculpsure as commonly found with coolsculpting.
In sculpsure, the large fat areas can be eliminated per time. Therefore, multiple points can be treated at once rather than with coolsculpting in which only the part under treatment is being treated.
What are the long-term Side effects of coolsculpting, sculpsure, and velashape?
Side effects of sculpsure: there are no known side effects of sculpture. However, some results have been complained of by the people who have used it; it is said to cause slight swelling, redness and skin sensitivity after the treatment session.
Side effects of velashape: for people with loose skin, there is a tendency of them having scabs and blisters. Other side effects include redness and swelling which usually last couples of an hour after the treatment.
Who are the best candidates for this body shaping process?
It is essential to go through a consultation, to discuss your expectation, take the medical history and to determine which one is best for you. The consultant will check for the amount of fat and cellulite deposits and as well as others like skin elasticity and tissue density.
Coolsculpting: it is advisable for people who have any of these following conditions like cryoglobulinemia and cold agglutinin disease not to receive this treatment in order not to have serious implications. The ideal candidate is someone who has the body mass index (BMI) less than or equal 30 and has stubborn or thick areas of fat.
Non of the machine can be used on skin with condition like dermatitis, eczema or infecation.
December 2020 Update:
While we do not offer SculpSure or VelaShape treatments, we do offer Fotona TightSculpt and Kuma Shape treatments. Fotona Tight Sculpt uses bulk-heat to encourage collagen growth and elasticity of the skin, tightening loose skin. Kuma Shape is similar to Velashape in that it combines suction, massage, radio-frequency and infrared rays to reduce fat and cellulite.
_______________________________________________________________________