Navigate the Treatment Details
Guide to Safe and Effective CoolSculpting Edmonton
Elevate your Coolsculpting experience at Albany Cosmetic and Laser Centre in Edmonton! We offer the latest non-invasive treatments to target and eliminate stubborn fat pockets resistant to diet and exercise.
Through fat freezing, this procedure targets fat cells, causing them to break down and be naturally expelled by the body. Step into the future of fat reduction and body sculpting with us and achieve a slimmer, more defined silhouette without surgery or downtime. Begin your body-shaping journey with us today!
CoolSculpting Results: Before and After Pictures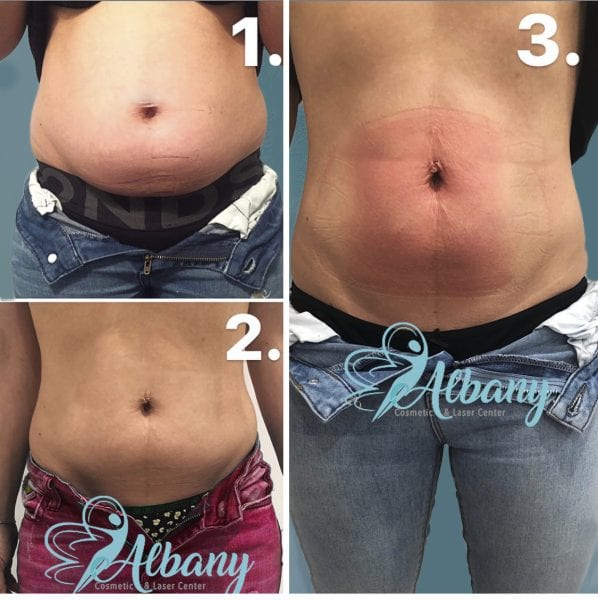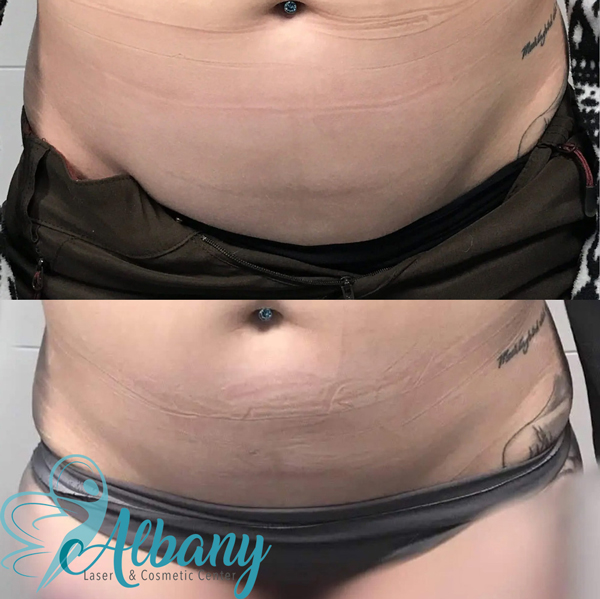 Experience the power of CoolSculpting through our before and after gallery! Each image shows the noticeable changes and improved contours achieved with this state-of-the-art procedure. From tackling stubborn belly fat to addressing persistent love handles, observe how real individuals have beautifully reshaped their bodies.
Client Reviews and Testimonials
I recently had Botox treatment at Albany Clinic for my frown. I'm really happy with the results. Moreover, the staff was friendly and professional, making me feel at ease throughout the procedure. They use freezing cream and leave it long enough to work. So I highly recommend them!
"I'm very happy with the results of the laser hair removal at Albany Centre. The procedure was quick and comfortable. I did not feel rushed and provided me with many towels to change. So, I recommend them to anyone.
"I had an excellent experience with Albany Centre for lip fillers. Moreover, the team was so welcoming, and the results were just what I wanted. My lips look natural but bigger and with a heart in the middle!"
Witness the Difference That Our Cosmetic Treatment Made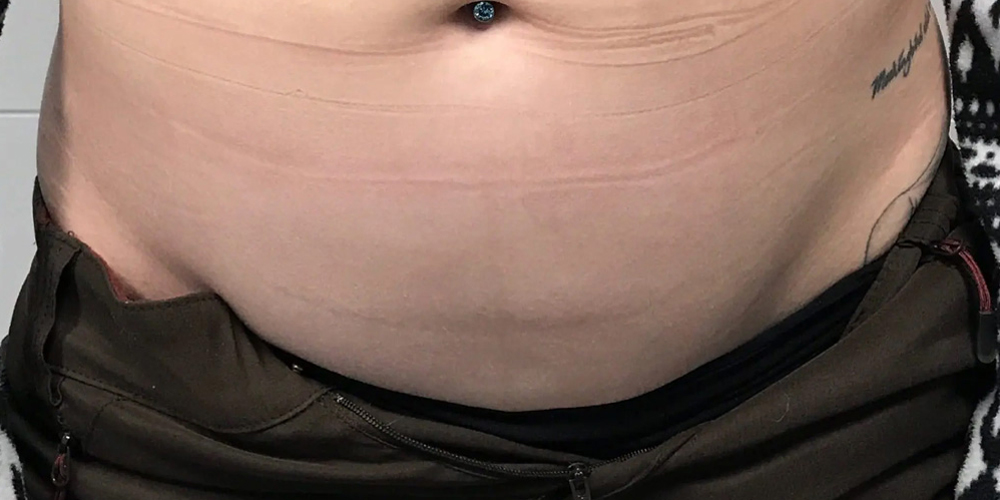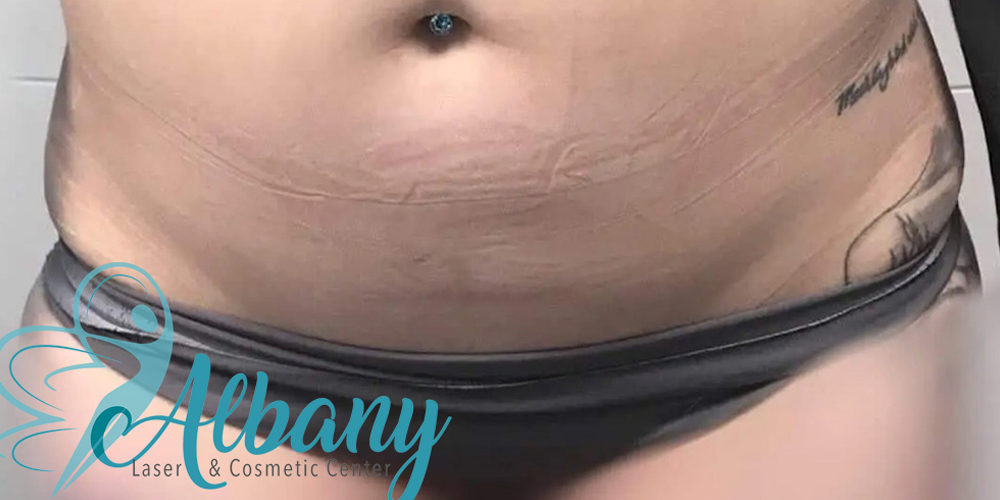 Move the slider to see the difference after the treatment. 
Video Explaining CoolSculpting Treatment
Imagine reducing stubborn fat in just 45 minutes. It's not magic but science. The CoolSculpting procedure uses controlled cooling to target those challenging areas. And here's the exciting part: post-treatment, your body naturally processes and eliminates the frozen fat cells. It's like giving your body a little boost to enhance its natural abilities.
Unlike some surgical fat-reducing treatments, CoolSculpting delivers lasting results. It's a preferred choice for many aiming for a sleeker silhouette.
The Need For CoolSculpting
Attaining a sculpted physique isn't just about diet and exercise. Age and genetics can lead to stubborn fat pockets that resist even the most rigorous routines. Enter CoolSculpting: the answer for those wanting to sharpen their figure without invasive surgeries.
Whether addressing a post-baby belly, love handles, double chin, or extra thigh fat, this treatment is excellent for those tricky spots. For those working on their weight goals, it can be the final push to perfection.
More than just weight loss, CoolSculpting is about body sculpting. It's designed to help achieve a balanced, symmetrical look.
Understanding Cryolipolysis And Fat Freezing
The foundation of this body contouring technique is cryolipolysis. It's a process that selectively freezes fat cells using cold temperatures without harming nearby tissues. Once these cells are frozen, they start to die off and are naturally processed. The body then eliminate the fat cells over the following three months.
The body's natural process, especially the lymphatic drainage system, plays a role in eliminating the treated fat cells. This means each individual's results timeline might slightly differ, depending on how their body processes and discards the fat.
For those keen on the scientific details, dive deeper into the science behind Fat Freezing here. This non-invasive approach allows precise sculpting and removal of unwanted fat without the need for surgery, anesthesia, or traditional weight loss methods.
Before, During, and After CoolSculpting
Before the Session
Preparation is key to achieving the best results. We ensure that every client is well-informed and comfortable before the session begins. During your initial consultation, our specialists will discuss your goals, assess the target area, and put a plan just for you.
During the Treatment
Preparation is important for best results. We ensure every client feels informed and at ease. During the initial consultation, our experts will understand your objectives, evaluate the target area, and tailor a plan to meet your needs.
During the Treatment
Our skilled technicians will place a gel pad and applicator on the target area. Shortly, you'll experience a gentle cooling effect as the treatment commences. Many clients choose to read, watch videos, or even nap during this time. Rest assured, you're in expert hands throughout.
After the Session
Aftercare is paramount. Some clients may notice mild redness or feel tenderness in the treated zone, but these symptoms are temporary. Our dedicated team will guide you with detailed aftercare guidelines to ensure a seamless recovery and the best possible outcomes.</
Different Applicators for Different Body Areas
At Albany Cosmetic and Laser Centre, we pride ourselves on offering a several range of CoolSculpting treatments to fit your needs. Our selection includes:
CoolSmooth Pro
Advantage Petite
CoolAdvantage
Advantage Plus
Each applicator fits a specific body parts, ensuring precision and effectiveness in achieving your aesthetic goals. Learn more about our and discover the best fit for you.
The Right Clinic for Your Next CoolSculpting in Edmonton
Selecting the perfect clinic for your CoolSculpting treatment in Edmonton is pivotal to ensuring you achieve the results you desire. It's not just about the technology; it's about the expertise, care, and commitment of the team behind it. Here are some considerations to keep in mind:
Experience and Certification: Ensure the clinic has a team of certified professionals with substantial experience in cosmetic treatments.
Equipment and Technology: The clinic should have the latest technology and a range of applicators to treat different body areas effectively.
Before and After Gallery: A reputable clinic will proudly shows their results. Browsing through before and after photos can give you a clear idea of the results you can expect.
Client Testimonials: Genuine reviews can provide insight into the experiences of past clients.
Consultation: The clinic should offer a thorough consultation to understand your goals, assess suitability, and put a treatment plan.
Post-Treatment Care: Quality aftercare guidance is essential to ensure optimal results and a smooth recovery.
Albany Cosmetic and Laser Centre
At Albany Cosmetic and Laser Centre, we pride ourselves on offering comprehensive solutions for body contouring. Our approach isn't one-size-fits-all; we combine Fat Freezing with laser treatments and lipo massage to deliver truly tailored results.
Our commitment extends beyond technology; it's about the promise to bring to every treatment. Trust in our state-of-the-art facility and dedication to achieve your desired outcomes.
Book Your Consultation Today!
Is a new, sculpted you on your wishlist? Make it a reality! Our team at Albany Cosmetic and Laser Centre in Edmonton is here to help in your journey. No more waiting, no more wishing. Secure your spot for a consultation!
CoolSculpting Cost in Edmonton
At Albany Cosmetic and Laser Centre, we believe in clarity and customization. Starting at just $800, our CoolSculpting treatments are designed to align with both your aspirations and budget.
Whether you're targeting a single area or wish to target several ones. Our team will put a treatment plan just for you. And with our transparent pricing, you can start your journey without any financial guesswork, focusing mainly on your exciting body shaping results.
Frequently Asked Questions