Coolsculpting in Edmonton
ALL YOU NEED TO KNOW ABOUT COOLSCULPTING AND FREEZING YOUR FAT
Do you hit the gym every other day to slog off those extra pounds and you're still having a hard time shape your body? Coolsculpting is an FDA-cleard body shaping machine that works through freezing the stubborn fat (cryolipolysis)
We understand that it can be distressing, especially if you can't build your goal. But there is good news! You don't have to feel that way anymore. Thanks to the latest weight-loss solution, you can lose weight by freezing your fat off. Yes, it's that simple.
Known as "CoolSculpting," the procedure places an applicator to the target area. "The applicator then uses carefully controlled plates to freeze the fat cells at sub-zero temperature.
The temperature causes irreversible damage to the treated fat cells which are then "flushed" away by the body within few months," says Dr. Kamal Al Hallak, an Aesthetic consultant at Albany cosmetic and laser centre.
Although the FDA endorsed CoolSculpting in 2010, this year indicates a massive demand for CoolSculpting. The procedure is pain-free — you can see a movie or take a cup of coffee while the device works its magic. Even plastic-surgery-averse men now look to CoolSculpting to remove excess fat.
Yes, CoolSculpting is less invasive than liposuction. And data from the American Society of Plastic Surgeons shows that its popularity has decreased by 30% since 2000.
But does it work in the long run? Here's everything to know about freezing your fat.
CoolSculpting fat freezing procedure: How it works
CoolSculpting is FDA approved and it makes use of Cryolipolysis (a controlled cooling process) freeze excess fat deposits in the body. As the applicator freezes and destroys the fat, the nerves, skin, and other tissues remain unharmed. So the difference between crysolipolysis is that Coolsculpting is trademarks of zeltiq aesthetics, and the others are just generic names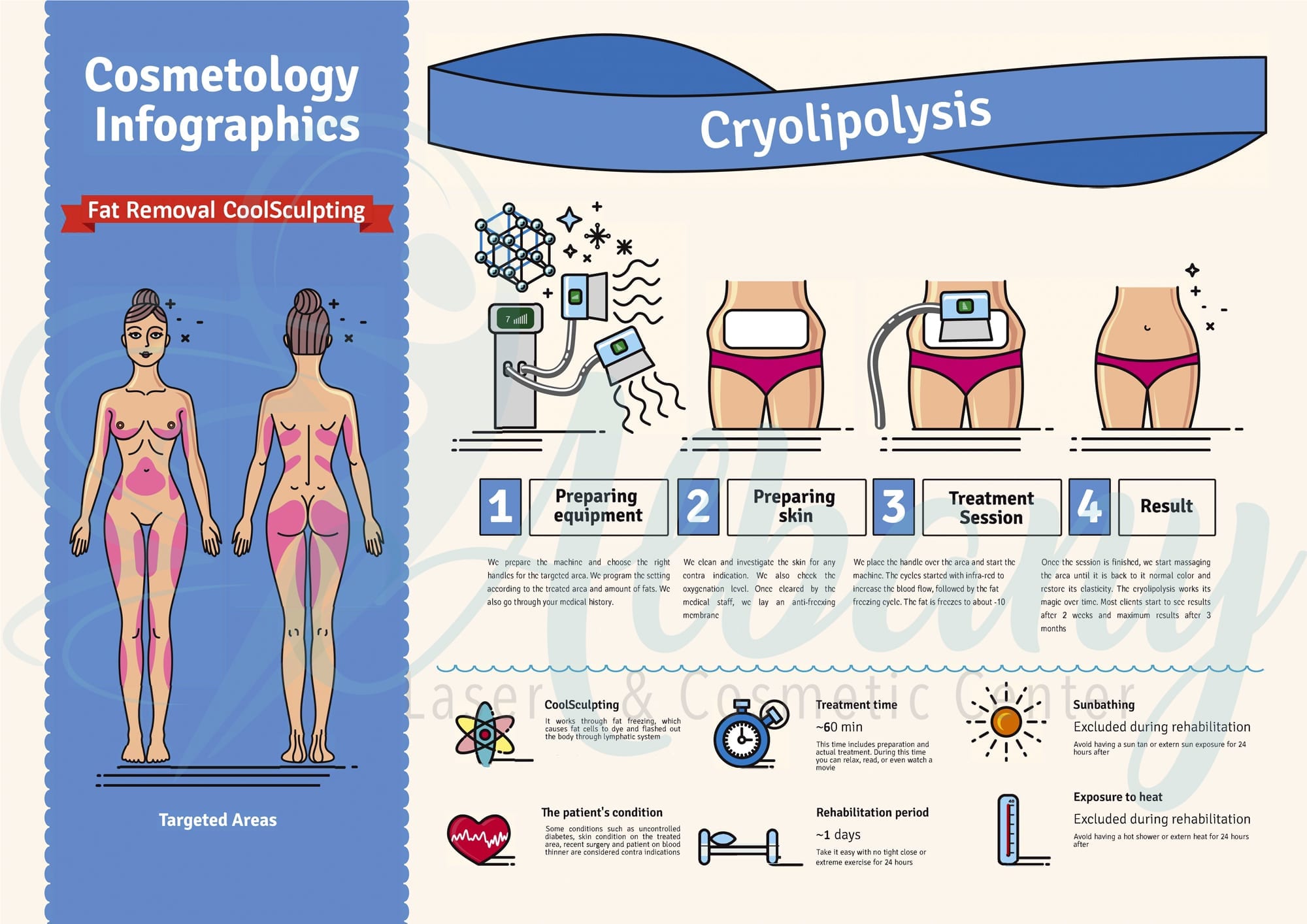 What is the recommended number of treatments?
While a lot of patients achieve visible results with one treatment  three months after the treatment,  but some return for more.  If you want a greater fat reduction, you may need more than one treatment. You can repeat the process every 2 months (if necessary) until you feel you've achieved the best result.
Also, the treatment is not for broader areas. What do I mean? Picture a thin woman with love handles or fat arm. Larger areas are not ideal for CoolSculpting because the results won't come out evenly.
Always speak to your doctor before going in for CoolSculpting to know if you're a good candidate.
How long does CoolSculpting take?
For CoolSculpting, It normally takes an hour to treat each section. However, we are one of the very few clinics in Edmonton that owns the updated machines with the new Cool-advantage plus applicator. Therefore, the time of the session does not exceed 35 min.
How fast do I notice the results?
Coolscupting works by fat freezing (cryolipolysis), therefore it works gradually. You will see the first noticable results after 2 weeks, and the max results are expected after 2-3 months
Are these results permanent?
Yes, but only if you keep a health life style. Most of our clients go through the cool sculpting treatment as a jump start of a healther body.
What are the Side effects of CoolSculpting on
treatment areas
?
You may feel cryolipolysis-induced numbness, which lasts weeks. When freezing your skin, it affects the superficial nerves, which causes you to feel nothing for hours.
Also, the downtime experienced by CoolSculpting patients is minimal. But you may experience bruising since pinching and tugging is part of the suction process. Prepare to feel sore for some weeks after the procedure.
Other side effects include:
Swelling, Redness, Tenderness, Tingling, Stinging, Muscle cramping, Skin sensitivity, Mild pain, Pinching sensation
Recovery: How long does it take to see complete results?
It takes between 4 and 6 months to experience complete results, according to the American Society of Plastic Surgeon. But it depends on your body and how it reacts to the procedure. Within this period, your body will work to eliminate the remaining targeted fat cells.
You don't need to take time off your daily activities. But you may rest for a day if you feel resuming work same day might be stressful for you. To maintain the results, you need to maintain an exercise routine and a healthy diet (diet and exercise).
How long does CoolSculpting last?
The procedure offers lasting results. But the stomach areas may need three or more sessions to get optimum results. Speak to your doctor about the number of sessions you'll need.
Compared to traditional weight loss procedures, Coolsculpting eradicates fat cells. It doesn't shrink it down. As stated by the ASPS, the targeted fat cells during the treatments are lessened by 20%. Some patients will experience a 40% reduction, which is likely in smaller regions like the thighs and upper arms.
If you want to remove fat cells in the same region in the future, speak with your doctor.
How to care for skin after CoolSculpting
Dr. Kamal advises patients to wear compression garment like Spanx to minimize possible redness and swelling. He also recommends that patients return to normal activities after post-treatment. Also, remember to stay hydrated by drinking a lot of water – this will help expel the frozen fat cells
Why there are different applicators for the Cool Sculpting in Edmonton
Different body areas have different anatomical shapes. for example the abdominal area is wide and curvery, some areas are narrrow and flat. For example the cool-advantage and cool-advantage plus applicators come with three different contours (cool-fit advantage, cool-core advantage, and cool-Curve +). The ability to have have better fit wthin the applicator cup and cooling procedure means shorter treatment time and better results.  The cool-mini is approved to help with double chin. Cool-smooth pro is for bonny areas that have fat that you cannot pinch or fit in a cup. Other applicator ike the Max are still being used
What is the average cost of CoolSculpting?
In 2016, the average cost of a non-invasive treatment like CoolSculpting was about $1,500. But in 2018, the official website of CoolSculpting says the cost is about $15,00  depending on the area and the applicator
The cost also depends on the area you want to treat. Remember, the bigger the target area, the higher the cost. Also, treating several areas can increase the cost.
Bear in mind that you may require more than one treatment to see the results. Hence, consult with a board-certified aesthetician to create a treatment plan for you.
Also, if you add excess fat in the future, new fat cells may likely return in the formerly treated area. And another session might cost the same as the initial procedure since you need to do the whole process again.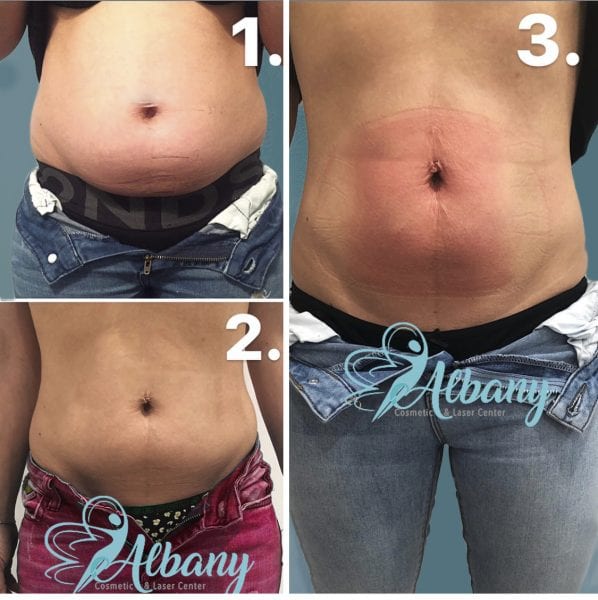 Is coolsculpting enough to give me results
Coolsculpting is effective on reducing and removing fats, however, it does not have any skin tightening results. Therefore, we recommend to combine it with different other machines and laser treatment to provide best results and client satisfaction. We are the only centre in Edmonton that owns a full portfolio of different body shaping and skin tightening machines that includes Laser, RF, electromagnetic and cryslipolysis.
Final thoughts
This FDA approved non-invasive treatment isn't a magic bullet. But a 2014 clinical trial advertised in Clinical, Cosmetic and Investigational Dermatology, proves that CoolSculpting offers impressive results. The procedure reduces about 25% subcutaneous fat in the target area.
However, if you go back to unhealthy habits after treatment, it can conceal the slimming effects. "I always ask my patients to observe a good lifestyle to maintain the results," says Dr. Kamal Alhallak, Ph.D.
To learn more about this procedure at our clinic and whether the nonsurgical body can erase unwanted fat. Get a free consultation by filling our online form, or call our office to schedule an appointment.