Advanced Double Chin Treatments In Edmonton
Welcome to the forefront of aesthetic innovation! Are you bothered by an unwanted double chin that seems resistant to diet and exercise? At Albany Cosmetic and Laser Centre, we offer advanced treatment right here in Edmonton. Our cutting-edge procedures are designed to target and eliminate stubborn fat under the chin, sculpting a more refined jawline and restoring a youthful appearance. With the expertise of our skilled professionals and the latest technology, we provide tailored solutions to meet your unique needs. Explore the possibilities and take the first step towards reclaiming your confidence today!
Navigate the Treatment Details
Real Results with Double Chin Reduction Treatments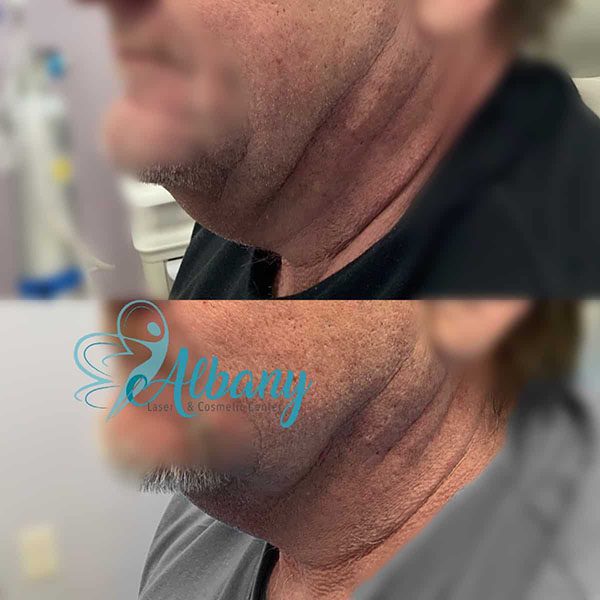 You can view the incredible results of our treatments at Albany Cosmetic and Laser Centre. These results are showcased in our 'Before and After' gallery. The pictures display actual customers. Our expert team achieved great outcomes using advanced treatments like Belkyra and Fotona TightSculpting. See how our clients' facial profiles have changed, with double chins transformed to reveal their hidden natural contours. This visual proof validates the effectiveness of our procedures and the mastery of our team in applying these innovative treatments.
Real Client Reviews and Testimonials
I had an excellent experience with Albany Centre for lip fillers. Moreover, the team was so welcoming, and the results were just what I wanted. My lips look natural but bigger and with a heart in the middle!
I recently had Botox treatment at Albany Clinic for my frown. I'm really happy with the results. Moreofer, the staff was friendly and professional, making me feel at ease throughout the procedure. They use freezing cream and leave it long enough to work. So I highly recommed them!
I'm very happy with the results of the laser hair removal at Albany Centre. The procedure was quick and comfortable. I did not feel rushed, and provided me with many towels to change. So, I recommend them to anyone.
Witness the Difference That Our Cosmetic Treatment Made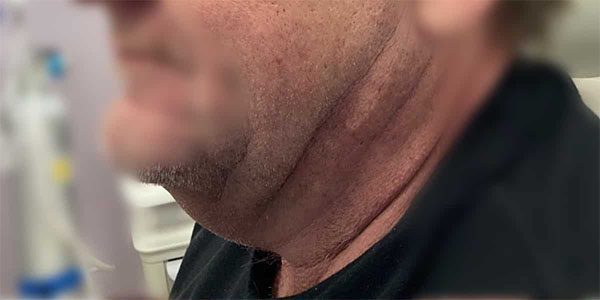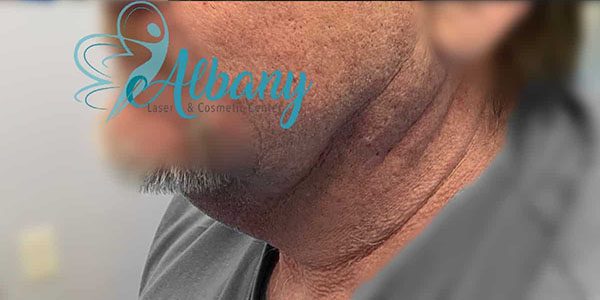 Move the slider to see the difference after the treatment. 
Video Showing Double chin Removal and Neck Tightening with Fotona Laser
Witness the power of the Fotona Laser to target and reduce double chins and tighten the neck region. The laser scans the area and works on dissolving the fats by lipolaser. Moreover, it tightens the skin for a younger look.
Understanding the Causes of a Double Chin
A double chin is that extra layer of fat that develops beneath our chin, and it's something many of us notice when we look in the mirror. But why does it appear? Several reasons contribute to its formation. Firstly, age can play a role. As we get older, our skin loses its elasticity, leading to sagging. Weight gain is another common culprit; when we gain extra pounds, some of that weight can show up under our chin. Genetics also have a say – if your family members have double chins, you might be more likely to have one as well. Lastly, posture matters too. Consistently poor posture can weaken the muscles of the neck and chin over time, contributing to a double chin. Knowing these causes can help in addressing and preventing its appearance.
Double Chin Reduction Soluitions at Albany Cosmetic and Laser Centre
Seeking an effective solution for a double chin? At Albany Cosmetic and Laser Centre, we offer an array of treatments tailored to address this concern:
Belkyra: A non-surgical approach that utilizes targeted injections to eliminate fat cells beneath the chin. Noticeable improvements can be seen after just a few sessions.
CoolSculpting: This non-invasive procedure employs controlled cooling to crystallize and naturally diminish chin fat over a period of time.
Fotona Laser: This advanced technology employs laser energy to both dissolve fat cells and tighten the skin in the treatment area, offering a non-surgical solution with minimal recovery time.
Trust in our expertise to guide you to the most suitable treatment for your needs.
Choosing the Right Clinic for Double Chin Reduction in Edmonton
Navigating the world of cosmetic procedures can be daunting, especially when it comes to delicate treatments like double chin reduction. It's vital to select a clinic that not only offers cutting-edge technology but also prioritizes patient safety, comfort, and tangible results. With numerous clinics available in Edmonton, one name consistently stands out: Albany Cosmetic and Laser Centre. With our blend of state-of-the-art equipment, experienced professionals, and a history of delivering satisfactory outcomes, we have established ourselves as the go-to destination for those seeking a more defined and sculpted chin profile. Trust in Albany Cosmetic and Laser Centre to seamlessly merge expertise with genuine patient care
Booking Made Easy at Albany Cosmetic and Laser Centre
At Albany Cosmetic and Laser Centre, we've streamlined our appointment process to ensure that scheduling your treatments is as effortless as the results you'll achieve. Our dedicated team is always ready to assist, making sure to accommodate your preferred dates and times. Furthermore, our user-friendly online booking system lets you schedule appointments at your convenience, any time of the day.
Double Chin Treatment FAQs