Overview of Stretch Marks Removal
Stretch marks are scarring that can occur when the skin stretches or shrinks abruptly. Although they are most commonly associated with pregnancy, these marks can also be caused by rapid weight gain or loss, puberty, and bodybuilding. Stretch marks are not harmful and do not require treatment. However, many people feel self-conscious about them and may want to reduce their appearance. There are several ways to treat striae, including topical creams, laser therapy, and surgery. The best approach depends on the individual's preferences and the severity of the scars. Some people may be at greater risk for developing stretch marks, including those with a family history of the condition, pregnant women with twins or triplets, and people with very high or low body fat percentages.
Stretch Marks Diagnosis
When examined under a microscope, a stretch mark will reveal a few coiled and clustered elastic fibres in the center and an abundance of curled and clustered elastic fibres along the edges. Collagen fibres, the skin's protein-building components, are separated rather than bundled.
These appear as varying lengths and widths of red and purple lines. They might be wrinkled and glossy at times. They gradually fade to the same hue or tint as the surrounding skin and remain there. Due to their hormones, women are more prone to striae than males. They are most frequently found on the breasts, lower belly, buttocks, and thighs, as well as the underside of the upper arms.
Laser Stretch Marks Removal
Laser stretch mark removal is done by resurfacing the skin with a laser. Worked by removing the outer layer of skin to help reorganize the skin on top. We use concentrated beams of light during the procedure to make new growth happen, so it's important. Laser removal can't eliminate stretch marks, but it can make them less noticeable by making them smoother.
Two lasers for skin resurfacing are used: ablative and non-ablative lasers. The CO2 and Erbium YAG lasers treat striae and resurface the top layer of skin. The new skin tissues will be smoother in texture and look.
Non-ablative lasers, like Fraxel, don't damage the top layer of the skin. Instead, they focus on the areas of the skin's surface that aren't visible. This way, they can make collagen from the inside out.
Stretch marks are atrophic scars with a layer of dead skin. They start to form when there is a lot of glucocorticoid production, like during puberty, pregnancy, Cushing's syndrome, steroids, or too much exercise. In the beginning, striae look like flattened areas of thinned skin with a pink-red hue that may make you itchy. Striae usually grow in length and width and become darker and reddish-purple over time. This is how older striae look: They become white and depressed over time along the long axis aligned with the normal skin tension lines.
Our treatment for stretch marks aims to improve the texture, rebuild the skin-supporting matrix and blend the colour. Most of our patients go through four to eight sessions for best results; these sessions are combinations of different treatment modalities that include
IPL
Fraxel Laser
Fotona TightSculpting laser treatment
How Effective Is Striae Distensae Removal?
None of the treatments removes all of the striae completely. Pulsed dye laser therapy is best for newer red striae. Sunburned and darker Fitzpatrick skin types can't be treated with all the different treatment types. Responses to anatomical changes are common. Most of the time, deep and older striae respond more slowly and less dramatically. Non-laser light-based, abrasive, or ultrasonic therapies may benefit some people. Finally, there are many things you can put on your skin to make your striae look better. Many of these treatment methods haven't been proven safe for pregnant women, so they should be used cautiously.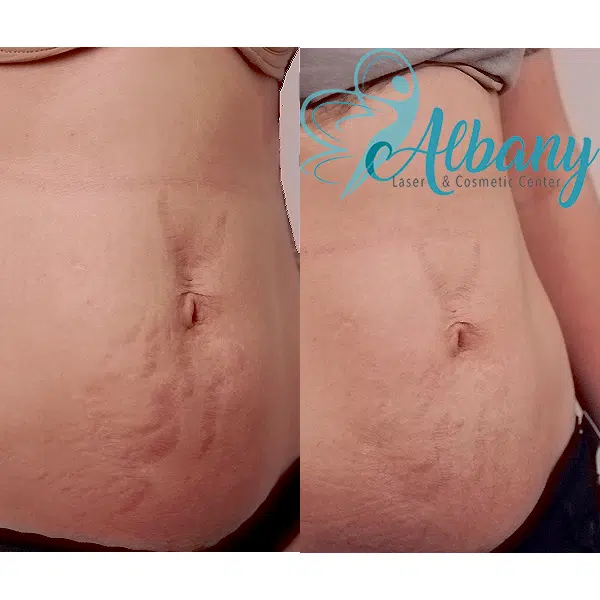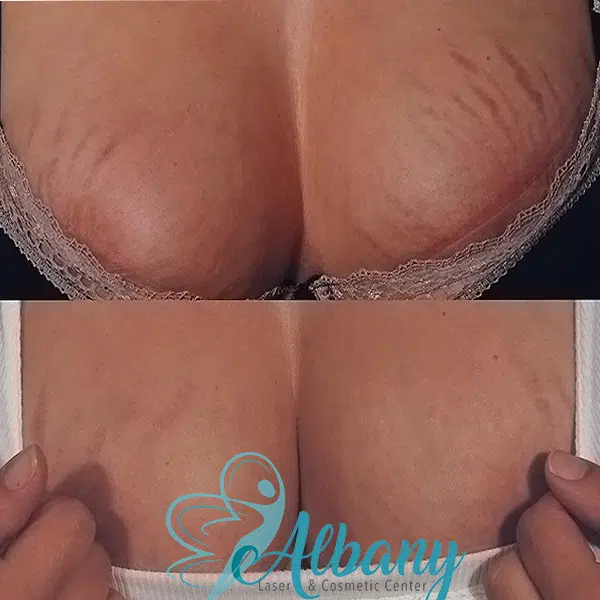 Stretch Marks Treatment Results
While there is no guaranteed way to eliminate stretch marks, several treatments can help diminish their appearance. Topical treatments such as creams and gels can help to moisturize the skin and promote collagen production. Laser therapy can also effectively reduce the appearance of stretch marks by stimulating the growth of new skin cells. For best results, it is often recommended to combine different treatment methods. For example, you might use a topical treatment to improve the texture of your skin while undergoing laser therapy to reduce the appearance of striae distensae. With patience and dedication, it is possible to see significant improvements in the appearance of your stretch marks.