Nothing makes you feel (and look older) than Under eyes, circles, and fine lines. Those dark circles are not something you can rarely control. Genetics plays a large part in whether or not you have them. Of course, other factors like lack of sleep, smoking, and proper diet can affect, but it's (mostly) not your fault. Under-eye circles are a normal occurrence. The circle themselves are little more than a tangle of loose skin. As individuals age, their skin gets more supple. It loses part of its suppleness, exacerbated when the fat around the eyes starts to deteriorate. It protrudes forward in the skin, giving the impression of a bag.
Dr. Kamal, in his offices at Albany Laser and Cosmetic Center in Edmonton, has been giving these injections for years. Beyond being simply well-trained, including a Ph.D., Dr. Kamal has been additionally trained to use each product and has done it hundreds of times.
The nonsurgical options for under-eye circles and bags are not many. The Thread Lift is a novel approach to facelifting. It has a similar function in that it aims to make the skin of the face seem younger and more attractive. While a thread lift is intended to enhance the overall contour of the face, it may also be used to reduce under eye circles and bags as well as renew and tighten the skin.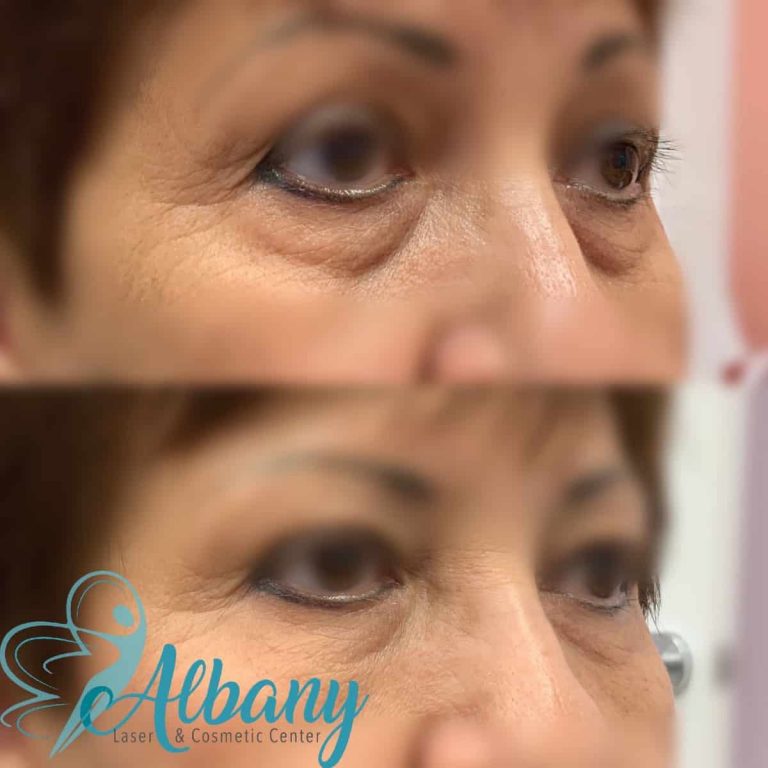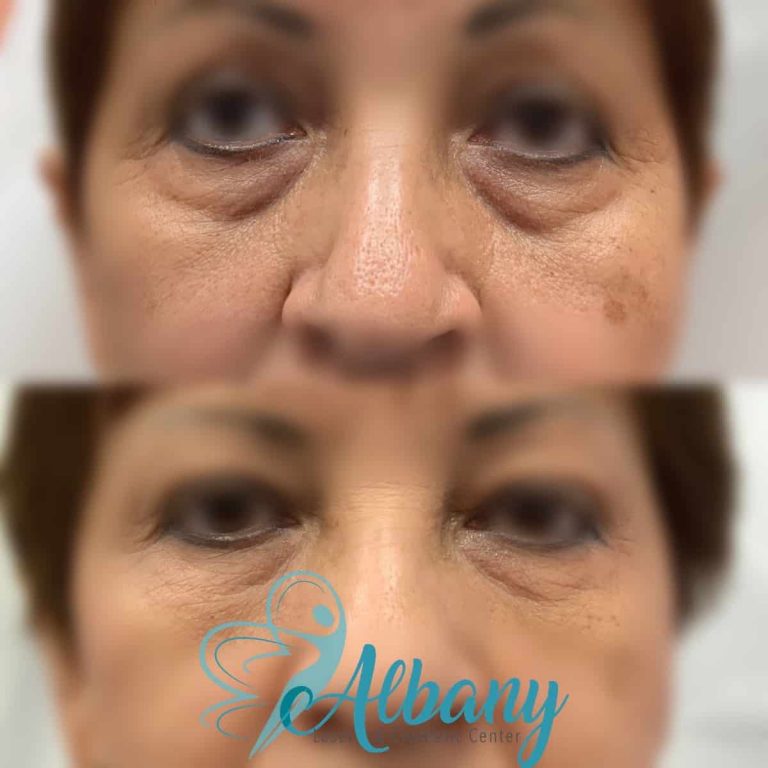 Under eyes Circles Results
The treatment's objective The goal of the Albany Cosmetic Centre in Edmonton is to reduce the appearance of the tear trough ridge, tighten the skin, and improve light reflection to lighten the skin. We begin by taking photographs and, if necessary, performing skin analysis and then providing you with comprehensive information about the causes of undereye bags and non-surgical options. If you have undereye fillers, you will notice immediate results, but due to redness and swelling for the first three days, not everyone will be overjoyed with the filler results. The fillers may take up to two weeks to settle and interlink with the surrounding tissues in the tear trough area. When it comes to Botox and laser treatments, you will not see immediate results but rather gradual ones.
Under Eye Circles Treatment Summary
The treatment session takes between 20 to 45 min
Patients should expect bruising and swelling that last between three to seven days
For under-eye fillers, botox and thread, the treatment is performed in one session
Treatment can be performed every 6 to 24 months as required
Most patients are thrilled with the immediate results, but they observe best results after two weeks
Schedule Your Appointment Now!
We will assist you in becoming the Younger Version of Yourself (YVY), to restore your natural beauty, and to assist you in shining once more through our services.
Under Eye Circles Complete Guide
How to get rid of Under eyes Circles and lines fast!
"We Love making those Under eyes Circles and fine lines can disappear almost instantly with dermal fillers in the tear trough area," said Dr. Kamal Alhallak, director at Albany Laser and Cosmetic Center in Edmonton, known as Dr. Kamal to his patients. "In essence, just like adding to lips, we can put fillers, like Juvederm, into the under-eye spaces and take 20 or more years off of your face." The process is simple. Using a local anesthetic, Dr. Kamal gently injects the filler into the under eyes (tear trough) using a blunt cannula. Many of these fillers can last 6 to 9 months, keeping that young look for a long period.
Why do I get lines and dark circles?
As age, our faces lose some of its volume. Under the eyes, cheeks, and other parts of the face begin to sag and get hollow. The skin under your eyes is among the softest and most fragile on your body. The dark circles are caused by this extremely thin skin showing blood vessels and darker tissues underneath. The fine lines are caused as the volume is lost and excess stretched skin wrinkles to make up for the loss of inflation under your dermis.  Using the hyaluronic acid in tear trough fillers, Dr. Kamal Alhallak helps to increase the volume in this sensitive area. Hyaluronic acid is a natural part of your skin. As you age, your body produces less of this important, rejuvenating substance.
Does topical hyaluronic acid work?
Yes and no. The effects of hyaluronic acid on the skin are minimal, but there are positive effects. It can't hurt, but the effects are more temporary. If you're looking to get rid of your fine under-eye lines and dark circles, getting under eye fillers from Dr. Kamal and then using a hyaluronic lotion boost can be a great help for maintaining it even longer.
Does it hurt to get rid of the lines and circles under my eyes?
 No. The only part that can even hurt a little if the needle stick. As a Doctor of Pharmaceutical sciences and drug targeting, Dr. Kamal knows exactly what local anesthetic to use and how to make sure that you experience little or no discomfort. There is very little recovery time with tear trough fillers. The only thing that's left behind is young eyes and an invisible injections site.
Are tear trough fillers safe for under eyes circles?
 "Yes," said Dr. Kamal in his Edmonton office. "Made from a substance that your body creates and knows exactly what to do with it. That means that these natural substances are, in fact, good for the body. The effects can last for months since the body recognizes hyaluronic acid."
Thread lift for under eye circles
The Thread Lift is a simple way to get rid of wrinkles, sagginess, and fine lines on the face that come with age. This achieves the same results as a traditional facelift but without invasiveness. The Thread Lift will refresh your whole face and make it seem younger without interfering with your everyday activities. Barb Threads are placed in various places of the face during this procedure. The entry points for under-eye circles are different from the jawline or cheek lift. Dr. Kamal will start by poking the proper parts of the face with tiny needles. After that, the sutures are inserted into the little incisions in the face skin. These are exceedingly tiny barbed threads with several little cones all over them. The sutures are placed under the skin's subcutaneous fat, enabling them to adhere to the face tissue. As the needle pulls on the thread, it tightens, causing the skin on that side of the face to elevate. To complete it, the surgeon will tie the strands. The threads will be undetectable since everything will merge into the skin. Because of the nature of the Thread Lift, the benefits will be seen right away. This treatment usually does need local and injectable lidocaine.
Contact Albany Cosmetic & Laser Centre in Edmonton