Navigate the Treatment Details
Russian Lip Filler In Edmonton
Russian lip fillers have taken the beauty world by storm, combining age-old Russian beauty secrets with innovative filler techniques. Albany Cosmetic and Laser Centre is proud to introduce this trendsetting procedure that promises lips that are not just fuller but beautifully sculpted in a lifted, contoured manner.
Russian Lip Results: Before and After Pictures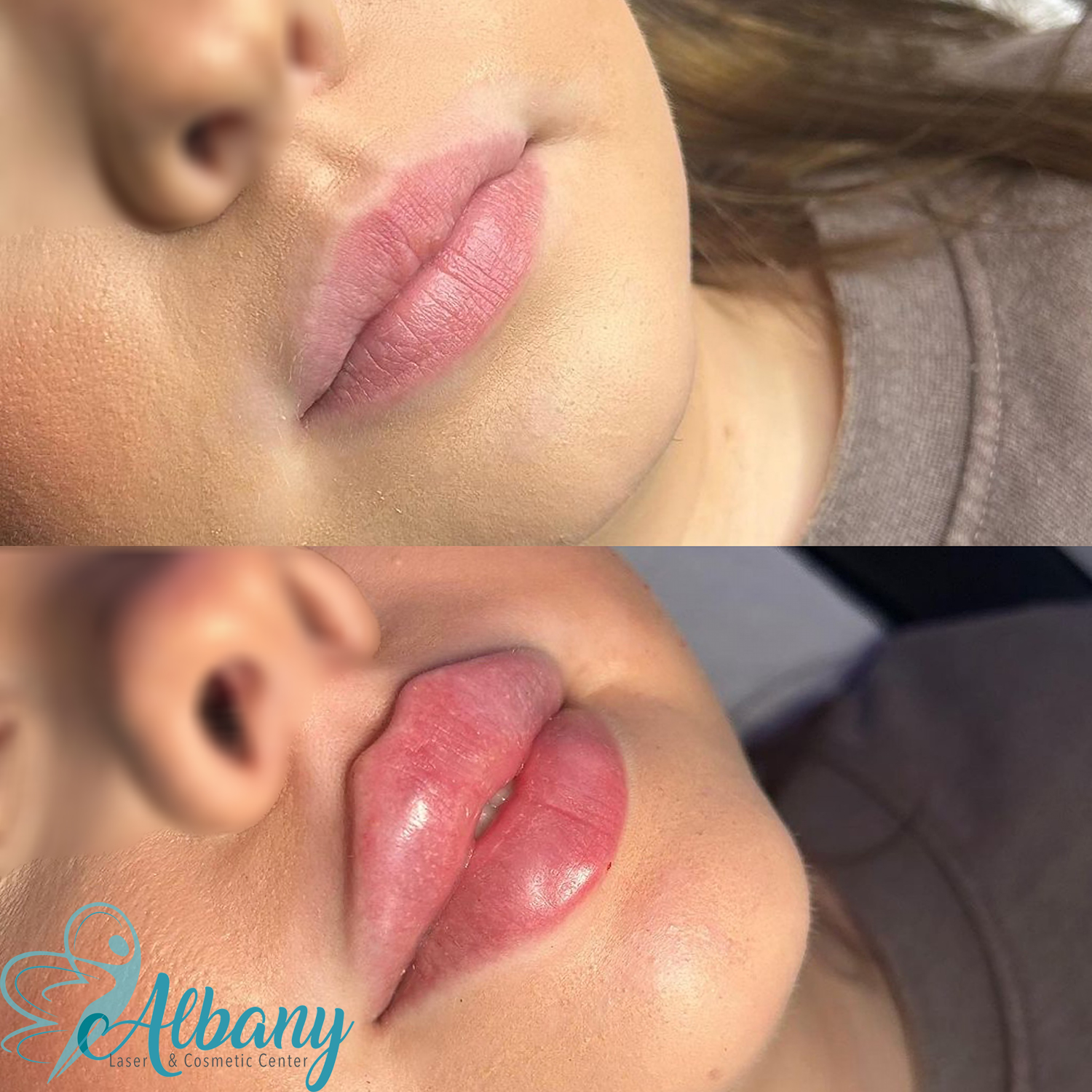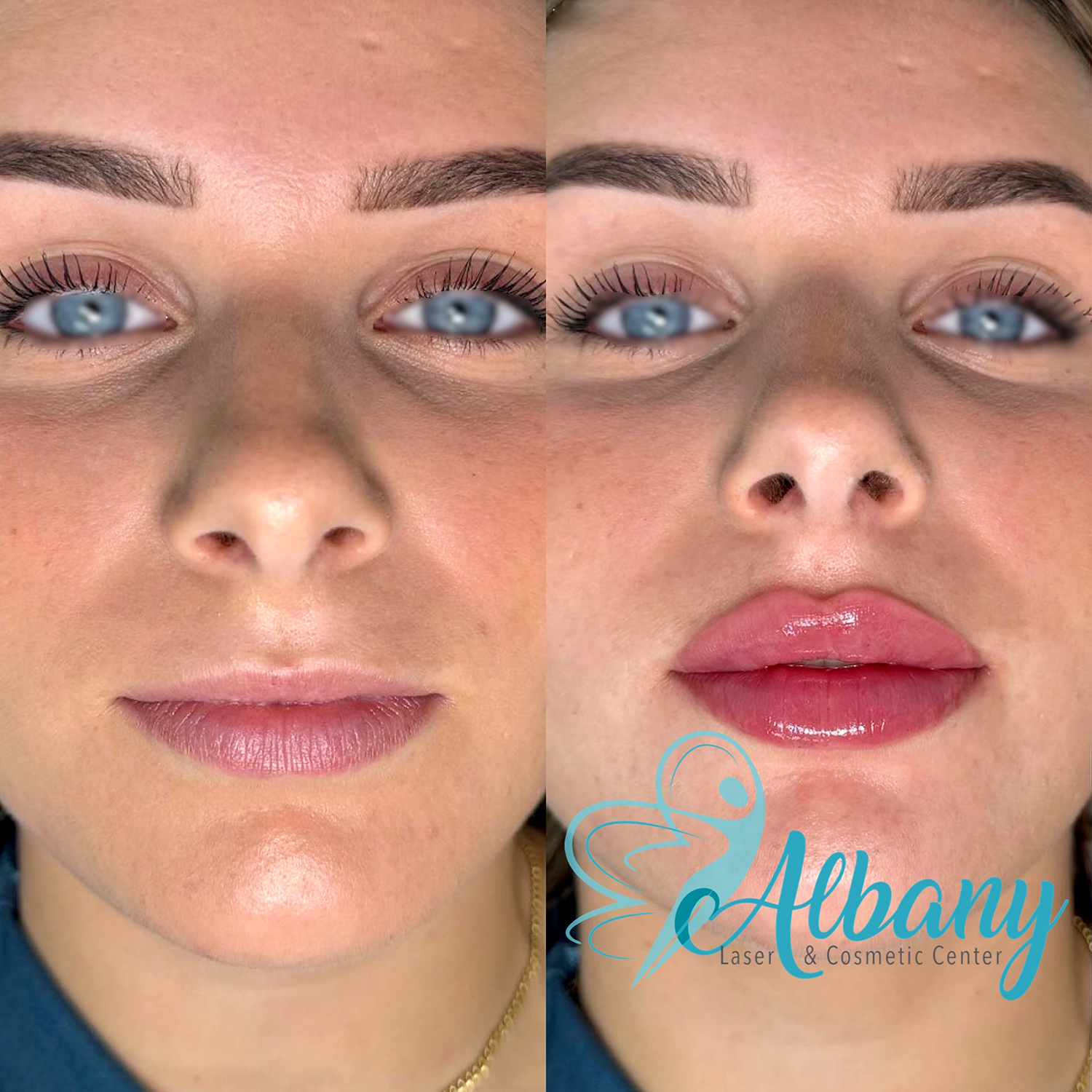 Dive into the transformative world of Russian Lip Fillers with our compelling before and after gallery. These images capture the subtle artistry and finesse of the Russian technique, highlighting the shift from natural lips to a more elevated, contoured pout. Notice the distinct definition, the flatter, sharp-edged appearance, and the absence of the often dreaded 'ducky' look. Each image stands testament to Albany Cosmetic and Laser Centre's commitment to delivering results that are not just fuller but exquisitely shaped, marrying natural beauty with modern aesthetics. Witness for yourself the striking difference a session at Albany can make!
Client Reviews and Testimonials
I recently had Botox treatment at Albany Clinic for my frown. I'm really happy with the results. Moreover, the staff was friendly and professional, making me feel at ease throughout the procedure. They use freezing cream and leave it long enough to work. So I highly recommend them!
"I'm very happy with the results of the laser hair removal at Albany Centre. The procedure was quick and comfortable. I did not feel rushed and provided me with many towels to change. So, I recommend them to anyone.
"I had an excellent experience with Albany Centre for lip fillers. Moreover, the team was so welcoming, and the results were just what I wanted. My lips look natural but bigger and with a heart in the middle!"
A Video Showing the Injection Techniques
What are Russian Lip Fillers?
Unlike traditional lip fillers that focus on volume, the Russian lip technique prioritizes shape and elevation. The method involves injecting the filler vertically into the lip to create a flatter, sharp-edged, and more contoured look. The outcome is a sultrier, more defined pout without the "ducky" appearance.
Benefits of Russian Lip Fillers
Natural Appearance: Achieve a naturally fuller and uplifted lip appearance.
Less Bruising: Due to the advanced technique and expertise, patients often experience minimal to no bruising post-procedure.
Long-Lasting Results: Enjoy your gorgeous lips for longer durations, with results lasting up to 6-12 months, depending on individual factors.
Before & After Care
To ensure optimum results and a smoother recovery:
Avoid blood-thinning medications and supplements a week prior.
Hydrate and moisturize your lips regularly.
Post-treatment, refrain from excessive lip movement and follow aftercare guidelines provided by our specialists.
Why Choose Albany Cosmetic and Laser Centre for Russian Lip Fillers?
Expertise: Our skilled practitioners have undergone specific training in the Russian lip filler technique to ensure precision and artistry in every procedure.
Customization: We understand that each lip is unique. We tailor our approach to suit your facial aesthetics and desired outcomes.
Safety First: Using only FDA-approved fillers, we prioritize your safety and satisfaction above everything.
Book Your Consultation Today!
Discover the transformative power of Russian lip fillers and let your lips do the talking. Schedule a consultation with our experts to discuss your aesthetic goals and embark on a journey to impeccable beauty.