Get a Dramatic Tightening and Rejuvenation of your Skin with our Advanced Microneedling Service.
MICRONEEDLEING FRACTIONAL RF The MFR (Microneedling Fractional Radiofrequency) creates precise and controllable coagulation zones deep within the dermis; with a 3-dimensional delivery of energy, maximizes skin volumization, provides dramatic skin tightening and skin rejuvenation, and offers a more comfortable procedure thanks to our flow needling technology. Depth control allows for customized treatments for delicate areas, such as the forehead and cheek bones and can deliver multiple passes.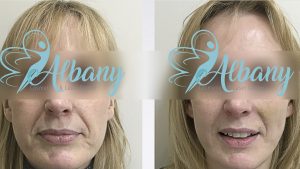 The microneedles deliver the RF energy precisely, so there is virtually no thermal damage to the epidermis, as a result of MFR effectively lowers the risk of PIH in dark skin types. the SUPERFICIAL FRACTIONAL RF The SFR (Superficial Fractional Radiofrequency) handpiece provides minimally invasive delivery of RF energy to the epidermis and dermis with its unique dual channel delivery system. The first channel delivers a deeper zone of controlled thermal effect, while the second channel provides micro-ablation of the upper layers of the epidermis and mild coagulation. Working in combination, the two distinctive channels result in luminous skin, controlled tightening and scar revision.
The main difference between laser and Microneedling the mechanism of action and safety profile. Both Fraxel and Infini provide fractional damage to the epidermis at almost the save depth, about 3 mm. The microneedling has the advantage of being save at darker skin type, especially in dark African American, where Fraxel Laser may cause some hyperpigmentation. The disadvatages of the Fractional Microneedling is the pain associated with the procedure and the pin point bleeding. Both Fractional microneedling (Infini) and Fraction laser (Fraxel) has almost the same down-time, about three days and both can be used for skin resurfacing, skin tightening and wrinkle removal in Edmonton. Fractional Laser Fraxel has the advantage of ability to treat both Pigmentation and wrinkles at the same time by changing the wavelength between the passes between 1550 and 1927 accordingly.
For More Information Contact us
_______________________________________________________________________
Fact of Edmonton
About 4.4 million people visit the Edmonton annually, which makes a well known destination in Alberta.
____________________________________________________________________________