Sculptra, the collegen inducer filler For Facial Rejuvenation in Edmonton
Presently, the aging process is no longer seen as a gravitational fall. The loss of volume and bone remodeling is an essential components. While invasive procedures correct sagging skin, they do not fix the loss of volume. However, fillers including Sculptra offer a reasonable solution Most of the fillers are made of Hyaluronic acid, however, Sculptra is not an actual filler and is made of the polylactic acid microsphere. It provides a scaffold for natural collagen natural production.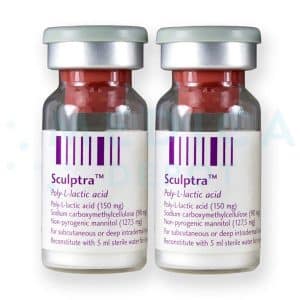 Dermal filler injections, like Sculptra, are an effective treatment option for treating a broad range of cosmetic issues caused by causes such as aging. Our staff at Albany Cosmetic and Laser Centre in Edmonton is committed to ensuring that all of our patients have gorgeous Sculptra results in Edmonton.
Navigate the Treatment Details
Facial Aesthetic Assessment: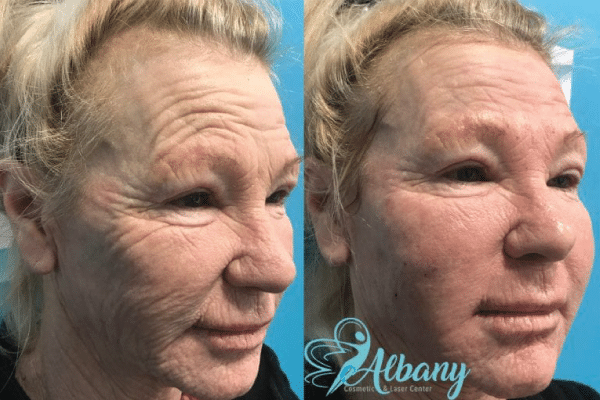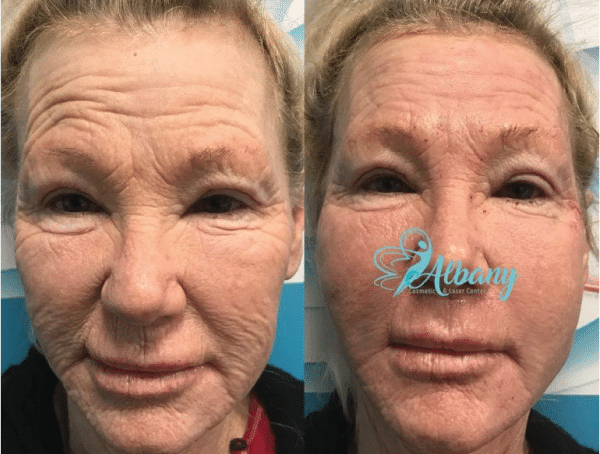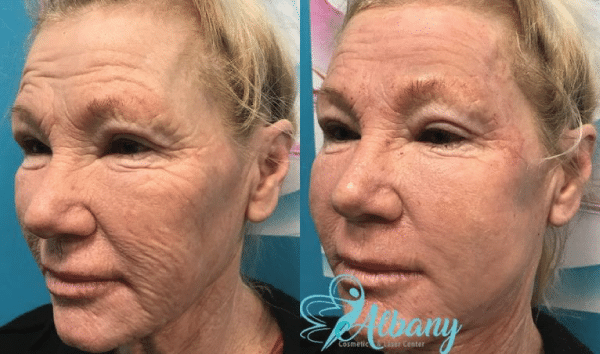 Both female and male patients can benefit from Sculptra. Poly-L-Lactic acid can treat volume loss, offering the base for facial rejuvenation.Also, the best candidates for this treatment should:
Practical treatment goals
Want complete volume restoration
Know the importance of multiple treatment sessions.
Real Client Reviews and Testimonials
I had an excellent experience with Albany Centre for lip fillers. Moreover, the team was so welcoming, and the results were just what I wanted. My lips look natural but bigger and with a heart in the middle!
I recently had Botox treatment at Albany Clinic for my frown. I'm really happy with the results. Moreofer, the staff was friendly and professional, making me feel at ease throughout the procedure. They use freezing cream and leave it long enough to work. So I highly recommed them!
I'm very happy with the results of the laser hair removal at Albany Centre. The procedure was quick and comfortable. I did not feel rushed, and provided me with many towels to change. So, I recommend them to anyone.
Witness the Difference That Our Cosmetic Treatment Made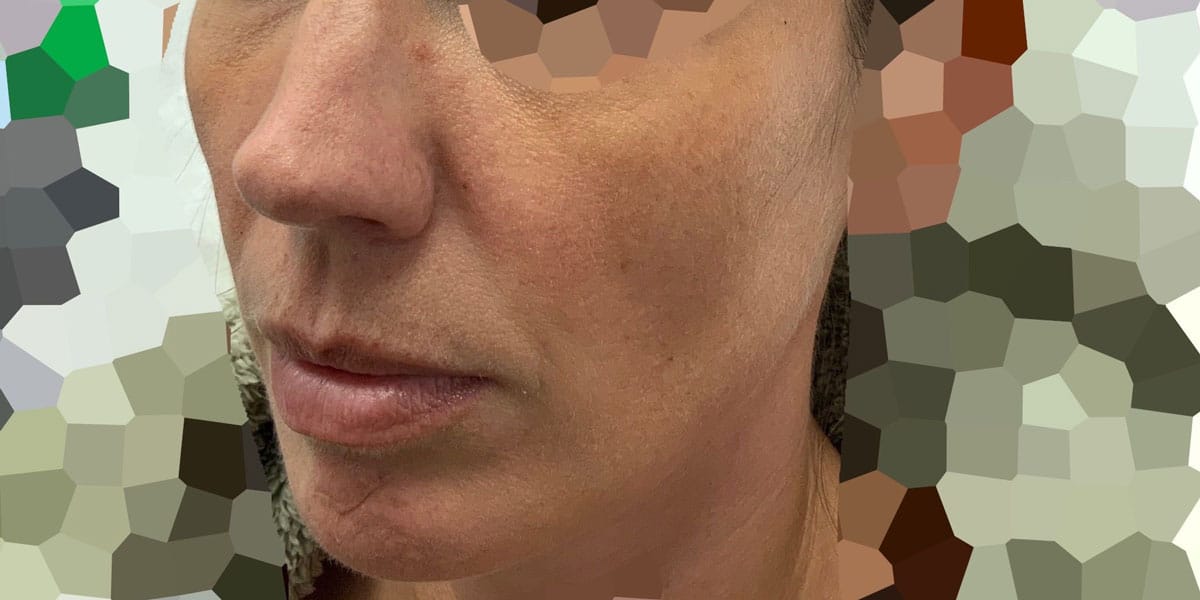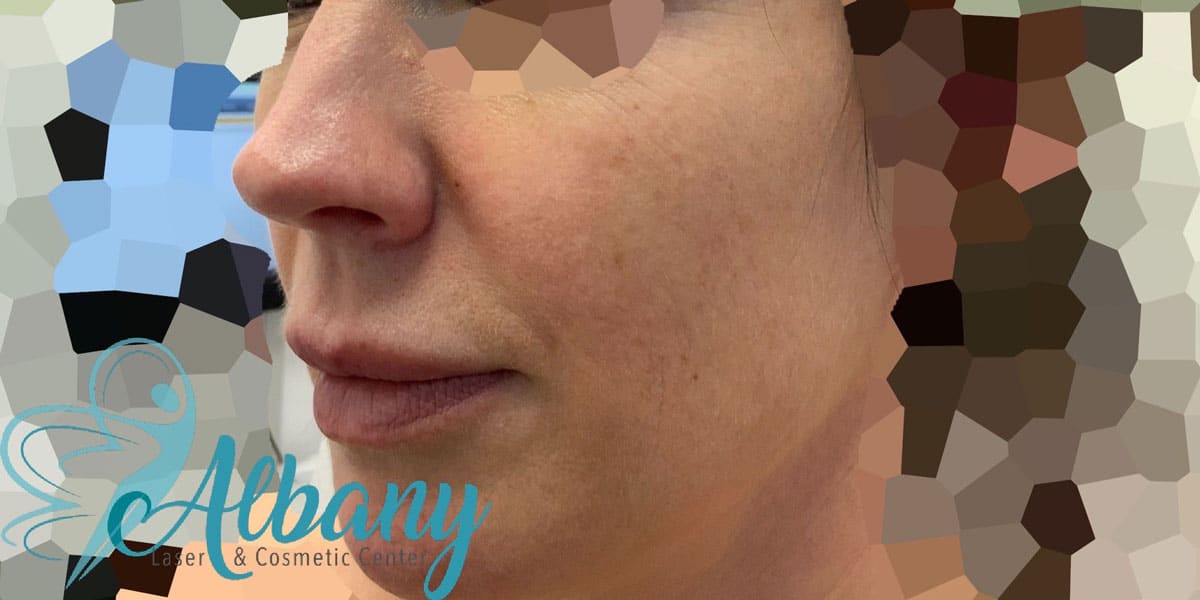 Move the slider to see the difference after the treatment. 
Discover Younger and More Vibrant Skin with Sculptra Filler
Sculptra Aesthetic is an injectable facial filler made from poly-L-lactic acid, a safe and biocompatible material. It is injected into the deep layers of the skin to reduce wrinkles and lines, restore volume, and generally improve the appearance of aging skin. Sculptra works by stimulating collagen production in the body, resulting in a gradual increase in facial volume that can last up to two years.
The effects of Sculptra gradually appear over time instead of appearing suddenly like many other facial fillers. Because of this, patients may need multiple treatments before they can achieve their desired look. Unlike other types of fillers, Sculptra doesn't just provide immediate gratification – it offers long-term benefits as well! Furthermore, since Sculptra works with your body's natural collagen production process, its results are much more natural-looking and subtle compared to traditional facial fillers. For those looking for a more permanent solution for wrinkles and facial volume loss due to aging or sun damage, Sculptra could be the perfect choice!
Sculptra Aesthetic at Albany Cosmetic and Laser Centre
At Albany Cosmetic and Laser Centre, we are proud to offer our patients Sculptra Filler treatments. This is a long-lasting dermal filler that works by stimulating collagen production in the treated area. It helps to improve facial volume and reduce wrinkles, giving you a more toned and youthful appearance.
The results of Sculptra Filler can last up to two years, making it an effective solution for those looking for lasting results. Our experienced physicians will discuss the best treatment options with you to determine if Sculptra Filler is the right choice for your needs.
During the treatment session, fine needles are used to inject the product into the areas of concern. The process itself takes about 30 minutes, during which time we can also talk about any other treatments or services you may be interested in such as laser hair removal or skin resurfacing.
After the procedure, you may experience mild swelling and tenderness that typically dissipates within 24 hours. As the collagen production begins to take effect, patients can begin to see results over several weeks with continued improvement over time until desired results are achieved. Come visit us at Albany Cosmetic and Laser Centre today and find out.
Collagen loss during Aging Process
Collagen is an essential structural protein of the skin that gives it volume and helps it seem younger. Our skin produces less collagen as we age, and our skin loses flexibility and volume—wrinkles, creases, and folds form as a result of this and environmental variables like sun exposure. Collagen-based anti-aging lotions can't go beyond the skin's surface to replenish lost collagen. Sculptra, on the other hand, can.
Sculptra works in the skin dermal layer to organically boost the body's collagen production. Sculptra progressively enhances or restores volume to repair wrinkles and folds as lost collagen is replenished. Your new young appearance develops gradually over several treatments, so it is subtle and natural-looking. Furthermore, the effects might continue for up to two years.
Safe and Effective
Gradual Result
Natural Results
Long Acting Results