Pigmentation Treatment in Edmonton
As we age and with excessive exposure to the sun, the darker spots just appear. and every single of them shouts "look at me, I am old!!!" Believe or not, your skin has the solution. A very Gentle treatment with our unique protocols will stimulate your skin to regulate the pigmentation and dissolve it to have perfectly even skin color
Are you Struggling with pigmentation or Uneven Skin Color?
"For a long time, and every morning when I look in the mirror I feel frustrated about the dark areas on my face", Lisa told me in her pigmentation consultation. Lisa is a sweet lady, she is in her mid-thirty. After her first child, she noticed some dark patches invading her face. "I avoid taking any family pictures even with my kids and avoid all social occasions, it is affecting me". Lisa is not alone, and if you share some of her issues, we are here to help you with our special Pigmentation.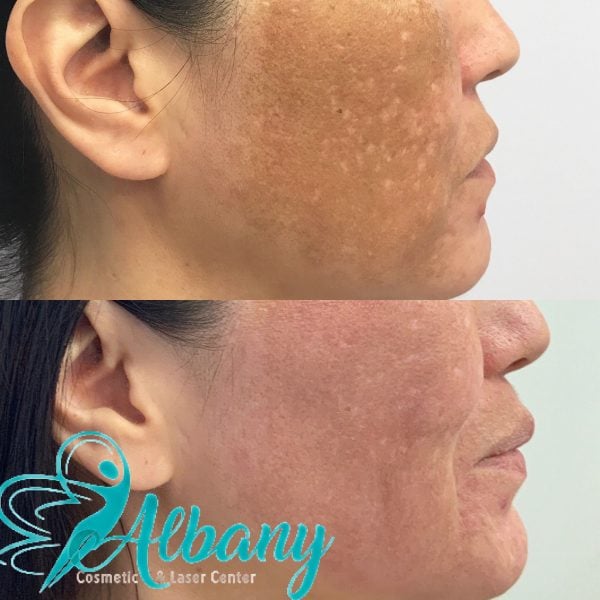 What is pigmentation?
We will try to make it simple. Pigmentation is having some darker skin areas on the face.  Pigmentation appears on the face due to the irregular activity of melanocytes, the cells that are responsible for the melanin productions.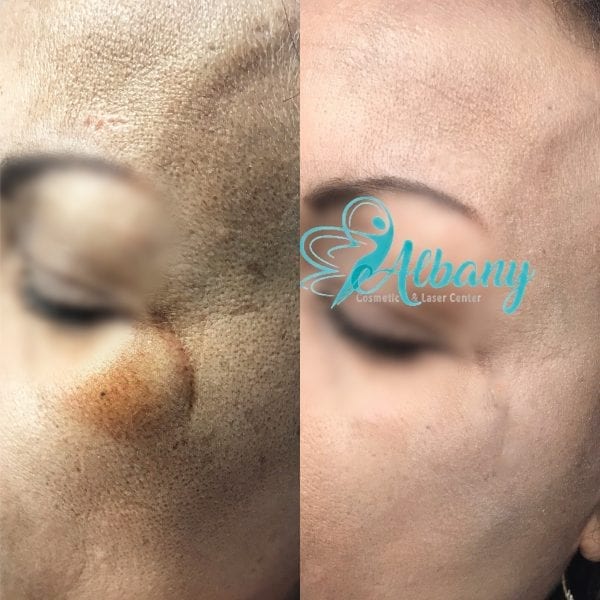 What is Melanin, is it bad?
NO, Melanin is not bad, it gives our skin and hair its color. (think of it as ink), but the uneven melanin in the skins causes pigmentation.
[siteorigin_widget class="WP_Widget_Custom_HTML"][/siteorigin_widget]
Dark and light melanin!
To be more specific, thee Eumelanin is responsible for dark skin colors, whereas, the Pheomelanin is responsible for lighter skin and hair colors. Moreover, the enzyme tyrosinase plays an important rule in pigmentation.
Melanin life cycles!
Melanocyte (A special type of cells) are the source of all melanin in our skin. The keratinocytes; the cells that form the skin outer layer gets the pigment from melanocytes, and store them in melanosomes (think about it as a bag of ink). One melanocyte is responsible for feeding 30-40 keratinocytes. The color of the skin and hair depends mainly on the type of the melanin and the way it is distributed in the keratinocytes.  Epidermis, the outer layer of the skin, contains most of our melanin. Therefore, the uneven distribution of the melanin causes all pigmentation issues such as Melasma.
[siteorigin_widget class="WP_Widget_Custom_HTML"][/siteorigin_widget]
Pigmentation is multifactorial!!!
Under several conditions, the melanocytes started to overproduce the pigment melanin, and the extra production results in irregular deposition in the keratocytes, hence the unwanted pigmentation. The reason that induced the irregular activity of the melanocytes decides the. For example, melasma is mainly induced by hormonal changes during and after pregnancy, hence the name (mask of pregnancy).
Each state has different hemp plans, so you should check in with state licensing agencies before reselling hemp. Mystic Kava Root | Hemp CBD Tea. Alcoholism is not one of those diseases that produce clear visible symptoms site. CBD oil may stir up feelings of drowsiness and fatigue.
[siteorigin_widget class="WP_Widget_Custom_HTML"][/siteorigin_widget]
Our Protocol for pigmentation
There is no all-inclusive treatment for pigmentation and melasma. After the consultation, we will design an individual treatment plan should target three different problems; Skin resurfacing, Melanocytes and Melanin overproduction.
We formulate a special cream which is customized the cream according to your skin needs and nature. The cream provides both anti-tyrosinase, chemical peel, fruit acid peel, and skin lightening components. The client uses this cream for the two weeks of the protocol
In the third weeks, we treat the skin with Silk Peel, an advanced form of microdermabrasion, using Lamyxal solution. This procedure provides both mechanical peeling and anti-tyrosinase activity.
the fourth week of the protocol we apply a special poly-peptide solution with gentle micro needling to provide further inhibition of the pigmentation that gives melasma patches its dark color. After the 1-2 weeks break the laser will be started. [expand title="Read More Here"]The cycle should be repeated as required and treatment should be spaced away as per skin condition Nano-second Q-switch Laser This laser is the cornerstone of pigmentation treatment The short pulse width in this dual-lengths laser, along with the photoacoustic properties of the laser beam, will give excellent results for all kinds of pigmentations. These include freckles, sun spots melasma. Fraxel Laser Fraxel Dual Laser, along with fractional Microneedling provides excellent results for skin resurfacing, Pigmentation removal and pigmentation treatment.[/expand]
WHAT RESULT WOULD I EXPECT AFTER THE PROTOCOL? 
The results depend on the severity and the cause of the pigmentation. You might not notice a difference in the first couple of day. However, the real difference starts showing 1 week after the laser treatment. although this treatment is designed for pigmentation, it will be beneficial to skin in general. Therefore, you will notice improve in the skin texture, glow, decrease in pore's size and acne flare-ups.
Who Is Dr. Kamal Alhallak
About the author; after gaining a Ph.D. (doctorate) in pharmacy and pharmaceutical sciences. During his Ph.D., Dr. Kamal Alhallak (Ph.D. in Pharmacy) developed a special passion for cosmetic and aesthetic treatment. Challenging, yet rewarding,  He did special training in skincare and cosmetic injections and developed distinguished skills in Botox and fillers injection. Albany cosmetic and center staff produced great results in all cosmetic fields such as wrinkle treatment, skin pigmentation, and acne treatment.
[maxbutton id="1″ ]
We, at Albany Cosmetic and Laser Center in Edmonton, are passionate about providing our client with best results possible For More Information Contact us.
[maxbutton id="1″ ]
Want to know about Fraxel Laser?
[expand title="Read More Here"]
FRAXEL LASER EDMONTON:
Fraxel laser is a distinctive noninvasive laser procedure intended to impressively enhance skin texture and pigmentation, including the treatment of fine lines and wrinkles, skin scars, and sunburn.
DOES THE FRAXEL LASER PROCEDURE TAKE A LONG TIME
The treatment takes only 60 minutes for a full face with extra time for esthetic application
WILL THE RESULTS I GET LAST LONG
This depends on the situation and skincare that you provide and lifestyle. Smoking and sun exposure makes the pigmentation show again. You will need to repeat the treatment every year and so
WHAT IS THE MECHANISM OF ACTION OF FRAXEL LASER IN EDMONTON?
Fraxel Laser uses fractional resurfacing in which the laser is creating microscopic laser spots, other spots are left untouched. This bringing about quicker recovery time and insignificant side-effects.
WHY DOES FRAXEL LASER USE TWO WAVELENGTHS?
This procedure utilizes two wavelengths, 1550 and 1927. once the Fraxel laser hits the skin, water in the skin absorbs to different degrees, which gives lots of option. The 1927nm wavelength enhances pigmentation while the other, the 1550nm wavelength, targets skin texture enhancing deep lines and skin inflammation scars. Therefore, We use both wavelengths in pigmentation treatment. Therefore, Fraxel laser treatment is also effective in targeting and removing fine lines, aging signs, regardless of the age or sex of the user.
WHY IS FRAXEL NON-ABLATIVE FRACTIONAL LASER SAFER THAN CO2 LASER?
The Fraxel is fractional laser and less ablative (aggressive) than CO2 laser, therefore, it is safer. Another advantage of the Fraxel laser is the level of penetration, up to 1.6mm, significantly deeper injected than the CO2 lasers which go 0.3mm.
IS FRAXEL LASER FDA CLEARED?
YES! Fraxel dual laser is cleared by the FDA to treat Hanging skin, pigmented injuries, skin inflammation scars, melasma. It has also gotten the CE Mark endorsement to treat pigmentation.
WHAT IS NEW ABOUT THE FRAXEL LASER IN EDMONTON?
The new advancement of Fraxel is adding a second wavelength. After years of research, Solta INC improved Fraxel by adding 1927 nm wavelength for better results on pigmentation.
HOW EXACTLY DOES THE FRAXEL LASER PROCEDURE WORKS?
Fraxel Laser is a non-ablative treatment that is absorbed water in your skin. Thereafter, the water turns the laser light energy into heat to induce the skin and induce collagen. The Fractional technology reduces the side effects and shorter the downtime.
WHAT SHOULD I EXPECT IMMEDIATELY AFTER THE TREATMENTS?
Most of our client describe their feelings as having a bad sunburn. Signs are a different level of redness, swelling which usually lasts of 3 hours. We provide our clients with complete aftercare instruction.
What Other treatment Does Fraxel provide?
Skin tightening: 
this treatment reduces fine lines, and stimulates new collagen generation, resulting in a young-looking skin with fewer wrinkles and lines. The fractional mode has amazing results with minimum downtime.
Scar and Stretch marks: 
Fraxel laser improve the generation of collagen by invigorating the dermis layer and stimulates new cell development on the epidermis to smooth out the highest point of the scar and stretchmarks We at Albany Cosmetic and Laser Centre in Edmonton provide best Laser treatment with most expert medical staff for Melasma and pigmentation. Moreover, we offer other cosmetic services such as skin tightening, Botox and Fillers, laser hair removal,[/expand]
[maxbutton id="6″ ]