Overview of Under-eye fillers
Under-eye bags and tear-trough darkness are common issues for many people. Undereye fillers are an effective treatment option in addressing these issues, as they can restore volume and hydration to the skin to reduce the appearance of dark circles and puffiness.
The benefits of using dermal fillers to treat under-eye bags include improved overall facial appearance, reduced wrinkles and fine lines, improved hydrations, smoother skin texture, minimized puffiness and dark circles around the eyes, reduced signs of aging, and a refreshed and alert look. Additionally, this non-invasive procedure offers minimal pain and no downtime.

The procedure typically involves using a cannula—a thin hollow tube with a blunt end—which allows for precision placement beneath the skin without causing any damage or disruption to surrounding tissue. This ensures comfort during the procedure as well as increased safety outcomes post-treatment. An anesthetic cream is generally applied beforehand to reduce any discomfort or pain.

Side effects from dermal filler treatments are often mild and temporary, such as swelling, redness or bruising at the injection site, which will generally subside after a few days or weeks. If you experience anything more severe, it's important that you seek medical advice immediately.

When choosing dermal fillers for under-eye bags, it's important that you do your research and selects a brand that you trust for its quality ingredients used in their products; some of the top brands in this field include Restylane®, Juvéderm® and Belotero®. These brands offer various formulas designed specifically for under-eye bags, which can help improve overall facial appearance while minimizing any possible side effects associated with dermal fillers.
There is some confusion about the definitions of under-eye and tear-trough problems according to reason, anatomical attributes, and appearance.
Anatomy for the under-eye deformities
Under the eye, issues can be divided into nasojugal, tear trough, and palbebromalar deformities. These deformities differ according to anatomical features. Some causes are rupture or atrophy of the fat under the eyes, malar bone resorption, and oculi orbicularis muscle contraction. Fillers are gaining an excellent reputation for treating most under-eye issues due to their high convenience profile for volume loss correction compared with fat injection. Good experience in carefully choosing the filler and injection technique is essential for good correction results for under-eye bags and tear-through hollowness.
Are fillers the ultimate treatment under eye bags and deformities?
Very soft tissue fillers (Juvederm Volbella and Restylane Refyne) are an excellent choice in some cases, such as mild nasojugal indentation. To avoid bulging or visible irregularities, we can use needle injection. For deeper indentation and deformity, a thicker filler (Juvederm Volift and Restylane Defyne) can be used, taking into concentering using a thicker cannula to assure deep plane injection and help to cut the fibre ligaments. Firm fillers (Juvederm Voluma and Restylane Volume) can be used for significant volume loss using a thicker cannula.
It is important to point out that the only officially approved fillers for tear trough areas are the very soft ones; Juvederm Volbella and Restylane Refyne. Some other deformities, such as advanced grades of infraorbital fat rupture, may need surgical intervention as it causes less beading and irregularity, especially in the thin skin and subcutaneous tissue around this region. The enzyme hyaluronidase can remove all HA fillers.
Who are the main suppliers for HA fillers in Edmonton?
Allergan, the supplier for Juvederm, and Galderma for Restylane, are the main two HA fillers in the Albany cosmetic and laser center in Edmonton.
Fillers injection technique of choice for under eyes bags
There are two main techniques for injection the filler
Sharp needle

Blunt Cannula
each of them has its advantages and disadvantages.
Which technique to choose for under-eye corrections?
The questions that most patients and even injectors ask are, which is better, needles or blunt cannula for fillers injection? Through my practice, I learned that you get better results with a cannula in general, especially when fillers are injected into deep fat layers and help release the fiber ligaments. Needles are still being used for injection into a subdermal area in areas with less vascularity and safer injection locations. This technique usually has better results in making fine contours.
Cannula fillers' injection technique is safer and associated with significantly less capillary injury and bruising. It is important to choose a safe entry point for the cannula. A 20 mm below lateral canthus line for the volume deficiency is considered an ideal injection entry point. We usually start with the plane and then move to the more superficial planes to even out the surface. We can combine both cannula and needle techniques. The fillers should be placed slightly under the depressed part of the tear trough or eye bag to help push the prolapsed portion from under to work as a scaffold.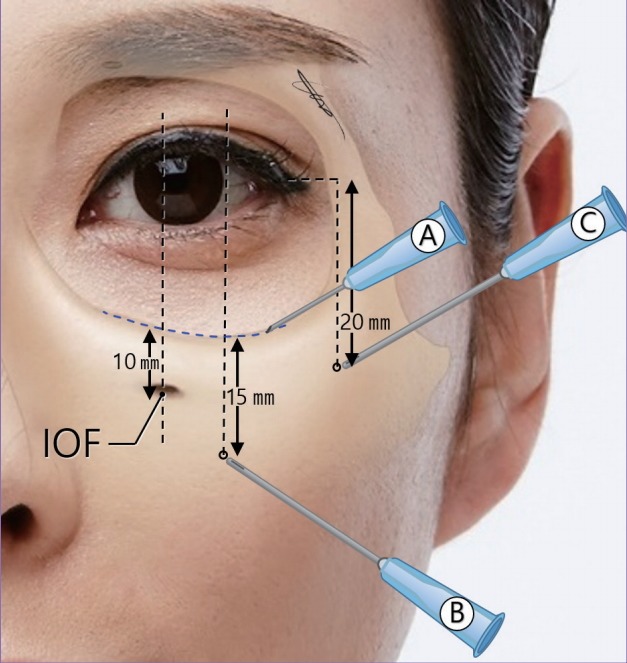 What is the cost of fillers for under-eye bags and tear trough deformities?
The cost of one 1 CC filler syringe is between 500 to 600. The number of filler syringes depends on the severity of the problem and the anatomical correction needed. On average, the cost would be between 750 to 1500.
Are the results of fillers guaranteed for under-eye bags?
There is no guarantee for cosmetic procedures, and every procedure may have some associated risk. However, in the previous paragraphs, we discussed the choice of fillers type and techniques is very important to have significant results and corrections.
At Albany Cosmetic and Laser center in Edmonton, we have long experience and excellent results with tattoo removal,  facelift, lip filler, body shaping, and under-eye bags and deformities.
Lip Augmentation: Case No. 1022
 Under-Eyes Bags Correction Case No. 1059