THE DIFFERENCE BETWEEN COOLSCULPTING AND SCULPSURE
 Over the years, we've seen several new technologies for minimally invasive fat reduction. This includes CoolSculpting, Exilis, Zerona, Liposonix, and SculpSure. For the past few years, CoolSculpting has been the go-to aesthetic procedure. But, SculpSure is the newest body contouring procedure that removes unwanted fat. As a result, patients want to see the differences between the two. Both procedures target saddlebags, love handles, and belly fat. This overview is not a substitute for a personal consultation with Dr. Kamal Hallak (Ph.D. in Pharmacy). But this article will give you a sense of how these two procedures compare to each other.
Are SculpSure and CoolSculpting safe?
Both CoolSculpting and SculpSure are safe procedures. Also, they are approved by the Food and Drug Administration for their efficacy and safety.
What are the results of CoolSculpting and SculpSure in Edmonton?
CoolSculpting can remove about 22% of fat in the target area within weeks after a single treatment. But SculpSure removes about 24% of fat within some weeks to a few months after a single treatment.
While the results of both treatments depend on several factors, a 2% change is not visible. Thus, don't make this difference a deciding factor. CoolSculpting now has more Handpieces, which allows for smaller target areas. This makes CoolSculpting competitive with SculpSure in versatility and time.
Are both CoolSculpting and SculpSure treatments comfortable?
SculpSure is a comfortable treatment, and it doesn't need numbing. Why? This is due to the precision a laser permits. For instance, the lasers in a hair removal procedure target the hair follicle without destroying the surrounding areas.
This is how SculpSure works too!  The laser targets the fatty areas only without harming other areas. Also, during SculpSure, doctors can adjust the treatment to suit the patient's comfort level. If a particular area is too warm, the physician can turn down the laser panel.
With CoolSculpting, the procedure freezes fat cells by using a suction-based handpiece. Just as you experience numbing when ice is applied to an injury, the target area will feel numb during and after the CoolSculpting.
Some patients say this numbness is uncomfortable. But with the advanced CoolSculpting CoolAdvantage system, the procedure is comfortable. Few patients report tingling and other discomforts.
Are both treatments affordable in Edmonton?
The cost difference between CoolSculpting and SculpSure is small. We at Albany laser and cosmetic center will quote the specific treatment costs during your consultation. For instance, you'll need four panels if you want to alleviate love handles (especially medium-sized ones). Two of these panels must be positioned on each side for a 25-minute procedure. For SculpSure, it costs about $1500. But CoolSculpting needs two small Handpieces, which run for one hour each at $750 per handpiece. This gives a total of $1500.
What is the time commitment for Coolsculpting and SculpSure?
With CoolSculpting, one area is targeted at a time, which requires 35 to 60 minutes to complete. Every treatment cycle depends on the style of handpiece used and the treated area.
With the availability of advanced Handpieces, Coolsculpting is done within 35 minutes or less. If you wish to treat saddlebags, love handles, bra fat, and chin fat, you need two treatments. SculpSure makes use of four laser treatment panels for every 25-minute session. If the areas you want to target are small and on the other side of your body, you can target the two areas simultaneously. Also, you can treat about four different areas in one SculpSure treatment. If you want to treat 2 or 3 large areas, the SculpSure procedure is run simultaneously during a single appointment.
What are the Restrictions and downtime of CoolSculpting and SculpSure?
With CoolSculpting, the targeted area remains red and numb for some hours after the procedure. As a result, you may need to select specific types of clothing if you wish to hide the treatment. Aside from that, neither CoolSculpting nor SculpSure has any recovery period or downtime.
What type of results can you achieve from SculpSure compared to CoolSculpting?
Both SculpSure and CoolSculpting give excellent results to those who want to remove stubborn fat. It is no news that people who maintain a specific diet and exercise still have stubborn fat cells.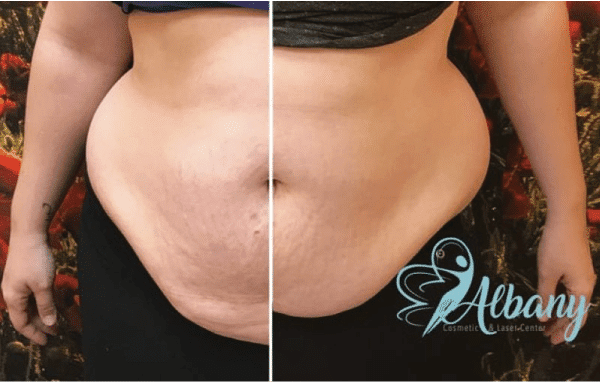 These fat cells are common around the waist and arms. Both treatments are good options for this set of people. While they offer good body contouring results, these treatments are not ideal for whole body weight loss. With CoolSculpting, you will see changes in the problem area within three weeks following the first treatment. However, more visible results occur after 2 to 3 months. With SculpSure, you can see results faster compared to CoolSculpting. When it comes to the number of treatments required, it depends on your treatment goals and your body type. With both CoolSculpting and SculpSure, some may need one treatment. But others with a lot of fat tissue may need several sessions. You will notice changes six weeks after the procedure. Also, you'll achieve optimal results after three months.
What type of technology is used by both procedures?
CoolSculpting is based on targeted cooling ( cryolipolysis), while SculpSure heats fat cells using advanced laser technology. These heated fat cells will be removed naturally by the body. In addition, laser technology helps boost the production of elastin and collagen, creating a smooth skin appearance.
What are the limiting factors of CoolSculpting and SculpSure?
With SculpSure, people of any body type, age, and pinch-able fats can undergo the treatment. CoolSculpting, on the other hand, requires patients to have "suction-able" fat for a safe and effective treatment. Further, the applicator must form a vacuum seal against the target area. At Albany laser and cosmetic center, we offer SculpSure and CoolSculpting.  While we have several convincing before-and-after pictures of both procedures, you still need a consultation.
Our staff is trained in the most effective body slimming protocol. We do not use sculpture laser anymore but upgraded the machine to Fotona tightsculpting