Upper Eyelid tightening with Laser
This eyelid tightening case represents a non-surgical case of mild ptosis (droopy eyelid). The purpose of the treatment is more cosmetic rather than medical.
Results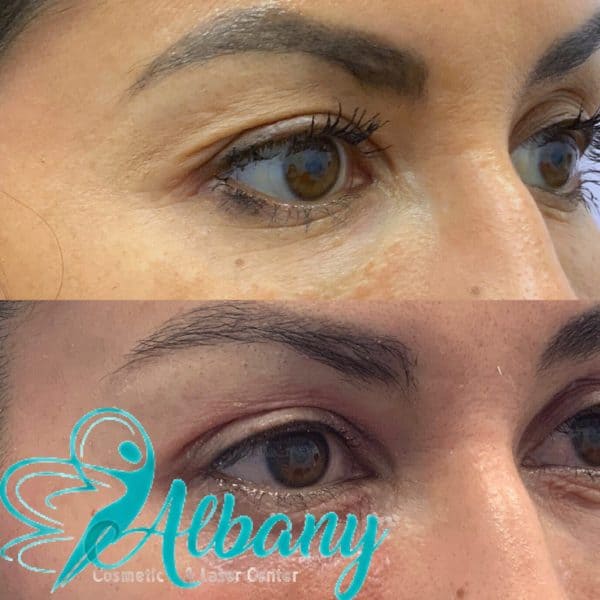 What Is Eye Tightening With Laser?
Many patients who come to our clinic with droopy eyelids (dermatochalasis) are interested in exploring non-surgical solutions.
While eyelid surgery (blepharoplasty) is the gold standard for surgically tightening the eyelids, fractional CO2 laser treatment may significantly improve the look of drooping lids without surgery. 
The Fotona laser with the Er-Yag handpiece and Fotona Smooth mode is a great choice for eyelid tightening. It is one of my favorite treatments for droopy eyelids, particularly during winter. 
Fractional CO2 laser technology is popular because no other laser is as effective at eyelid tightening as CO2.
Also, The Smart Skin laser is a less expensive way to tighten the upper eyelids than surgery.
Unfortunately, this kind of Laser can not be used on patients of color owing to the danger of hyperpigmentation.
Treatment Procedure
Before the treatment, shields are put over the cornea of the eye.
The Laser will induce coagulation without resurfacing. Therefore, there will be no burning marks or risk of hyperpigmentation.
There is a 4-5-day period after the treatment when the skin looks darker (before sloughing), and the lids are puffy (edema).
The lids are so swollen (edematous) the morning after the Laser treatment and they get less swollen as the day goes on.
After eyelid tightening, patients can wear makeup again on the fourth day.
Three months after receiving fractional CO2 to the eyes, this patient's eyes have opened up to the point that the upper eyelid skin no longer droops into her visual field.
After laser operations, it is essential to use sunscreen and moisturize the eyes area. Dr. Alhallak has created simple post-laser care guidelines.
If you're thinking about getting a fractional CO2 laser for your eyes, consider that the results may take 8-12 weeks to manifest, so plan accordingly!
Cost of eyelid tightening with Laser
Upper and lower lids cost 300 per session. Generally, clients need about three sessions to tighten the lids.
Melasma and hyperpigmentation
Jowl sulcus Case # 1009
Coolsculpting Results: Case No. 1006
Enlarged Pores Treatment: Case No.1004