Hair Loss treatment case # 1046
Most patients prefer to stay away from surgical procedures. Therefore, the non-surgical option for hair loss treatment and restoration started to be in high demand. Up to 2 years ago, unless patients are willing to go through surgery, they used to have limited options. Albany Cosmetic and Laser center interdisciplinary team was able to put a comprehensive protocol that showed very promising results.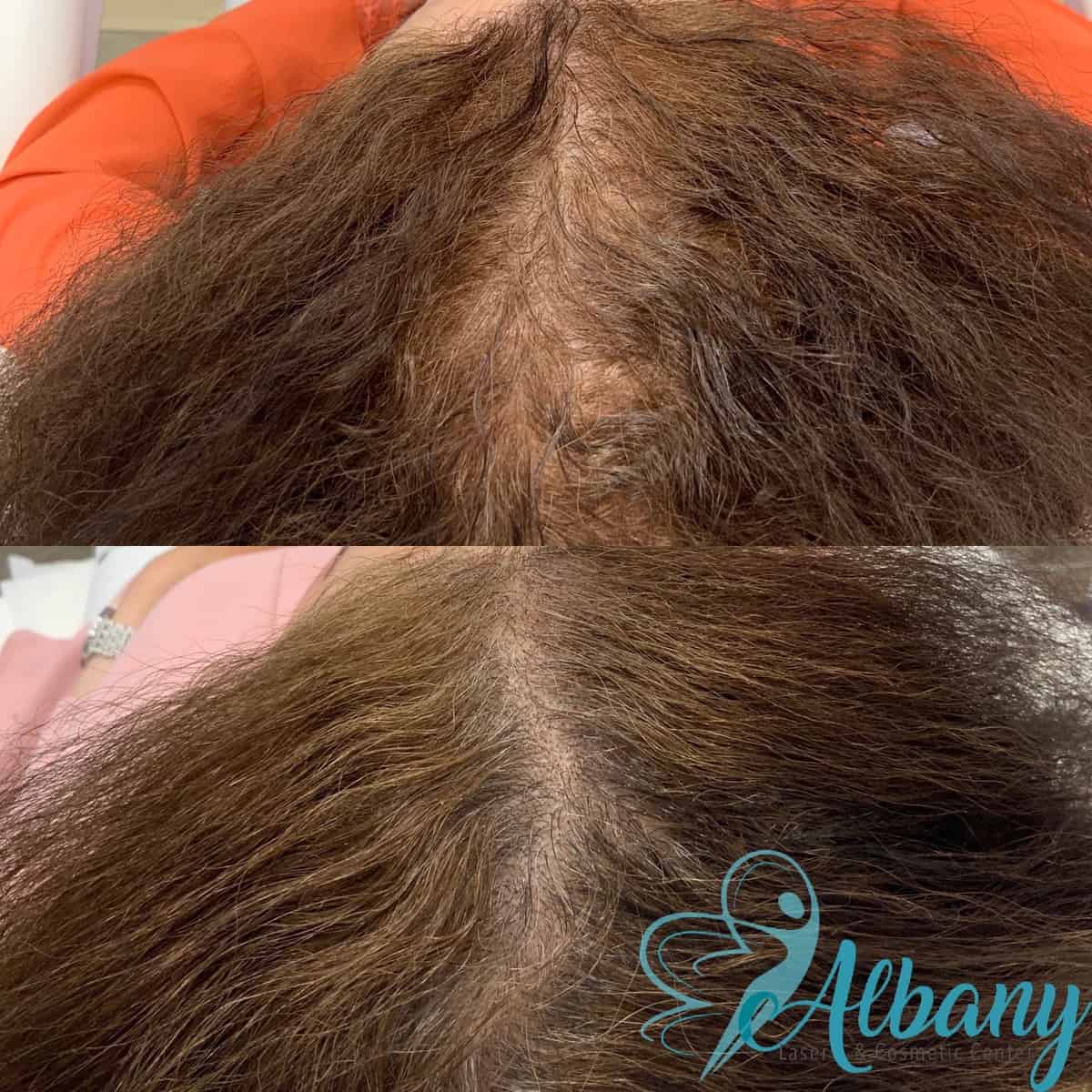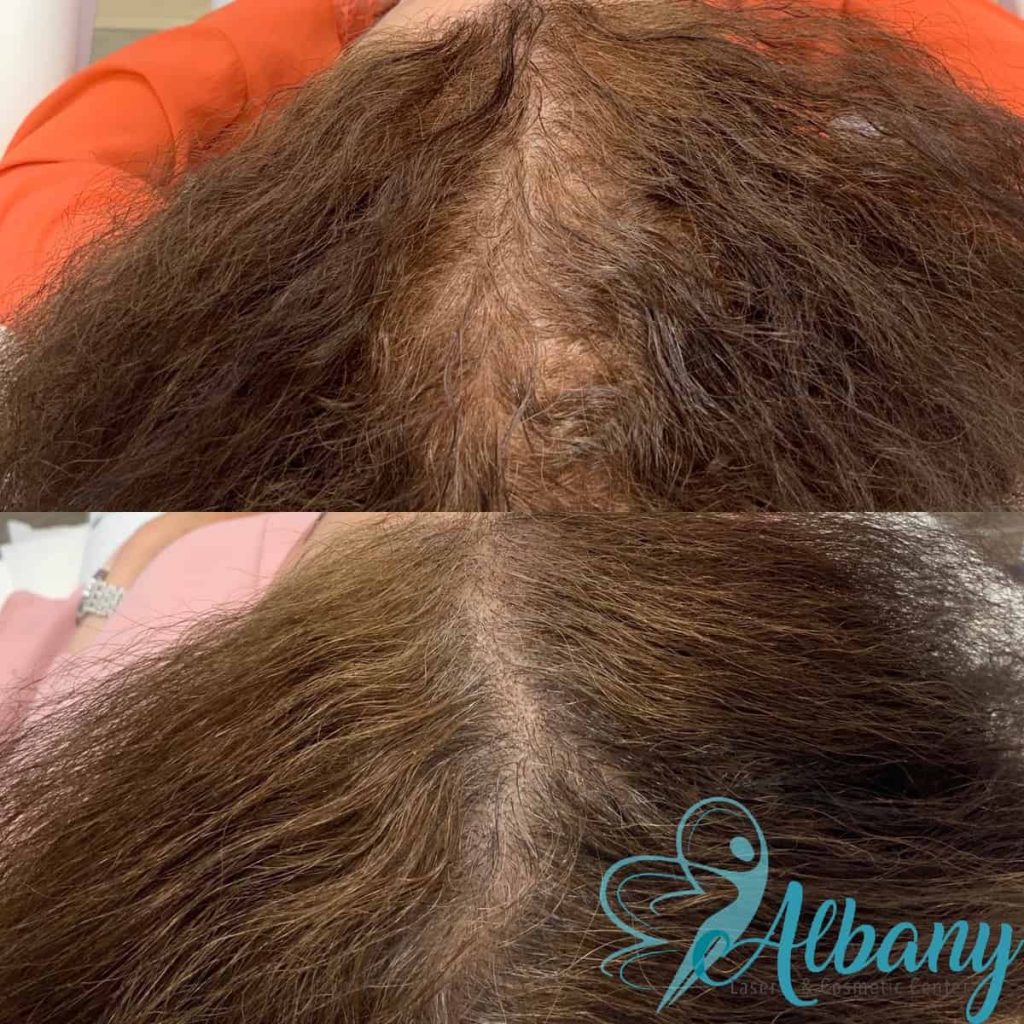 Albany protocol for Hair Loss Treatment
Our protocol manage hair loss using three different tool
1- mesotherapy and microneedling
2- LED light
3- Er-Yag laser with Fotona.
Mesotherapy for hair restoration
We use a special solution that is rich with B complex, B5, B12, biotin suspended in hyaluronic acid. We apply the solution on the scalp and use a gentle microneedling used the Eclipse derma pen to enhance the absorption. The meso solution provides the hair follicles with the high dose required to reduce hair loss and promote new hair. The mechanical induction that the microneedling pen provides also helps in enhancing the blood circulation to the follicles. This procedure is followed by 10 min of LED light
Er-Yag laser with Fotona.
The long pulse of the Fotona laser relies on the controlled bulk-heating to stimulate dormant hair follicles. The thermal energy penetrates deep in the skin of the scalp increases blood flow to the follicles and enhances the anabolic activities resulting in the natural regrowth of hair.
How many sessions do you need?
We recommend a minimum of eight sessions (four of the meso and four of the laser), The session is performed on a weekly basis.
hair loss treatment Results
The picture below is for one of our clients that finished the full eight-session protocol.
What is hair loss treatment purpose?
Hair growth stimulation with Fotona's HaiRestart is a highly successful method of reversing hair loss. This cutting-edge procedure is intended to reactivate dormant hair follicles and promote hair growth.
HaiRestart is made possible by Fotona's SMOOTH technology, which maintains the maximum level of patient comfort while delivering highly regulated energy. Practitioners can safely and efficiently apply distinct temporal and spatial temperature profiles to the scalp, stimulating tissue regeneration and new follicle growth.
Significant Advantages:
Keeping more hair loss at bay
Hair density and thickness increase
Increasing the number of new follicles
There are no medications.
There are no downtime periods.
How Is It Operated?
The method of action is based on Fotona's SMOOTH® pulses, which deliver laser light gently to the tissue, stimulating the scalp safely and precisely. The Fotona SMOOTH® laser operates at the optimal infrared Er: YAG wavelength (2.94 m) for optimal skin absorption.
Fotona SMOOTHexclusive ®'s feature is its non-ablative action, which results in precisely designed moderate thermal pulses. This ensures that the laser light is delivered to the tissue gently and efficiently, without burning the scalp in any way. The total effect is gentle heating of the skin and the production of growth factors without significant epidermal ablation.
Considerable Success and Extreme Patient Satisfaction
Numerous clinical studies have shown the absence of negative effects with HaiRestartefficacy ®. Significant increases in hair growth and density, as well as a stabilization of hair loss, were found regardless of the AGA grade, patient age, or duration of AGA.
In one study (Day D. et al., 2021), the results of a blind evaluation indicated that 93 percent of patients improved in terms of hair quality, which was unrelated to age or AGA grade. In further studies (Dekeyser B., 2019; Mercik G. et al., 2021), patients provided subjective feedback indicating a more elastic and less dry scalp, as well as thicker, more durable, healthier, and denser hair than previously.