Get Rid of Unwanted Hair with Permanent Laser Hair Removal
We wish to provide you with a laser hair removal complete guide. This is a must-read guide for anyone looking to reduce or remove unwanted hair from their body permanently. Laser Hair removal is a revolutionary long-term hair removal technology that uses laser technology to eliminate unwanted hair in any part of the body.
If you are looking for a safe and effective way to eliminate unwanted body hair, look no further. Laser hair removal is an increasingly popular option for people who want smoother skin without the hassle of regular shaving or waxing. Using high-powered lasers, this procedure can target individual hairs on any body part with precision and accuracy. The light energy passes through the skin's surface and penetrates deep into the follicle, disabling it from producing more hair. As a result, you can enjoy lasting smoothness that other methods can't match.
Albany Cosmetic and Laser Centre
Our clinic uses state-of-the-art technology to deliver maximum results that last. Our lasers have adjustable settings to adjust according to your skin type and individual needs, ensuring that you get the best possible outcome for your laser hair removal treatment. This means that our treatments are safe, fast and incredibly effective – many of our clients see up to 80% reduction in the treated area after just one session! Plus, you don't need to worry about pain or discomfort, as most people report minimal discomfort throughout the procedure.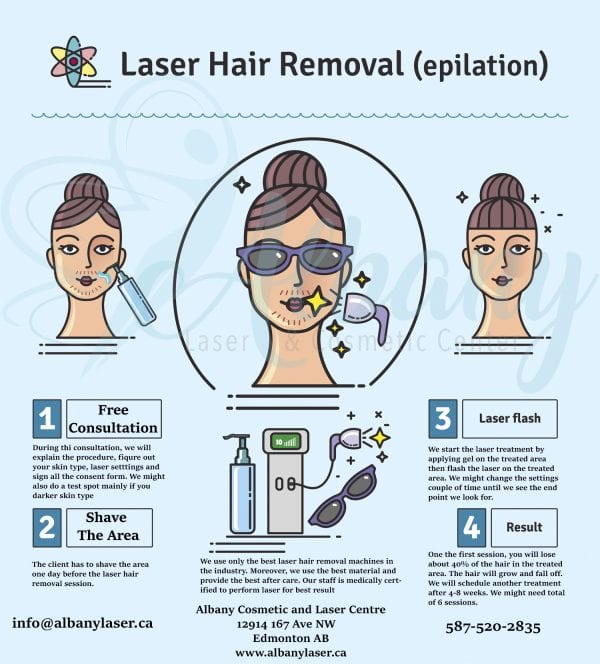 We also take great pride in providing excellent customer service – our team will always be on hand to discuss any questions or concerns you may have before, during and after your treatment. We understand that everyone's needs for laser hair removal are different, which is why we customize each treatment plan accordingly so that it meets all of your expectations. So if you're looking for a way to eliminate unwanted body hair without having to shave or wax constantly – laser hair removal could be just what you need! Contact us today for more information on how we can help ensure you achieve beautifully smooth skin with long-lasting results.
How does laser target unwanted hair?
Laser hair removal targets individual hair follicles with a laser beam, delivering a concentrated beam of light that is selectively absorbed by the pigments in the hair. This light energy then converts to heat and destroys the hair follicle, stopping further growth. It's an incredibly precise procedure that delivers maximum results with minimal discomfort and no damage to the surrounding skin – great news for those seeking to remove unwanted body and facial hair!
Laser hair removal also has many advantages over traditional methods like waxing or shaving, as it saves time and can be done more effectively in fewer sessions. Plus, it's a great way to eliminate stubborn hairs without damaging your skin. No wonder it's becoming increasingly popular!
Does Laser Hair Removal Effective For Everyone?
While laser hair removal can be an effective way to remove unwanted hair for most people, it's important to remember that it may not be suitable for all hair types. Laser treatments target darker pigments in the skin, meaning they tend to work best on darker-coloured hairs. People with light or red-coloured hair may not have as much success with laser treatment as those with dark hair. Laser treatments are more effective on people with fair skin tones, as those with darker skin tones may experience reduced results due to increased pigment in the skin. It's best to talk to a specialist before deciding if laser treatments are right for you and your particular type of hair so you can make an informed decision.
Are laser hair removal results permanent?
The result is long-lasting hair reduction in the treatment area, though it often requires multiple sessions to achieve desired results. Laser hair removal works best on people with light skin and dark, coarse hair, as these types absorb more laser energy. While it can effectively reduce or eliminate unwanted body hair, it cannot permanently remove all types of hair or prevent future growth entirely.
Is laser Treatment Safe?
 It's a question many people ask when considering this treatment for their unwanted body and facial hair. The short answer is yes – laser hair removal is typically safe by a qualified professional. But, like most medical procedures, some risks and considerations must be made to ensure the best possible outcome. Laser hair removal targets the melanin in the hair follicles with bursts of highly concentrated light, which can cause discomfort or skin discoloration if not performed correctly. To reduce the risk of potential side effects and ensure results,
choosing an experienced provider using quality technology such as Health-Canada-cleared lasers is important. Additionally, it's essential to follow all pre-treatment and post-care instructions provided by your practitioner, including avoiding direct sun exposure for several days before and after treatments. With high-quality technology and advanced techniques used by skilled practitioners, you can rest assured that laser hair removal is safe and effective for permanently removing unwanted body and facial hair.
I heard some people offer cheap laser hair removal services from their homes. Can I trust them?
Going to someone running a laser hair removal from their home may not be the best idea. While it may seem tempting to take advantage of a cheaper procedure, there are potential risks.
Sure, she might have been properly trained and certified, but there is no guarantee that any regulatory body will approve her machine or that she has enough experience or insurance. Additionally, performing this procedure in an uncontrolled environment can make it difficult to maintain proper safety standards. It's important to consider all factors before deciding if you can trust someone with such a delicate procedure.
Why does it take multiple sessions for Medical laser hair removal?
Medical Laser hair removal is most effective when a hair follicle is at a specific growth stage (anagen). Usually, hair follicles are at three different growth stages. Depending on the body part, it might take a hair follicle a couple of weeks or months to go through the growth stages. We must hit the hair with the laser beam at the anagen stage. One session will terminate most of the hair at that stage; then, we have to wait for the hair that survives the first session to grow to that stage before we hit it with a laser again. There is no way for us to know what stage a hair follicle is at. We can target as much hair as possible by adjusting the setting and spot size.
Are people with Blond, red, or grey hair good candidates for Medical Laser hair removal?
No, grey hair has no melanin. Pheomelanin found in red and blonde hair is poorly absorbed by laser.
Is medical Laser hair removal painful?
If the cooling and laser setting are set right, the pain should not be more than three on the pain scale. We can apply special pain cream 10 min before and procedure to ease the pain. Most of our clients are fine and describe the pain as easily bearable and way less than the pain of waxing.
I heard about painless Medical laser hair removal; what is that?
Some places advertise painless laser machines. Once you understand the principle, you will know that this is impossible. The problem with this so-called "painless machine" is that it will take more sessions and will not get rid of the hair. Eventually, you will end up with fine hair and have to go back to shaving or waxing. If you are going to do it, do it right for the first time.
What is the best wavelength for Medical laser hair removal?
This depends on the skin type and natural hair. We at Albany cosmetic and laser center use Elite plus from cynosure, the best laser machine in the industry. This Medical laser hair removal machine has two wage lengths that allow us to accommodate most clients with skin type I-V.
Is laser hair removal only done for cosmetic purposes?
Laser hair removal is considered a privilege for some people; it is a medical necessity for some. Laser hair removal is approved for the following:
Hirsutism

Hypertrichosis

Ingrow hair

Pseudofolliculitis barbae
Why do prices vary significantly for laser hair removal?
It is important to know what machine is used for Medical laser hair removal and what kind of person is doing it. Many people start importing cheap laser machines overseas and operate a laser hair removal salon in their basement or the back of a nail or massage salon. You need to ask if the place is licensed and if the machine is registered with AHS. Most places operate without a license or proper training and have no liability insurance to protect you in case of adverse reactions.
Not only is it a great option to eliminate the time, money and discomfort associated with other temporary hair removal techniques like shaving or waxing, but it also provides long-term results that can make you feel more confident and comfortable in your skin. You can achieve smooth, touchable skin without daily hassle or upkeep with the right laser hair removal treatment plan.
The process is relatively quick and easy compared to other hair removal methods, but it's also much safer and more precise than many at-home remedies. In addition to being less painful than waxing and more reliable than shaving, laser hair removal treatments have been found to have fewer side effects than other forms of hair removal. With the help of a qualified professional who understands how to use the device correctly, you can customize your treatments based on the size of your area and desired results. With regular maintenance, you'll enjoy smoother skin for years to come!