SKIN TIGHTENING AND PIGMENTATION REMOVAL USING FRAXEL LASER
Many factors are responsible for the transformation that occurs, especially when one begins to age. Wrinkles begin to be noticeable on your face, and other issues like pigmentation become common.
 When these conditions arise, most people begin to look for solutions to the blemishes on their skin. Some may even opt for cosmetic surgery, which is not only expensive but also risky. Only the affluent could afford invasive surgery. Fraxel laser treatment is a welcome development for getting rid of unwanted pigmentation and obtaining wrinkle-free skin. "Fraxel" is the branded name for a laser resurfacing apparatus. The technical term refers to the process known as "fractional technology." It is a non-invasive procedure with the seal of approval from the FDA.
How Does Fraxel Laser Work?
Fraxel laser treatment works by creating very small wounds in the human skin to stimulate collagen development.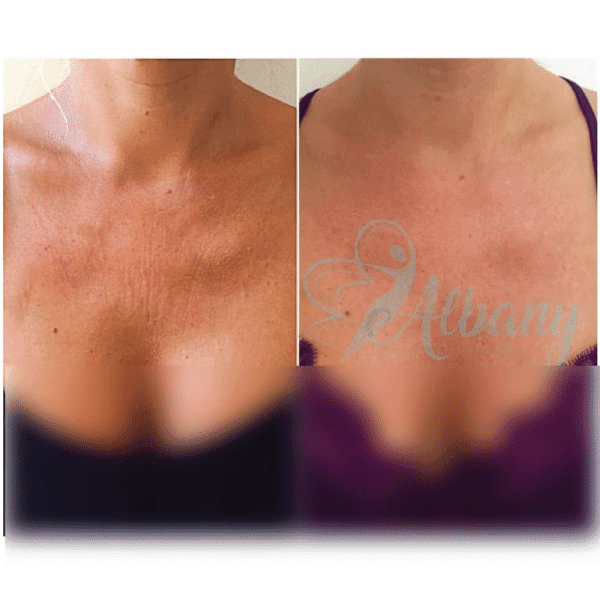 The treatment creates regulated injury to the skin, pushing the skin into repair mode. This is possible when the laser produces thousands of MTZs (microscopic treatment zones). They penetrate the dermis deeply while the skin around the area remains unaffected and intact. This accelerates the rate of cellular turnover, which is beneficial to the Pores. The outcome of this procedure is a youthful appearance.
What Can Fraxel Laser Treat?
Fraxel laser treatment takes care of the following skin ailments:
Large Pores
Wrinkles
Sun-spots or age-spots
Scars from surgical, accidental, or post-operative incidents
Stretchmarks
Irregular pigmentation and discoloration
Uneven skin texture
Do Fraxel laser Treatment Work for Pigmentation Removal and Skin Tightening?
Fraxel treatment effectively gets rid of unwanted pigmentation such as aging spots, brown spots, etc. Fraxel treatment is a process that tricks the skin so that it creates new skin to replace the one at the target area. This helps in improving skin tone and other imperfections. This stimulates collagen production, which helps to rejuvenate your skin.
Are Fraxel-Laser Treatments Expensive?
The cost of Fraxel treatment depends on your location, the dermatologist you go to, and the size of the area you want to treat. If you need a full-face treatment, the cost ranges from $900 to approximately $1,400. For full-face therapy and your eyelids, expect to spend nothing less than between $1,400 and $1,900.
Fraxel treatment that covers your entire face, neck, and chest region usually costs $1,500 and $1,900. If you want to eliminate scars from your skin, you may have to ask for a quotation from your clinician.
What Should I Do Before Fraxel Laser Treatment?
Your dermal clinician will tell you what to do. But in most cases, you should do the following:
Ensure your skin is in the best condition before a treatment
You should avoid exposure to the sun as much as possible. You should avoid laser hair removal in the area you want to treat.
Your practitioner will advise you accordingly regarding the best practice you should follow for stopping other treatments before you get Fraxel laser.
Stop using active products for at least a few weeks before your Fraxel laser. This means you should avoid abrasive scrubs or Retinols as specified by your dermal clinician.
Be honest and open with your dermal clinician by letting them know if you have had a cold sore. This will enable them to get a preventative medication that will help prevent break-outs.
Do not use any antibiotics for fourteen days before the treatment.
What you should do on treatment day
Avoid caffeine foـr at least four hours before showing up for your Fraxel laser session. But eat a nourishing meal for at least one hour or two to sustain your body throughout the period the session lasts.
Come along with ice packs and a gentle cleanser, which is a necessity for the recovery periods.
Who Can't Have Fraxel Laser Treatment?
Fraxel treatment is not suitable for pregnant or breastfeeding individuals. You should not go for the treatment if you are undergoing Accutane treatment or if you have done so within the last six months. You should also avoid Fraxel treatment if:
You have a predisposition to excessive scarring or keloid formation
You have doubtful lesions
You make use of retinol or antibiotics
You have had undue exposure to the sun
What Should I Expect During a Fraxel Laser Treatment?
You have to arrive at the laser center at least one hour before your treatment. The clinician will clean the target area with a cleanser and then rub a numbing cream on the area. Then you can relax, read or listen to music while the numbing cream swings into action. After an hour or so, the clinician will remove the numbing cream. You will then move to the laser treatment room and make yourself comfortable. The clinician will apply a thin layer of gel to assist the laser roller in gliding evenly and smoothly over your face. The latest Fraxel laser version does not need the application of the gel. The treatment takes about one and a half hours for a full face session. At first, you will experience a sensation that feels like "pins and needles" are pricking your face. This irritation ranges from minor to average. You should, therefore, plan to spend nothing less than two and half hours at the laser center for the treatment. You should be able to drive yourself to and from your Fraxel laser appointment.
What are the Side Effects of Fraxel laser treatment?
The common side effects include redness, swelling, crusting, highlighting of the brown spots, and random bruises. Your clinician is expected to review the side effects with you in your consent form.
How Many Treatments Will Provide Results?
In most cases, one Fraxel treatment is insufficient. But this depends on the patient and their skincare objectives. As a rule, dermal clinicians suggest that patients undergo three to five treatments for optimum results. However, the time between the Scars can vary depending on the patient's reaction to the procedure. But it is customarily between three and eight weeks.
What Are the Post-Fraxel Treatment Precautions?
Your dermal clinician will advise you accordingly. But on a general note, you should avoid the sun. Wear SPF 40-50 daily, whether you are inside or outside. If you must go out, wear a wide-brimmed hat with sunglasses. Avoid using AHA/BHA acids, retinol, or any exfoliation product for the first three weeks post-treatment.
What are the Advantages of a Fraxel Laser Treatment?
Fraxel laser treatment can revitalize your skin, making it look healthier, fresher, and younger. It can also help to minimize wrinkles, fine lines, and other flaws on your skin. Fraxel laser treatments can balance out pigmentation problems that the sun triggers off. Fraxel laser treatment can also treat mild acne scars by minimizing the appearance of acne pits or skin indentations. This treatment also comes in useful as a post-op scar minimization remedy for preventing the formation of excess scar tissue.