Navigate the Treatment Details
Laser Hair Removal and Thermal Relaxation Time: A Deep Dive
Laser hair removal has revolutionized the way we approach unwanted hair. It offers a semi-permanent solution to what was once a continuous problem. To appreciate how this technology works, it's important to understand the underlying scientific principles – one of which is the concept of thermal relaxation time (TRT).
What is Thermal Relaxation Time (TRT)?
TRT is a term used in laser physics to describe the time it takes for tissue to dissipate roughly 63% of the absorbed laser energy and cool down to its initial temperature. Essentially, it's the time it takes for a target tissue (in this case, a hair follicle) to cool down after it has been heated by a laser pulse.
The Importance of TRT in Laser Hair Removal
Understanding TRT is crucial when it comes to the efficacy and safety of laser hair removal. The goal of laser hair removal is to heat hair follicles enough to damage or destroy them, thereby inhibiting future hair growth.
The optimal laser pulse duration for hair removal should be close to or somewhat shorter than the TRT of the hair follicle. This allows enough energy to be delivered to damage the follicle while minimizing the amount of heat diffusing to the surrounding skin, thereby avoiding damage to the surrounding tissues.
Hair follicles are cylindrical structures located within the skin, and their TRT depends on their size. Generally, hair follicles have a longer TRT than the skin's surface layers, which allows selective targeting of the follicle.
Putting TRT to Work: Long-Pulsed Lasers
Incorporating the principle of TRT, long-pulsed lasers have been developed to effectively target hair follicles while minimizing skin damage. These lasers deliver energy over a longer duration, allowing the heat to penetrate deep enough to reach and destroy the hair follicle.
Long-pulsed lasers are also less likely to cause unwanted side effects like skin discoloration because they give the skin more time to dissipate the heat from each laser pulse.
The Takeaway
The principles of TRT greatly contribute to the safety and effectiveness of laser hair removal treatments. By understanding and applying this concept, practitioners can tailor treatments to individual patients, balancing efficacy with safety. This has paved the way for various skin types and colors to be treated more effectively than ever before.
However, remember that every individual is unique, and treatment settings should be customized based on skin type, hair color, and hair thickness. Always consult with a certified and experienced laser technician to ensure the best possible results from your laser hair removal treatments.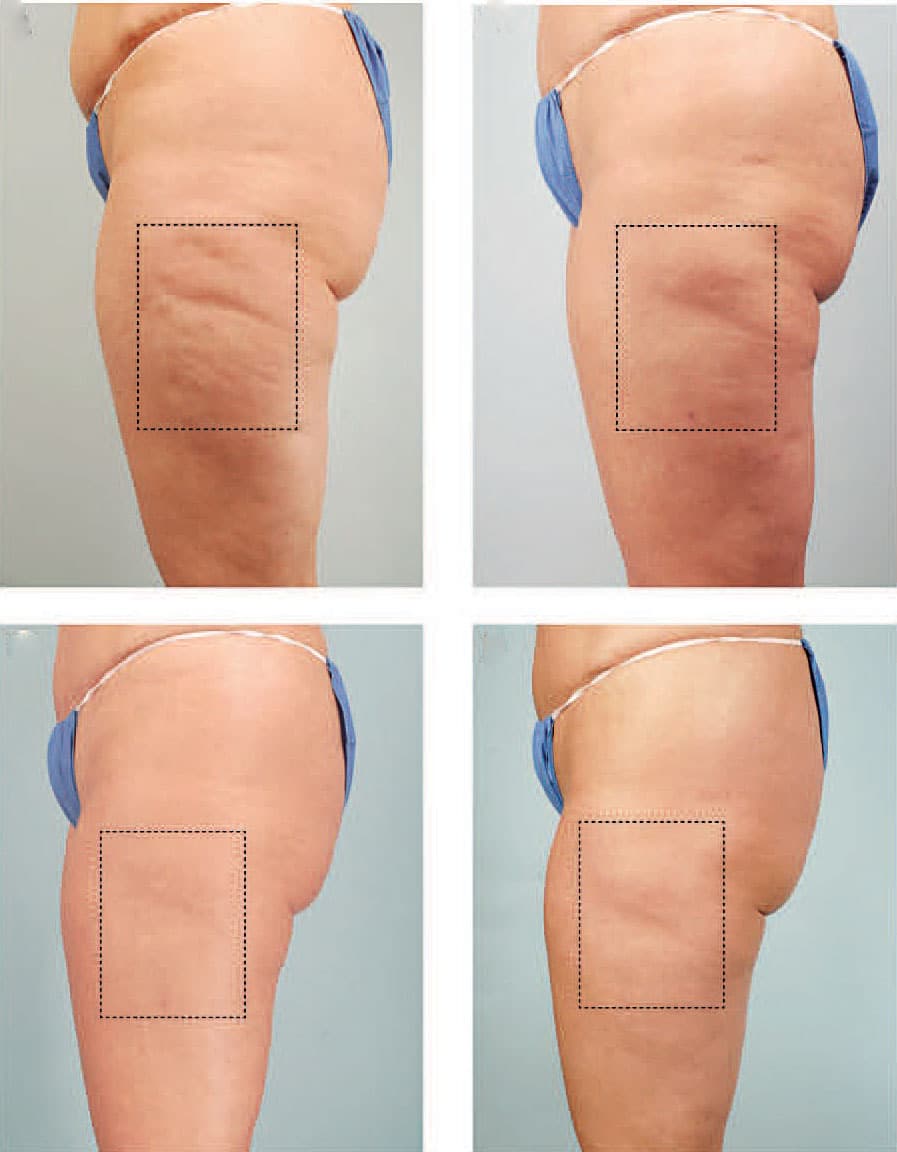 While there is no one-size-fits-all solution to cellulite, there are a number of treatments that can help to reduce its appearance. One popular treatment is LPG lipo massage. This involves using a special device to massage the skin and break up the fatty deposits that cause cellulite. The result is a temporary reduction in the appearance of cellulite. Another treatment option is laser therapy. This uses high-intensity light to target the fat cells and break them down. While effective, laser therapy can be expensive and is not suitable for everyone. Cellulite is a common issue, but there are a number of treatments that can help to reduce its appearance. With so many options available, there is sure to be a treatment that is right for you.
Price of the cellulite treatment in Edmonton
Each treatment has its own advantages, disadvantages, and price, as shown in the following table
| | |
| --- | --- |
| Treatment Type | Service Price |
| Lip message | $600 |
| Fotona Laser | $600 |
| Subcision | $1,200 |
Client Reviews and Testimonials
I recently had Botox treatment at Albany Clinic for my frown. I'm really happy with the results. Moreover, the staff was friendly and professional, making me feel at ease throughout the procedure. They use freezing cream and leave it long enough to work. So I highly recommend them!
"I'm very happy with the results of the laser hair removal at Albany Centre. The procedure was quick and comfortable. I did not feel rushed and provided me with many towels to change. So, I recommend them to anyone.
"I had an excellent experience with Albany Centre for lip fillers. Moreover, the team was so welcoming, and the results were just what I wanted. My lips look natural but bigger and with a heart in the middle!"