Oxygen Facial in Edmonton
Oxygen facials are very popular now. Clearly, stars like the Kardashians and Madonna swear by these facials. But, what's the deal with this procedure? Let's find out.
Intraceuticals treatments or oxygen facials, which Madonna and Ashley Graham are fans of, are a new craze. The goal of an oxygen facial is to: enhance blood circulation, diminish the appearance of wrinkles, and enhance the creation of collagen for younger-looking skin. Do these facials have any effect at all? Oxygen facials have a number of advantages and drawbacks, and this article will explain how they stack up against at-home oxygen kits and other dermatological treatments.
Benefits Associated With Oxygen Facials
Enhanced Radiance: According to some, the primary advantage of oxygen facials is that they facilitate the absorption of hyaluronic acid and other potent chemicals found in serums. Benefits will vary depending on the serums utilized.
Skin Hydration: Oxygen aids in the absorption of serums into the skin. Consider the oxygen wand as a little hose for delivering materials. Your skin will almost certainly appear moisturized, particularly if hyaluronic acid is included.
Improve Skin Complexion: Oxygen facials have the potential to give a high concentration of vitamins or botanical compounds to your face, resulting in bright, glowing skin.
Reduced appearance of fine wrinkles: Oxygen facials enhance blood circulation to the face, resulting in brighter, plumper skin.
Acne Treatment: Oxygen is well recognized for its ability to expedite wound healing and may also be used to destroy certain germs. This is why environments with low oxygen levels, such as aircraft, may cause skin problems. As a result, oxygen facials may help soothe acne and eliminate the bacteria Propionibacterium acnes, which causes some forms of acne.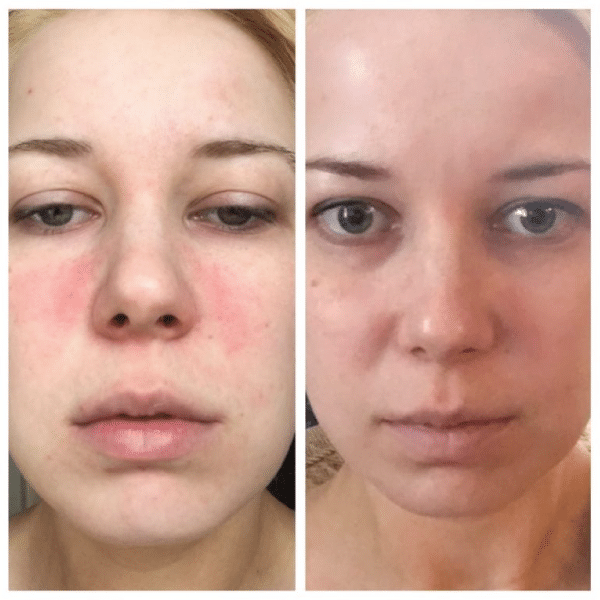 Oxygen facials combat obvious indications of aging associated with inefficient oxygen transfer. This is typically from subcutaneous capillaries to the skin's surface. The face compensates for this shortage by directly providing oxygen molecules to the epidermis.
Before and after oxygen facial
In essence, an oxygen facial is an oxygen infusion into the skin. This is to enhance the skin's appearance and address a variety of skin-related concerns. This is a non-intrusive procedure. It is a simple cream and light treatment that will help you get younger, brighter, and more radiant skin. This type of facial gently exfoliates and rejuvenates the skin's texture.
The duration of oxygen facials varies every spa, but you may anticipate at least 30 minutes to an hour. Albany Cosmetic and Laser Centre provides a 75-minute "Triple Oxygen Facial."
We recommend a series of six treatment over six months
an Oxygen Facial can be repeated once a month, as oxygen facials are not as exfoliating as other types.
Schedule Your Appointment Now!
We will assist you in becoming the Younger Version of Yourself (YVY), to restore your natural beauty, and to assist you in shining once more through our services.
Frequently Asked Questions
Contact Albany Cosmetic & Laser Centre in Edmonton