Coolsculpting is an easy and relaxing treatment that lasts 45 min with no downtime. Moreover, you do not need any special preparations or diet, and you can go back to your normal activity within 24 hours.
Good Candidate For Coolsculpting In Edmonton
This is a body contouring procedure. The vast majority of clients will not experience significant weight loss. Fat freezing is ideal for people in a healthy weight range (not more than 30 BMI). It is also intended for people who want to shape their bodies.
Who Should Avoid It?
Cyrolipolysis is the safest way to remove fat cells in the body. But, certain people should avoid the procedure. Fat freezing may not be best suited for their health condition. They include:
Pregnant women or those who are attempting to become pregnant.
Also, if you're currently breastfeeding is not recommended.
People who have cryoglobulinemia.
Immune-deficient patients
People with chronic anxiety disorder
Severe pain intolerance and fibromyalgia
How to Prepare for Coolsculpting
Ask your physician if it is ok to discontinue blood-thinning drugs. This would help to minimize bruising in the treatment sites is probable. If you are unclear whether your medicine is a blood thinner, please consult your pharmacist. Additionally, over-the-counter drugs such as aspirin, anti-inflammatories, and fish oil supplements may increase bruising and should be avoided.
The Day of Your Coolsculpting Treatment
Bring loose, comfortable clothes to your appointment.

Wear cheap underwear and pack an extra pair to wear home since the applicator will apply gel pads to make whatever clothing you wear wet.

You may eat before your appointment. However, we recommend a light lunch since some patients may experience nausea during the session. If you become hungry throughout the program, we will supply snacks and beverages.

We will obtain photographs, measurements, and weight to compare the before and after.

Since the treatment rooms have wifi, you may like to bring your iPad, reading materials, knitting, or laptop to keep yourself entertained. Treatment periods will range from one to five hours in total.
Treatment Care Instruction
Your skin may be stiff and painful immediately after coolsculpting, and there may be a slight whitening of the skin.
Your body will naturally warm up, and your senses will return to the treatment region at the beginning. You may feel nauseous or dizzy. These are common reactions that pass in a matter of minutes.
The treated region may be somewhat red for up to 24 hours after the treatment. Bruising, swelling, and discomfort in the treated area are possible side effects. These side effects normally improve within a week or two.
Many people experience nausea and tingling, stinging, and cramping in the treated area on the first day. You may not experience as much pain in the treated location for a brief period.
This is common and only lasts a few hours, although it could last for several weeks following your surgery. There is frequently little to no downtime after CoolSculpting.
Most patients can immediately resume their normal lives and return to work after completing the treatment. Please bring a book or headphones to keep yourself occupied throughout your treatment. You'll have access to the internet so you may view your favorite movie.
How Can I improve the Benefits of My Treatment?
Gaining weight will hinder you from fully enjoying your accomplishments. Following your treatment, maintaining a good diet and exercise program might help avoid this. Coolsculpting, like liposuction, destroys and removes fat cells in the treated region. When your calorie consumption exceeds what you burn via typical activity and exercise, the excess calories are stored as fat in other body areas.
This is an ideal time to assess your food and exercise habits and make adjustments to enhance your results. Our specialists are pleased to give guidance and counseling to assist you in making modifications or determining appropriate calorie targets if you believe that they will benefit you.
For six weeks following treatment, abstain from anti-inflammatory drugs such as ibuprofen, naproxen, and Celebrex. Inhibiting your body's capacity to produce an inflammatory response, which is the process by which fat cells are removed, may impede the progression of your results following Coolsculpting.
Make an appointment for a follow-up medical examination to discuss your clinical outcomes and the possibility of further treatments to achieve the desired outcome for this and other treatment sites.
Does It Reduce Weight?
People frequently believe that losing fat equates to losing weight, but this is not the case. Fat cells shrink as we lose inches. It does not, however, cause them to vanish. Furthermore, weight loss can cause an uneven body shape because some areas lose more fat than others. The body's cell count becomes fixed during the adolescent years. Losing or gaining weight does not affect the body's fat cell count during this period. It does, however, change the size of the body's fat cells. Fat cells shrink when you diet to lose weight. This, however, does not affect the number of fat cells. Another treatment goal is to help you achieve the body shape of your dreams through treatments.
What Are CoolSculpting Risks?
The procedure is entirely risk-free if performed correctly. This means you will only feel a tugging and tingling sensation. The sensation occurs when the skin is sandwiched between the device's two cooling panels. Most patients do not require recovery time because the procedure is non-invasive. Patients can resume their normal activities immediately after treatment. As with any cosmetic procedure, redness, minor swelling, tenderness, bruising, numbness, muscle cramping, and skin sensitivity are expected.
What Are Some Of The CoolSculpting Advantages?
Quick and easy, The amount of time needed for Fat Freezing treatment varies depending on the area of the body being treated. The majority of cryo lipolysis procedures, on the other hand, are brief. As a result, it is quick and easy to incorporate into your hectic schedule.
Natural-looking results: All cosmetic procedures are intended to boost your confidence by providing you with the desired appearance. Because fat freezing is non-invasive, it aids in the maintenance of a natural-looking body.
It is a low-risk procedure that is considerably less invasive than liposuction. If you consider fat freezing in Edmonton, speak with a qualified medical professional.
Choose a provider who has been performing the procedure for several years. The medical practitioner will have extensive counseling experience. In addition, your health professional will determine whether the procedure is the best course of treatment for you.
Why Choosing Albany Laser for Coolsculpting Edmonton?
CoolSculpting is the ideal body contouring treatment. It is the best treatment option for patients who want a quick and painless procedure. This treatment is also less expensive than some surgical procedures. Moreover, it is an effective body contouring procedure, but it may not be right for you. This is because each person has a unique area of concern.
Why Is Applicator Selection Critical?
Here is the straightforward truth. Achieving outstanding results with CoolSculpting needs an experienced grasp of the underlying anatomy, a keen eye for cosmetic detail, and an awareness of how to harness the fat-freezing potential of CoolSculpting. This is mostly down to the right selection, placement, and use of the different Coolsculpting applicators. You might get confused with many distinct names and variations on the CoolSculpting applicator. Fortunately, we've sorted everything out for you here. Acquaint yourself with the options accessible to obtain the finest outcomes possible. Bear in mind that not all providers may have the most up-to-date CoolSculpting applicators. You'll want to verify this before beginning therapy!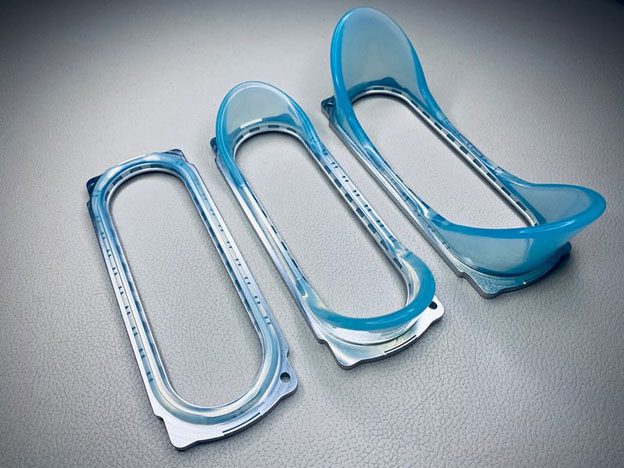 A Very Brief History Lesson
Zeltiq introduced CoolSculpting globally in 2010 and has since become the market leader in non-invasive fat removal (by a long shot!).The initial series of CoolSculpting applicators included the CoolCore, CoolCurve+, CoolMax, and CoolFit. In 2017, Zyltig released the second generation of applicators, dubbed the "CoolAdvantage" series. These redesigned applicators are more efficient, effective, and patient-friendly. The CoolAdvantage applicators have an enhanced freeze detection technology that utilizes real-time monitoring to maintain consistent freeze temperatures on the skin's surface, delivering optimal outcomes for patients while keeping them safe. Other advancements to the CoolSculpting family include the 2014 launch of the CoolSmooth applicator and its successor, the CoolSmooth PRO.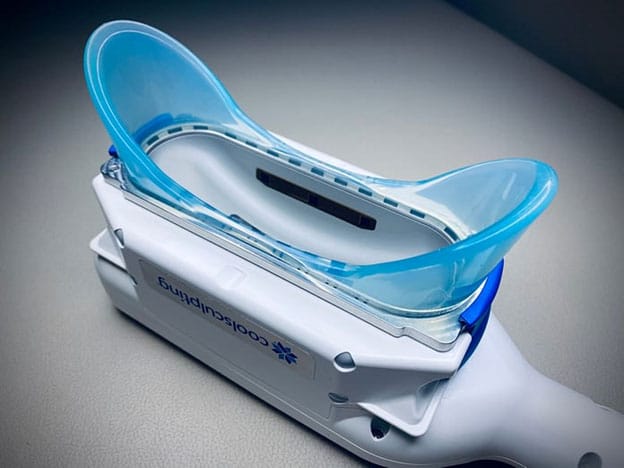 The Biggest applicator, The CoolAdvantage Pulse
The CoolAdvantage Plus applicator is the next in line in the primary suite of Advantage applicators. The group's heavy lifter that we use to tackle large, cumbersome problems. We frequently use the upper and lower belly and the love handles. The CoolAdvantage Plus's latest edition is 25% quicker than its predecessor. A single cycle is around 45 minutes long. The CoolAdvantage Plus has two alternative attachment heads: the Core and the Curve+. Not every patient requires CoolAdvantage Plus treatment. Therefore, we will measure the area using a special mold to confirm the best applicator for you. The Cooladvatgae Plus applicator addresses huge, bulky problem areas like the belly and love handles.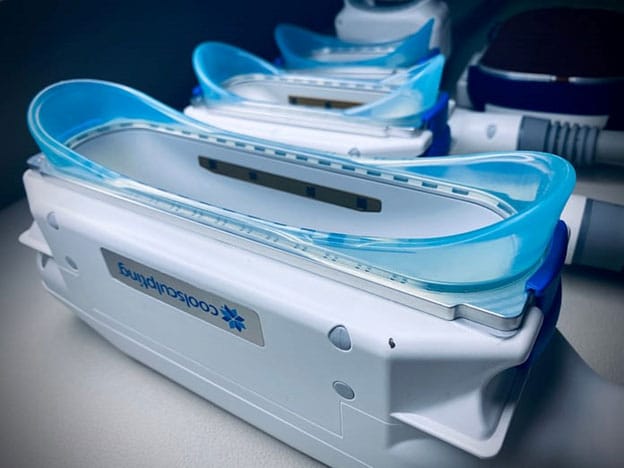 Read more about selecting the best coolsculpting applicator
.