Navigate the Treatment Details
Understanding Coolmini treatment for Double chin
Double chins can be a source of insecurity for many people, causing them to feel self-conscious about their appearance. But with advancements in cosmetic technology, there are now effective and non-invasive solutions for reducing double chin. One such solution is Coolmini in Edmonton, a cutting-edge treatment offered at Albany Cosmetic and Laser Centre.
As a clinic dedicated to providing the latest and most effective cosmetic treatments, we are proud to offer Coolsculpting for double chin to our patients in Edmonton. This innovative treatment uses cooling technology to target and reduce fat cells in the chin area, giving our patients a more defined and youthful appearance.
Coolsculpting mini in Edmonton results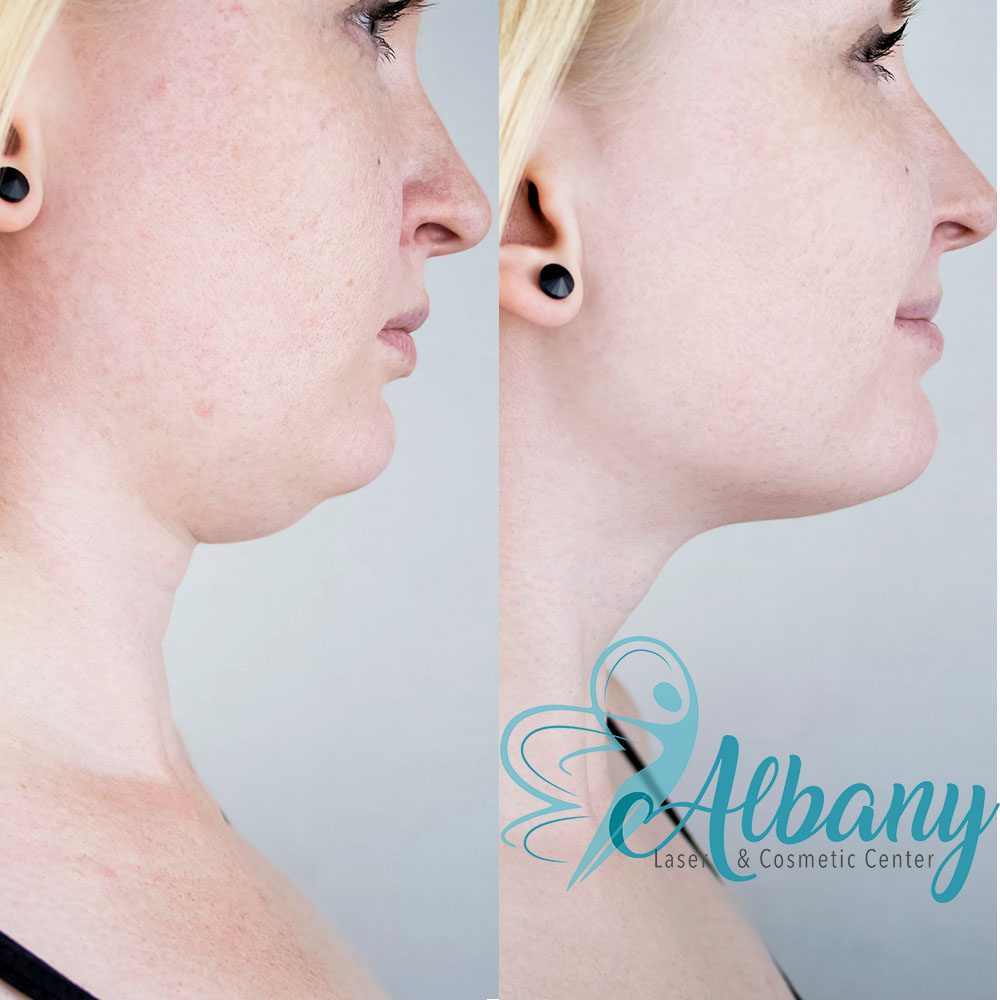 In addition to helping you reduce the appearance of your double chin, Coolmini in Edmonton can also improve your overall facial contours for a more youthful look. If you're looking for a solution for your double chin but don't want the hassle associated with major surgeries or injections – this may be just what you're looking for! Not only does this revolutionary technology provide natural-looking results without any downtime, but it also has been proven safe and effective in clinical trials conducted by experts in the field. 
When searching for a reliable provider of cool sculpting services, make sure they use only certified Coolsculpting machines such as the coolsculping mini system from CoolSculpting by Zeltiq™ Aesthetics Inc., which are approved by FDA and Health Canada standards. Be sure to do your research before committing yourself to any procedure – talk to friends who have had similar procedures done or read reviews online About different providers' experiences before making your decision.
Client Reviews and Testimonials
I recently had Botox treatment at Albany Clinic for my frown. I'm really happy with the results. Moreover, the staff was friendly and professional, making me feel at ease throughout the procedure. They use freezing cream and leave it long enough to work. So I highly recommend them!
"I'm very happy with the results of the laser hair removal at Albany Centre. The procedure was quick and comfortable. I did not feel rushed and provided me with many towels to change. So, I recommend them to anyone.
"I had an excellent experience with Albany Centre for lip fillers. Moreover, the team was so welcoming, and the results were just what I wanted. My lips look natural but bigger and with a heart in the middle!"
What is CoolMini in Edmonton
This is a non-invasive fat reduction treatment specifically designed to target stubborn fat in the chin and neck area. It uses cooling technology to freeze and eliminate unwanted fat cells, giving patients a more defined and youthful appearance. The treatment is quick, comfortable, and requires no downtime, making it an ideal option for those looking for a convenient and effective solution for double chin reduction. Compared to other double chin reduction treatments such as liposuction or surgery, Coolmini in Edmonton offers several benefits.
It is minimally invasive, meaning there is no need for incisions or needles.
It also requires no anesthesia, making it a safer and more convenient option for those with a fear of needles or surgery.
Additionally, the results are long-lasting, as the fat cells are permanently eliminated from the body.
How does Coolsculpting Mini work for double chin reduction?
This is a type of fat reduction treatment that uses cryolipolysis, also known as fat freezing, to reduce double chin. This non-invasive treatment is similar to Coolsculpting and works by applying controlled cooling to the fat cells in the chin and neck area. During the procedure, the device is positioned on the treatment area, where it delivers cooling to the fat cells, causing them to freeze and eventually die. The dead fat cells are then naturally eliminated from the body over the following weeks.
The process is quick and easy, typically taking 30-60 minutes. During the procedure, patients may experience some mild discomfort, but the cooling technology is designed to minimize discomfort and make the experience as comfortable as possible. After the treatment, patients can immediately return to their normal activities with no downtime required.
The results are typically visible within a few weeks, as the body eliminates the treated fat cells. Most patients see a noticeable reduction in their double chin, with a more defined jawline and a refreshed appearance. The results of Coolmini in Edmonton are long-lasting, as the fat cells are permanently removed from the body.
Other double chin treatments in Edmonton
At Albany Cosmetic and Laser Centre, we offer a variety of double chin reduction treatments to meet the individual needs and preferences of our patients. In addition, we offer other non-invasive treatments such as Belkyra injections, as well as surgical options like liposuction.
Each treatment option has its own unique benefits and drawbacks, and our team of experts will work with you to determine the best treatment for your individual needs. However, for many patients, Coolsculpting for double chin is the preferred option due to its non-invasive nature, quick and easy treatment process, and long-lasting results. With Coolmini in Edmonton, patients can enjoy a more defined and youthful appearance without the need for surgery or extended recovery times.
Why choose Albany Cosmetic and Laser Centre for Coolsculpting mini treatments?
At Albany Cosmetic and Laser Centre, we are dedicated to providing the highest quality cosmetic treatments to our patients. Our team of experts has extensive experience in performing the treatment, and we use only the latest and most advanced equipment and technology. Our state-of-the-art facilities and commitment to patient satisfaction and safety ensure that our patients receive the best possible treatment experience.
We understand that undergoing cosmetic treatments can be a big decision, and we are here to support you every step of the way. Our team is committed to providing personalized and compassionate care, and we work closely with each patient to ensure their individual needs and goals are met. Whether you're looking for a solution for double chin reduction or another cosmetic treatment, you can trust that Albany Cosmetic and Laser Centre will provide you with the highest level of care and expertise.
CoolMini Frequently Asked Questions