Effect and Advanced Cellulite Removal Edmonton
At Albany Cosmetic and Laser Centre, tackling cellulite Edmonton is one of our specialties. Using cutting-edge technology paired with our team of highly trained professionals, we ensure you receive optimal solutions for those challenging skin dimples. Our goal isn't just about refining appearances; it's about fostering self-confidence. If you're in search of the best skin treatments in Edmonton, make your booking with us today. We're proud to be a leading Cosmetic Clinic and Medical Spa, dedicated to your beauty and well-being.
Navigate the Treatment Details
Before and After Photos and Expected Results: Witness the Transformation After Cellulite Treatment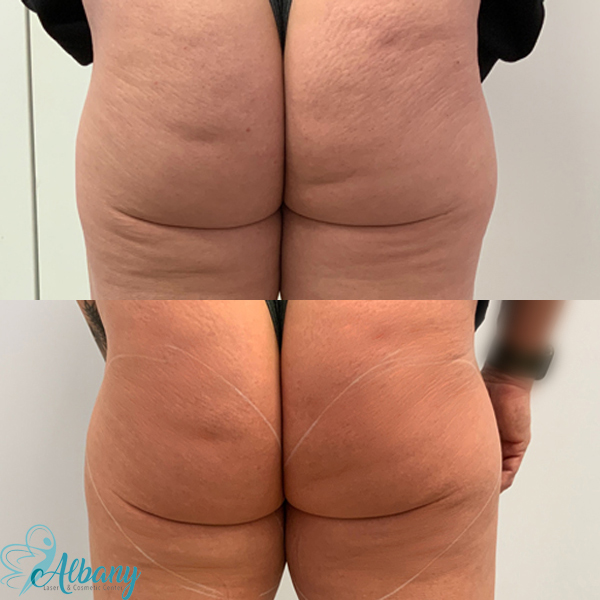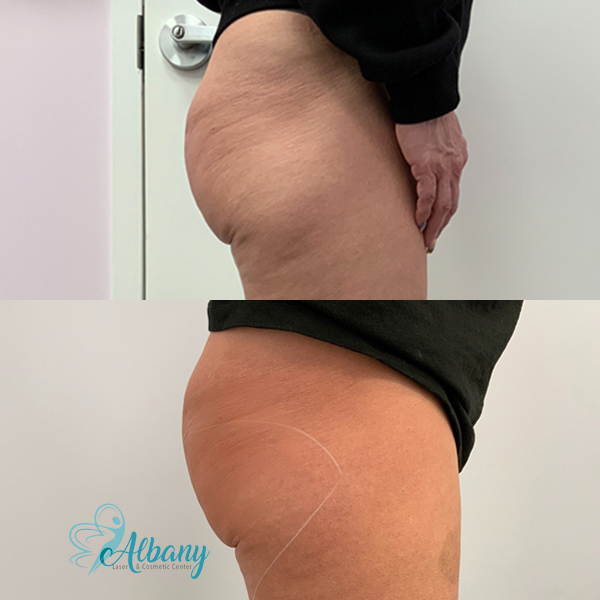 We feel happy when we see our clients at Albany Cosmetic and Laser Centre become more confident after their cellulite treatment. See our amazing results in our photo gallery, proving our dedication to great cosmetic care. Our gallery displays the effectiveness of our treatments. These include non-invasive options such as Fotona Laser and Endmologie Treatment. We also offer minimally invasive methods, such as subcision. We show how our plans helped people in Edmonton. However, it's important to remember that results can vary from person to person. Factors such as the severity , the specific treatment chosen, and individual skin conditions can affect the outcome. We'll talk about what you can expect and make a plan to get the best results during your consultation.
Real Client Reviews and Testimonials
I had an excellent experience with Albany Centre for lip fillers. Moreover, the team was so welcoming, and the results were just what I wanted. My lips look natural but bigger and with a heart in the middle!
I recently had Botox treatment at Albany Clinic for my frown. I'm really happy with the results. Moreofer, the staff was friendly and professional, making me feel at ease throughout the procedure. They use freezing cream and leave it long enough to work. So I highly recommed them!
I'm very happy with the results of the laser hair removal at Albany Centre. The procedure was quick and comfortable. I did not feel rushed, and provided me with many towels to change. So, I recommend them to anyone.
Witness the Difference That Our Cosmetic Treatment Made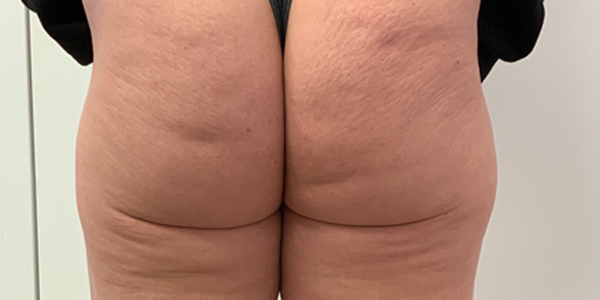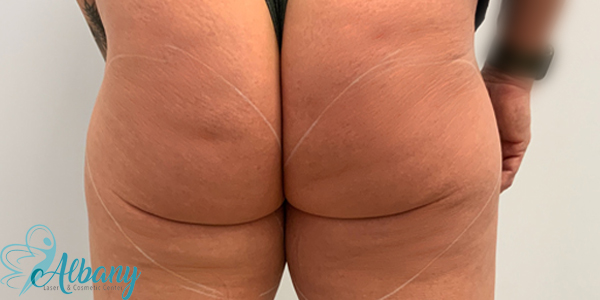 Move the slider to see the difference after the treatment. 
Watch A Video Showing Cellulite At Our Clinic In Edmonton
Experience the cellulite treatment journey firsthand with our detailed video at Albany Cosmetic and Laser Centre in Edmonton. We understand that seeing is believing, and our video gives you an up-close look at how we approach cellulite issues using our advanced techniques and state-of-the-art equipment. Get a feel for the ambiance of our clinic, meet our dedicated professionals, and witness the transformative power of our treatments. If cellulite has been a concern for you, this video provides a transparent insight into how we can help. Dive in and discover the potential for smoother, firmer skin.
Dimpled skin, often seen on the thighs, hips, and buttocks, is a common concern for many, particularly women. This unique appearance results from septae, fibrous bands connecting the skin to underlying muscles. When these septae become taut, they tug at the skin, leading to visible surface irregularities.As fat cells grow, they exert pressure against the skin. Because it cannot stretch sufficiently, this pressure exacerbates the dimpling effect. The arrangement and flexibility of septae vary between genders; women generally have fewer and less organized septae, making them more prone to skin dimpling. Hormonal variations between men and women also factor into its development.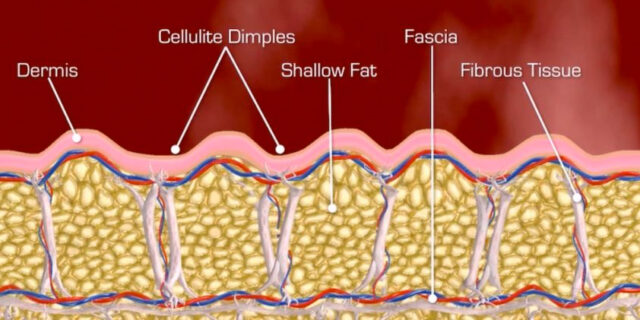 Moreover, reduced circulation and fluid buildup in specific areas can enhance these skin changes. The rigid nature of septae plays a pivotal role in this skin phenomenon.
Various factors increase the likelihood of developing cellulite, that dimpled appearance often seen on thighs, buttocks, and hips. Genetics heavily determine its occurrence; if your relatives have cellulite, you might also develop it. As we age, our skin loses its elasticity, making cellulite more noticeable. Hormonal changes can also bring about cellulite; many women see its onset during times like puberty or pregnancy. Diet and lifestyle choices, especially eating too many fats, carbohydrates, or salt and not drinking enough water, can make cellulite worse. Not exercising enough reduces muscle tone and circulation, both of which can contribute to cellulite. Additionally, the thickness and color of the skin affect its visibility; cellulite tends to show more on lighter skin than on darker tones. Knowing these risk factors can guide you in managing and reducing the appearance of cellulite.
Cellulite Edmonton Treatments Options At Albany Cosmetic and Laser Centre
At Albany Cosmetic and Laser Centre, we understand that one-size-fits-all solutions don't work for everyone. That's why we offer customized treatment protocols that combine different treatments to address the unique needs of each individual. Our most popular cellulite treatments include non-invasive procedures such as Fotona Laser (TightLase), Endermologie Treatment (LPG), radiofrequency, and subcision.
Fotona Laser (TightSculpting) is a treatment that uses lasers. It helps improve the appearance of the skin by increasing collagen production, making it more elastic, and reducing cellulite.
Endermologie Treatment (LPG) is a gentle way to reduce cellulite using suction and rollers to improve circulation and lymphatic drainage.
Subcision is a simple procedure that cuts the skin to release bands that cause cellulite. This is similar to the Cellfina treatment.
These treatments work together to reduce cellulite and give you smooth, toned skin that boosts your confidence. Our team will work with you to determine the best treatment option for your individual needs and goals.
Selecting the Best Clinic for Cellulite Treatment
When looking for the best place to treat cellulite, make sure the clinic knows what they're doing and uses the latest tools. Places like Albany Cosmetic and Laser Centre in Edmonton are great because they always use the newest methods and care a lot about giving top results. It's also good to go somewhere with trained people who can help safely and effectively. It's best if the clinic offers many treatments since cellulite can be caused by different things. A clinic that takes the time to chat with you and learn what you need is a sign they care about their patients. Also, look for places with fair prices that still give high-quality service.
Secure Your Spot: Convenient Booking Methods Await!
In today's fast-paced world, we understand the need for ease and convenience. That's why at Albany Cosmetic and Laser Centre, we've made the booking process as straightforward as possible for your cellulite treatment. Whether you prefer to send us a text message, drop an email, place a call, or utilize the direct chat icon positioned on the lower right corner of our webpage, we're here and ready to accommodate your schedule. Don't delay in seeking the treatment you deserve; reach out to us today through your preferred method, and let's embark on your journey to smoother skin.
Cellulite Reduction Cost in Edmonton
At Albany Cosmetic and Laser Centre in Edmonton, we believe in making the journey to smoother skin straightforward and affordable. Our suite of treatments includes the advanced Fotona Laser (TightLase) procedure priced at $600, which is known for its deep-reaching effects. We also offer the Endermologie Treatment (LPG) at $450, a method that synergizes therapeutic massage and suction for maximum efficacy. For those seeking an approach that directly targets the fibrous bands beneath the skin, our Subcision treatment, costing $1200, is a perfect choice. During a personalized consultation, our seasoned medical professionals delve deep to understand your unique needs, guiding you towards a treatment plan that aligns with both your aesthetic goals and budget.
Frequently Asked Question