Botox Nefertiti Neck Lift
Are you looking for a way to reduce wrinkles, skin laxity, and sagging along your jawline? The Nefertiti lift is a revolutionary new technique that can help achieve these results. This procedure lifts and improves the definition of the mandibular border and angle, elevates the corners of the mouth, and drapes the skin along the contour of your jawline for a youthful appearance. By injecting Botox directly into your platysmal bands, you can reduce horizontal rhytides, and skin laxity due to age and redefine your jawline.
Contact Us About the Nefertiti Lift: Get a Jawline Redefinition and Reduction of Neck Horizontal Lines
Understanding the procedure
At our clinic, we offer this specialized service with experienced professionals who understand how to get the most out of each injection. Our expert staff will work with you to create results that are tailored specifically to each patient's individual needs and wants. We use advanced techniques combined with expert knowledge of facial anatomy in order to ensure natural-looking results that last over time.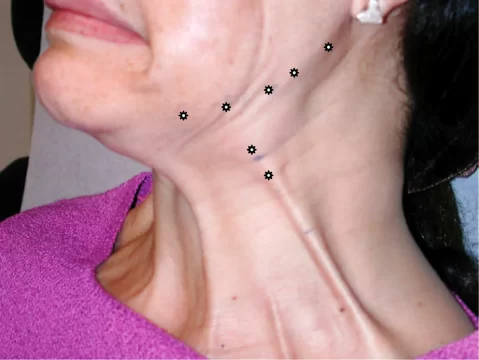 The "Nefertiti lift" is a specific technique to target the jawline and achieve a more lifted, defined look. This treatment focuses on elevating the corners of the mouth and draping the skin along the jawline contour for an improved aesthetic effect. This method provides a site-specific therapy with a wide safety margin. Early reports of moderate dysphagia and excessive muscle contraction in the upper face were addressed by reducing the dosage, avoiding injections too far into the neck area, and injecting behind the jaw posterior to the nasolabial folds. To minimize undesirable effects and the undesired consequences of overtreatment in the upper face, a limit of 20 U per side is advised.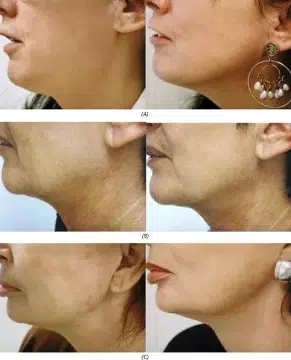 Contact Us About the Nefertiti Lift: Get a Jawline Redefinition and Reduction of Neck Horizontal Lines
How is Botox Nefertiti Lift performed?
At your appointment itself, a topical numbing cream may be applied before beginning any injections; however, it is important to note that many patients find that they only experience slight discomfort during injections due to their small size.
It is important not to rub, or massage areas where Botox has been injected since doing so could affect results; instead, they should be gently patted dry if needed after washing your face twice per day until redness has subsided.
Additionally, it is recommended that you avoid exercise for 24 hours following treatment in order to prevent prolonged swelling at injection sites which could impact results.
In addition to its use in specifically targeting the jawline, Botox can also be used to treat forehead lines, frown lines, crow's feet around the eyes, vertical lip lines, chin dimpling or gummy smile, as well as face slimming. The key benefits associated with using Botox for cosmetic enhancement include quick results with minimal recovery time compared to surgery and other treatments.
Benefits of Botox Neck lift
Overall, this non-invasive procedure has been proven safe and effective when administered by an experienced professional. During your consultation with a dermatologist or plastic surgeon who specializes in cosmetic injectables, they will assess your individual needs and preferences before recommending any treatments. They can also provide you with additional details about potential risks or side effects associated with this procedure so that you know exactly what you're getting into before committing to any treatments.
Botox injections are a safe and effective way to help improve the appearance of a sagging neck. By injecting Botox into the platysmal bands, it is possible to reduce the appearance of horizontal wrinkles and skin laxity that often develops with age. As such, Botox injections for neck lifts have become increasingly popular as an alternative to more invasive procedures. If you're looking for a way to look younger while redefining your jawline with minimal downtime or side effects, then contact us today about getting a Nefertiti lift! Our dedicated team is here to help answer any questions you may have about this innovative procedure or any other treatments we offer at our clinic.