FRAXEL LASER FOR PIGMENTATION AND WRINKLE REMOVAL
Beauty is attractive and contributes a lot to individual's appearance, however, as we age, several parts of our body begins to show the signs, wrinkles, scars, stretch marks, and pigmentation are all signs of aging and they are often unavoidable especially as we step outdoors to perform day to day activities which exposes the body to certain elements that contribute to aging.
In the bid to seek a solution to facial defects, people find solace in several products designed to get rid of those uncomfortable signs of aging. Technological innovations have also made it easy to get rid of the signs as well. Fraxel laser for pigmentation and wrinkle removal is one of the best options when seeking solutions for skin aging conditions.
Fraxel laser for pigmentation and wrinkle removal is the easy solution to looking fabulous with a moderate level treatment for skin tone, acne, poor skin texture, scarring, lines and pigmentation. It is a less evasive and effective way to maintain your beauty. With Fraxel laser, your health is guaranteed as it is FDA approved. It is even useful for treating pre-cancerous conditions.
For a lot of people, Fraxel laser is a fairly new innovation and thus are often unsure about trying it out, however, there is absolutely nothing to worry about because the laser is the healthy way to go. People ask questions such as these when considering using the Fraxel laser for pigmentation and wrinkle removal
What is Fraxel laser?
Fraxel laser is a handheld device with a laser light energy that is passed across the skin to stimulate the body's natural production of collagen that is responsible for smoothing the skin surface and rejuvenating the skin cells. It is a Fraxel treatment exposes the skin to a laser to treat a range of skin damages such as sunspot, wrinkles, age spots and many others.
Are there options when it comes to Fraxel treatment?
When considering Fraxel laser for pigmentation and wrinkle removal, there are two options involved, the first is the ablative procedures which are performed with the Fraxel repair laser.  In this option, the Fraxel laser is maneuvered to injure the skin in a controlled way through vaporizing the top layer of the skin to moderately resurface damaged skin or repair severe skin damage. The second option is the non-ablative procedure which is used to treat minor skin problems and prevent signs of aging. The choice of which procedure to use depends on the severity of your skin condition.
How does Fraxel laser work?
Fraxel laser for pigmentation and wrinkle removal uses patented fractional technology to cure damaged skin; this is achieved with the use of microscopic laser columns that goes deep into the skin for effective treatment. The laser works gradually, it only treats a fraction of the skin tissue at a time without affecting surrounding tissues, hence, it accelerates rapid healing. With the laser, the body's natural healing tissue is stimulated in order to replace old and damaged cells and replace with a fresh, healthy and glowing skin.
How long has Fraxel laser been available?
Fraxel laser for pigmentation and wrinkle removal has been available since 2003 when the first non-ablative Fraxel device was invented.
How long does the treatment take?
It depends on the condition, location and size of the area that requires treatment. Basically, it takes about 30 minutes to 3 hours.
Do I need multiple treatments?
Your financial situation and goals dictate this. Most Fraxel treatment centers work with their patients to determine if more than one treatment would be required. However, most treatments require between 2 and 6 sessions especially with the non-ablative treatment, however, the ablative Fraxel repair only requires one treatment.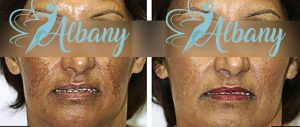 Is the procedure uncomfortable?
Fraxel laser for pigmentation and wrinkle removal procedure is designed to be convenient for patients. Most professionals apply tropical aesthetic creams on the skin area and doctors could also prescribe painkillers for their patients which reduces any pain that comes with the treatment. Patients might feel a slight prickling sensation during treatment.  They could also feel the heat sensation from the laser; however, this subsides eventually after treatment.
Can the treatment work for all parts of the body?
Fraxel laser for pigmentation and wrinkle removal can be performed on the neck, face, legs, back, buttocks, hands, arms, and chest. It also works for both genders and all skin colors as well as ages.
How soon will the result become visible?
The result of the treatment becomes visible after a week, significantly, the skin looks noticeably fresher and clearer within a few days after the treatment, and there is also an improvement in the skin tone and texture. The skin texture improves gradually within months and the natural healing process boosts the effectiveness of the treatment. A successive treatment will also improve the skin.
Does the treatment come with any adverse reaction?
Like many surgical procedures, the Fraxel treatment comes with a few risks of its own. The major, side effect is the prolonged redness in the skin area. The reaction can persist for more than two weeks or less. Patients could also experience itching of the skin and a mild stinging sensation immediately after treatment or a few days after.
For patients who are prone to cold-sore. The procedure could also trigger it, patients with this condition are usually given preventive tablets to take before treatment to prevent the dangers that come with cold-sore.
Is there any precaution or care required after the procedure?   
There is no serious aftercare required all you need to do moisturize the treated part frequently and cleanse your skin two times a day. Patients should avoid harsh skin products, excess heat, and sunlight for a week to avoid skin trauma, sunscreen and makeup will also be beneficial during this period. After the treatment patients should avoid direct sun exposure for at least three weeks to allow the skin heal properly. This potentially decreases the recurrence of unwanted skin condition and allows the treatment work properly
_______________________________________________________________________
Fact of Edmonton
In Edmonton, One in every 5 children lives under family poverty.
____________________________________________________________________________