Submental Fat Removal
WHAT CAUSES DOUBLE CHIN AND FAT DEVELOPMENT?
Your way of life, your genes, and aging. Out of these, you can only control your way of life by consuming fewer calories and working out, which, most times, is not enough. Thus, individuals search for the best cosmetic procedure with no downtime to enable them to expel double chin and fat.
Both Sculpsure and CoolSculpting are viable non-surgical double chin and fat diminishment procedures. The principal contrast is that while CoolSculpting tenderly freezes your fat, SculpSure utilizes heat to gently warm the fat cells until they achieve the temperature where Lysis (the gentle pop) happens and is cleaned up by your body's lymphatic system.
HOW DOES SCULPSURE WORK?
The SculpSure (device) is a laser. The laser heats the fat until many fat cells die, which the body discards through the lymphatic system.
HOW DOES SCULPSURE DESTROY DOUBLE CHIN and FAT?
SculpSure is mainly enhanced to take out undesirable fat under the chin. The applicator gives exact and compelling treatments bringing about a slimmer appearance of the chin and any other treated area. This safe and non-surgical method uses light-based innovation to heat and damage fat under the skin. This treatment is done on different body territories, including the flanks, abdomen, back, and internal and external thighs. We can combine the double chin treatment with chin augmentation.
HOW MANY TREATMENTS DOES ONE NEED WITH SCULPSURE FOR THE DOUBLE CHIN AREA?
In clinical trials, patients began to see a decent change with as small as one treatment. With more treatment procedures, fewer fat cells remain, giving a better profile appearance. It is safe to state that prior consultation is crucial before treatment to decide the best treatment methodology and the number of treatments required.
WHAT ARE THE BENEFITS OF USING SCULPSURE FOR DOUBLE CHIN AND FAT?
25-minute treatment

Natural-looking outcomes

No downtime
IS SCULPSURE SAFE FOR DOUBLE CHIN?
Yes!
HOW MUCH FAT WILL THE SCULPSURE REMOVE?
The SculpSure treatment has set a new standard with the best body-shaping advantages of any fat-lessening treatment. It has been clinically demonstrated to non-surgically diminish the amount of fat in treated areas with only one 25-minute treatment.
WHAT DIFFERENTIATES SCULPSURE FROM OTHER TREATMENTS?
What separates SculpSure from other cosmetic procedures is that SculpSure does NOT Shrink Fat Cells. It crushes them. The magnificence of this strategy is that it is non-invasive and non-surgical.
IS THE SCULPSURE PROCEDURE PAINFUL?
SculpSure isn't painful, nor is it agonizing. Most patients feel a warm, tingling sensation throughout the treatment, endured during clinical procedures amid FDA endorsement. The key to losing fat without pain lies in the protected cooling technology in the individual SculpSure applicator, and the laser will focus on your fat cells and keep your skin cool while helping you lose fat. With SculpSure, you will be undoubtedly comfortable before and after your treatment!
IS SCULPSURE SAFE?
SculpSure is FDA-endorsed and was observed to be ok for all bodies. It is non-invasive, which implies that you can lose fat without surgeries like liposuction. Although not all Procedures enable the FDA to coordinate their clinical trials, Cynosure, the producer of SculpSure, is the biggest therapeutic laser organization globally and decided on this approach to guarantee your safety and comfort.
HOW LONG DOES IT TAKE TO SEE RESULTS AFTER SCULPSURE FOR UNDER CHIN AREA?
It takes 6-12 weeks for the body to dispense damaged fat cells using the lymphatic system.
IS THERE ANY DOWNTIME WITH SCULPSURE AFTER UNDER CHIN AREA TREATMENT?
No! Although there might be a sign of redness and soreness, there are no marks, cuts, wounds, or scars and no swelling.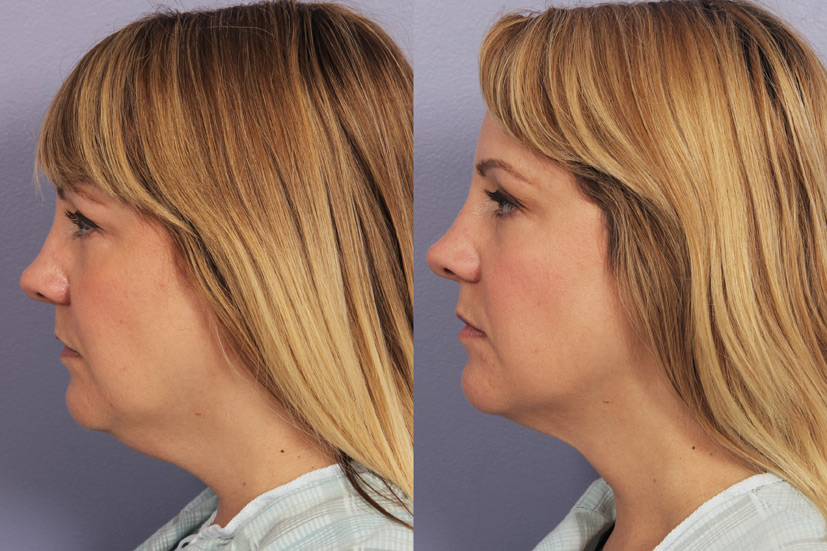 WHAT IS COOLSCULPTING?
CoolSculpting utilizes a distinctive cooling innovation that freezes fat cells and destroys them. Once the fat is crushed, the body will clear the dead fat cells out of the body through its own particular natural erasing mechanism. Because of an extraordinarily composed applicator, CoolSculpting can likewise be utilized for chin fat lessening and contouring the neck region.
HOW DOES COOLSCULPTING WORK?
As its name implies, CoolSculpting is a fat-freezing system that uses cryolipolysis to shape the body. The applicator gently draws the undesirable fat into a vacuum and reveals the fat cells to low temperatures, harming them. These dead fat cells are then naturally processed by the body and evacuated.
HOW IS THE SKIN PROTECTED, AND IS THE PATIENT MADE COMFORTABLE?
In treatment, the vacuum-empowered applicator is placed on the fatty region, which pulls the fat toward the device. Next, the cooling innovation is allowed, focusing on the fat cells and freezing them so they can be dispensed away. A specially made gel is massaged over the treatment region to save the skin and improve comfort during the procedure. During the procedure, you will feel a cooling sensation and lightweight. CoolSculpting causes insignificant inconvenience and does not require any anesthesia or recovery time, not like liposuction.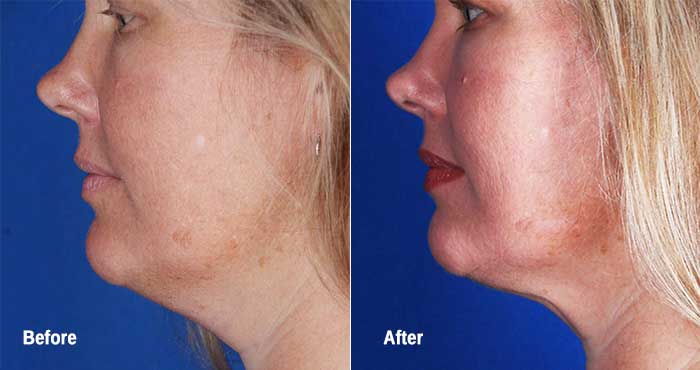 WHAT IS THE DURATION OF THE COOLSCULPTING SESSION?
Against all the odds, a CoolSculpting session takes around 60 minutes. 1-2 treatments are required for double chin and fat removal. The greatest advantage of CoolSculpting is that it eternally destroys fat cells so the body can expel them. Once they are gone, they are no more. You must maintain a strategic distance from weight fluctuations after treatment to keep up with ideal results.
WHO ARE THE IDEAL CANDIDATES FOR COOLSCULPTING?
CoolSculpting is alright for anyone with stubborn fat in the chin and neck region. Quite some doctors prescribe the CoolSculpting procedure to people searching for a non-invasive system for double chin evacuation.
WHAT ARE THE SIDE EFFECTS OF COOLSCULPTING?
Presently, you may be worried about any justifiable reactions. The side effects of Coolsculpting include:
Slight distress

Numbness

Swelling and bruising
In any case, the consistent idea behind these reactions is that they are short-term and transitory.
Results shown on our website vary from patient to patient. We cannot guarantee any results.
_______________________________________________________________________
In the 20th century, Edmonton grew slowly by depending on its agriculture-based economy.
____________________________________________________________________________