Enhancing Lips Shape with Fillers Injection Case # 1026
Lip augmentation is becoming more popular due to the procedure's safety and affordability. The lip is the most noticeable feature of the face. Like the eyes, they reflect the initial impression of mood and attitude. Lip augmentation with Juvederm and Restylane injections is a common cosmetic trend for altering the look of your lip shape. Albany Cosmetic and Laser Center boast one of the best satisfaction percentages for cosmetic lip fillers. We provide the greatest long-term outcomes for restoring lip volume and eliminating small wrinkles.
Lip fillers are becoming more socially acceptable, and we have noticed higher demand in the past few years. HA fillers such as Juvederm, Restylane, and Revenesse are the most commonly used fillers for Lip augmentation.
Lip Fillers Injection
Our team members explain cosmetic injections' cosmetic benefits and risks during the one-to-one consultation with our client. This session is important for setting expectations and collecting essential medical history. Moreover, we go through different consent forms and provide an after-the-procedure care plan. The pain is alleviated by using a 2% lidocaine application or a cold air chiller. The cosmetic injector implements the fillers using a 30-32G needle according to the filler thickness.
Case Study 1026
A client in her twenties, who had never had lip fillers previously, approached us for better lip definition and volume, mainly in the upper lip. Cosmetic Nurse Dima Omran injected the fillers in the vermilion border using a 30 G TSK Cannula to minimize bruising. She then used a sharp needle to handle the philtrum column and the lip pillows. Afterward, the injection points apply Arnica cream and polyprotein with a cold massage.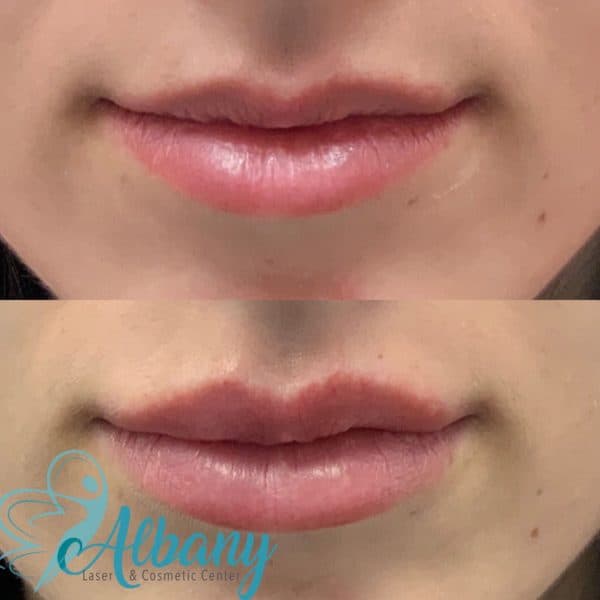 Improving lip definition with fillers: Case No. 1044
Improving Lip Volume with Fillers: Case No. 1007