Lip Augmentation With Fillers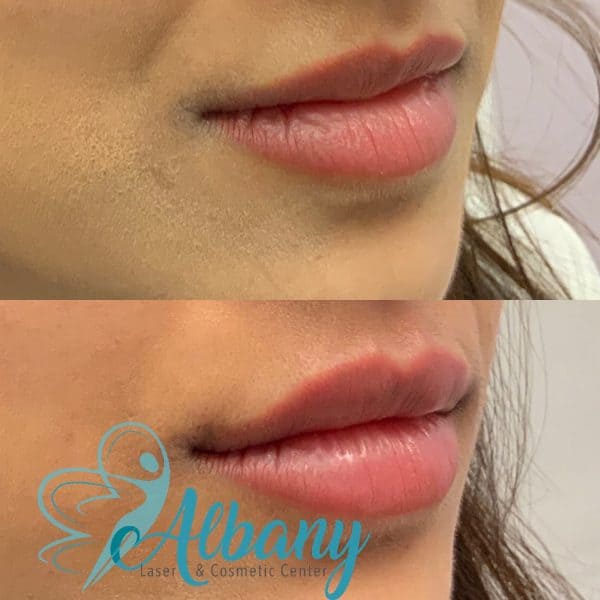 Lip Augmentation
Lips have a significant role in face aesthetic perception, and lip augmentation is one of the most commonly requested aesthetic procedures. Non-permanent dermal fillers, such as hyaluronic acid (HA), are used for augmenting the lips. There are several types of fillers available today, which is a natural substance found in the body that can give you fuller, plumper lips called hyaluronic acid fillers.
What is hyaluronic acid?
Injectable hyaluronic acid (HA) is a type of temporary dermal filler. Hyaluronic acid is found naturally throughout the body, with the highest concentrations in the joints, eyes, and skin. In the skin, hyaluronic acid attracts water, which allows the skin to become more hydrated. As we age, the fat, muscles, bone, and skin in our face begin to thin. This loss of volume leads to either a sunken or sagging appearance of the face, fine lines, wrinkles, folds, and thin lips. Injectable HA is used to reduce the appearance of fine lines and wrinkles, facial folds, and to create structure, framework, and volume to the face and lips. The effects of injectable hyaluronic acid are seen immediately.
Case 1055
A female in her mid 30's came in with concerns regarding the volume loss and shape of her lips. It was clear that she has lost volume in her lips that gave her the appearance of thin lips. After carefully reviewing her options and keeping her medical history in mind, we decided to proceed with hyaluronic acid fillers by using a blunt cannula allowing the needle to pass through, therefore only requiring one poke. This specific procedure was done in under 15 minutes and that included the numbing cream application process.
The procedure
We used a blunt cannula to allow the needle to go through smoothly. You may feel a light poke almost like a pinch during the injection of the fillers. To minimize bruising and swelling, the chiller was used after the procedure.
Cost
The cost of this procedure varies depending on how much filler is needed. In this case one syringe of filler was used therefore the price was $600.00 plus tax.
Side effects
The main side effects to be expected are bruising and swelling which lasts up to 4-5 days but varies with each person depending on their skin type.
Results
Inserted below are before and after pictures that were taken on the day of the treatment. You can see an immediate change right after the procedure and they only get better over the next two weeks.