About Us
If you're looking for a cutting-edge medical spa with a highly qualified medical staff, look no further. Albany Cosmetic and Laser Center is Edmonton's most advanced laser centre and one of the best medical spas in Edmonton for Botox injections. Our location is convenient to the Hendy on 127 Street between Edmonton and St. Albert; our full address is 12914 167 Ave NW, Edmonton. We are Edmonton's most highly rated cosmetic and laser centre, with the highest client satisfaction rates. We won the community choice award for medical spa in 2018 and have been nominated for the prestigious Top Choice Award for 2019.
Our Managing Directors
Dr. Salem Tomi (M.D.) and Dr. Kamal Alhallak (Ph.D.) share the medical and business director responsibilities. Dr. Alhallak is a pharmacist with a Ph.D. in the application of nanotechnology to drug targeting from the University of Alberta's Faculty of Pharmacy. He is extremely passionate about injectable cosmetics and has one of the highest client satisfaction rates in Alberta. Our medical spa and cosmetic laser clinic won the community favourite award last year, and we've been nominated for the top choice award this year, an incredible accomplishment in such a short period of time. Our laser technicians have a combined experience of over 20 years in laser and aesthetic treatment. Our medical spa committed to providing space for clients and involving them in the treatment selection process in order to provide the most effective and cost-effective treatment possible.
Our Mission
Our mission is to assist you in becoming the Younger Version of Yourself (YVY), to restore your natural beauty, and to assist you in shining once more through our services.
Our Vision
Our vision is to combine cutting-edge science, techniques, and customer service to deliver the best possible cosmetic treatment results at an affordable price.
Our Value
Be truthful, client-oriented, and provide your clients with the best economic treatment possible. Provide the most effective treatments at the lowest possible cost.
Our Passion
Our passion is Botox, fillers, cosmetic injectable procedures, and RESULTS, and our objective is to make our clients feel beautiful and confident with as few expenses as possible. Our expert cosmetic injector team in Edmonton has the required knowledge and skills in advanced cosmetic procedures and treatments to guarantee our customers obtain the finest results. We only employ the most modern injection processes and the highest quality products available.
Albany's Expert Injectors are professionals for a reason! We specialize in cosmetic injectable treatments since we provide over 6,000 injectable treatments each year. Thousands of satisfied clients can attest to the fact that not only do they appreciate their outcomes, but they also love their complete experience at our clinic. Our devotion to tailored treatments sets us different from the competition. We think that no two clients are alike and that this is not a one-size-fits-all approach. We place a high value on understanding each client's unique face structure as well as their aspirations. 
We are a world-famous cosmetic and laser centre that specializes in aesthetic and cosmetic procedures. Our team is one of the best in their field, with work published in the most prestigious scientific journals. Please read our privacy policy here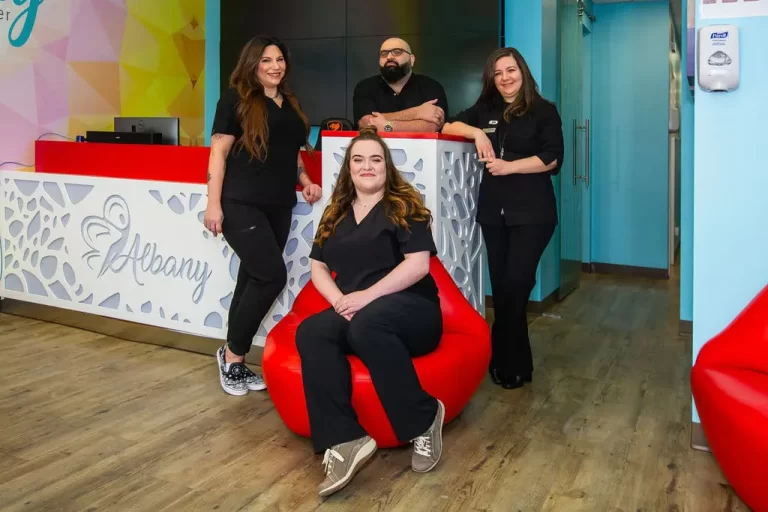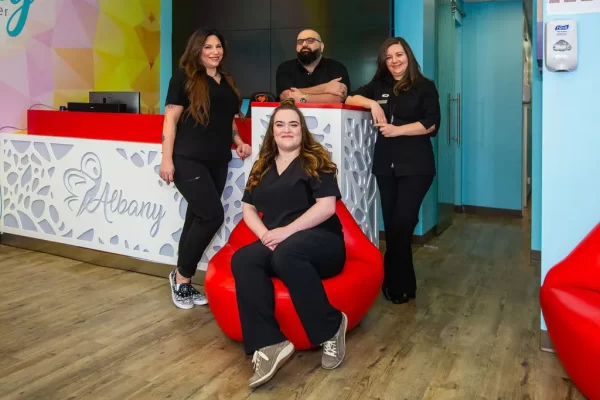 Albany Cosmetic and Laser Centre is thrilled to announce that it has been awarded a certificate of excellence by the Canadian Business Review Board. This is a tremendous advancement in our quest of excellence and customer-centric service.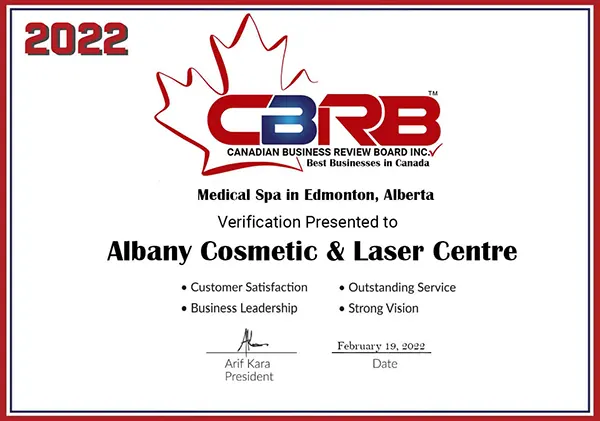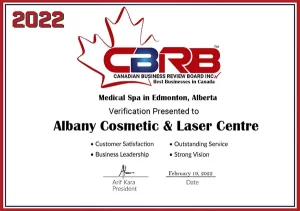 Dr. Kamal Alhallak  is a master injector with a Doctorate (Ph.D.) in Pharmacy and Pharmaceutical sciences from the University of Alberta specialized is skin delivery systems
Dr. Alhallak is a pioneer in the field of cosmetic injectables such as Botox and fillers. He had his training completed in BC academy of medical aesthetic and American Academy of Facial Esthetics (AAFE) With and International fellowship in advanced aesthetic science IFAAS.
Dr. Alhallak is the lead author on all publications generated at Albany Cosmetic and Laser Center as a research institute
Dr. Salem Tomi is a family physician who believes that patient care should be a physician's priority. He has vast experience in ER and ICU units. Dr. Tomi showed a special interest in cosmetic medicine and Laser application. He is a co-director of Albany Cosmetic and Laser Center and published in both the Journal of Cosmetics and laser therapy and Journal of clinical dermatology and therapy. He holds a medical degree from AL-FATEH UNIVERSITY FACULTY OF MEDICINE – TRIPOLI, LIBYA, where he completed a postdoctoral fellowship in ICU medicine.
Dr. Adel Abdulhafid is a graduate of Alfateh University and was born in Tripoli, Libya. He graduated from Alfateh Medical University with a medical degree. His residency was at the University of Calgary, and he completed his education with fellowships at the same institution. Dr. Adel Abdulhafid specialized in minimally invasive surgery, urogynecology, and laser vaginal rejuvenation procedures and had over twenty years of experience in Obstetrics and Gynecology.
RN Dima Omran is a dedicated Registered Nurse with over 3 years of experience in providing healthcare and aesthetic services. She has an a B.Sc. in Pharmacy and Pharmaceutical sciences fron Damascis University, and an M.Sc. from University of Alberta. She specializes in multiple areas, including cosmetic injections and Vaginal laser treatment. She puts her patients' comfort and well-being first and foremost, exhibiting great empathy and understanding towards their individual needs. With her expertise in evidence-based practice, she ensures that the patients' treatments are safe and effective.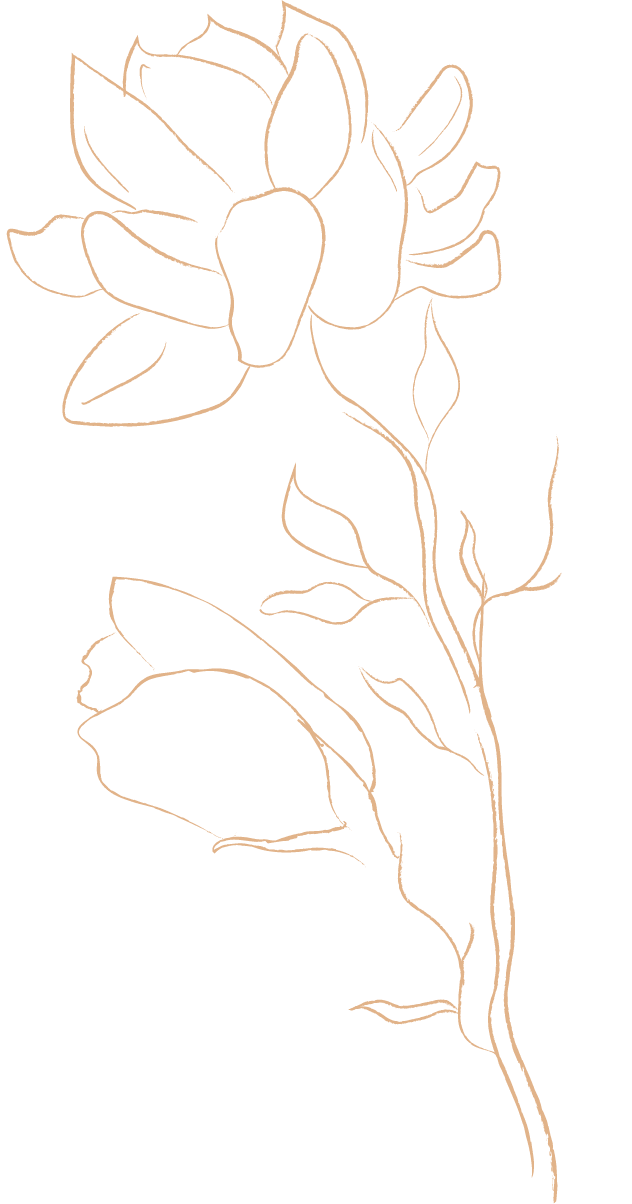 Our staff members are certified and had world class training in their domain

Achieve the Flawless Look You Desire with Our Advanced Cosmetic and Laser Services
Take Advantage of Our Professional and Experienced Cosmetic and Laser Treatments at Albany Cosmetic and Laser Centre in Edmonton
Albany Cosmetic and Laser centre