Vaginal Tightening in Edmonton
 Women have been whispering about vaginal tightening for a long time, and it used to be a taboo to talk about it or even discuss it with your health care professional. The changes that women go through after giving birth, or at a certain age devastating. One of the most devastating issues is vaginal canal changes such as vaginal dryness, loss of feeling and sexual pleasure, delayed or loss of orgasim, pain during and after intercourse which affects the quality of life significantly.
Votiva For Vaginal Tightening
After years for research, Votiva was cleared by Health Canada for vaginal tightening treatment. These include vaginal tightening, urinary incontinence, dryness, sexual dysfunction. It also helps with more advanced issued such as bladder prolapse.
Changes after giving birth
can lead to many things happening to the connective tissue around the vagina. Some of them include reduced elasticity and wrinkled vulva and labia. This is the beginning of so many issues that involve the reduction of blood flow and drastically reduced sensitivity in the area. Therefore, vaginal tightening treatment has lots of application between women. It's also related to conditions like recurring infections and urinary leakage. In the end, a woman's self-esteem takes a significant hit. Reduced friction during intercourse and dryness ultimately leads to diminished or no sexual pleasure. There can also be a pain because of this.
Vaginal Tightening not a Taboo anymore
Statistic showed that over 80% of women go through significant vaginal changes after birth or around menopause, but they feel helpless and embarrassed to discuss the issue. What seemed standard back in the days has now got women seeking help. Due to Cultural changes, women feel more confident to discuss vaginal tightening treatment with their health professionals.
Is There an effective treatment out there?
On the other hand, health care professional had very limited tools to help their patients. Some of the problems could be treated (to a certain extent) with medication such as replacement hormonal therapy. However, we all know the risk of taking HRT and a trigger for breast cancer, Moreover, the fix is not permanent. Therefore, there is a need for a revolutionary vaginal tightening treatment that helps to decrease vaginal dryness and improve the shape, increase the sexual. Luckily, Increased awareness comes with some solutions for this issue. One of such solutions includes vaginal rejuvenation.
Vaginal Tightening
Vaginal tightening is a non-surgical, non-invasive treatment that uses energy to rejuvenate the vaginal tissues and restore its functionality. I am sure you heard about face and skin rejuvenation using some of the most famous and useful machines such as Ulthera, Thermage, and Fraxel. These machines use energy that could be radio frequency or laser to resurface and rejuvenate the skin to give you new and more glowing skin. Logically, the same issue can be applied to the vaginall tissues. During vaginal tightening procedure, the health care professional will use a type of energy to rejuvenate the vaginal tissues and induce the formation for newer and more effective and functional tissue
What are the types of energy available?
To spare you the scientific mambo jumbo, we will keep this section brief. There are two main types of vaginal tightening technology: Radio Frequency and CO2 Laser
Almost all of us have heard about Co2 laser and how useful it is to treat scars, aged skin. But we also heard about how aggressive it is on the skin. There is a long list of adverse reactions after ablative CO2 treatment such as extended downtime, pigmentation, infections, and inflammation. Therefore, there was a need to come up with another source of energy that is effective and have a better safety profile than the CO2, hence came the Radiofrequency.
What are vaginal tightening machines available?
The only machine that provides vaginal tightening through radio frequency is the Voltiva from Inmode which we use in our clinic. All other machines including Femlift, Monalisa Touch or Juliet all use an ablative laser.
Why choosing Votiva for Vaginal rejuvenation
To summarise it in two words: Safet and Efficacy. To say vaginal tightening process is a stressful surgery for women is putting things mildly. It's not just a process that you jump into it. Most women carefully consider it before making moves to have it done. A lot of women seek advice, help, and suggestions from friends and family before deciding. You need something that is safe that would not burn or leave a scar with minimal downtime. This is precisely what Votiva offer.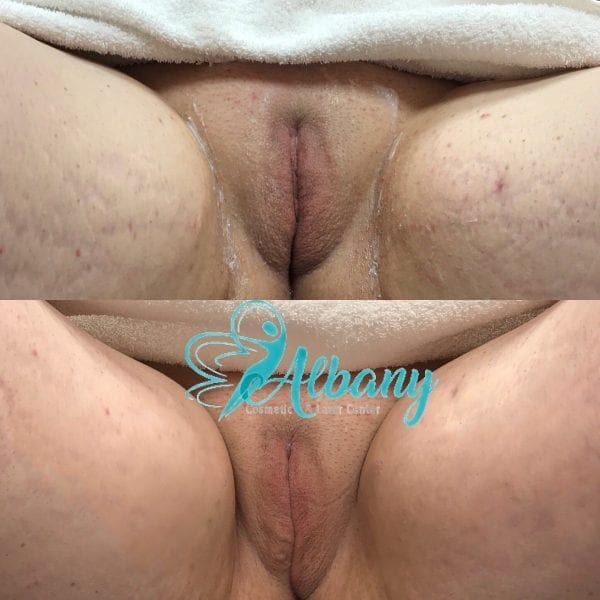 Votiva is a revolutionary vaginal tightening machine that uses RF. One of the treatment started the radio frequency penetrates deep (100 times more than a laser) in the tissue and deliver more control heating effect on the mucosa, connective tissues, and muscles. Votiva benefits women immensely in all symptoms that we mentioned before. Not only is it safe but it comes along with other advantages like of Internal and External handpiece for more comprehensive and effective treatment.
The depths of Radio Frequency dissipation and the controlled heating temperature over the treatment session means an enhanced efficacy. Votiva does not only treat the superficial tissues but penetrates gently deeper to heat the connective tissue and pelvic floor muscles result in a fantastic tightening and better bladder control (please refer to our urinary incontinence page for more info)
Benefits of Votiva
We've touched on why you should consider Votiva over other options. Let's back those claims up with the benefits involved in using the procedure:
a) Repairs the external and internal vaginal tissue: After giving birth to a number of kids, there's every tendency that your vaginal tissues become lax. With this, enjoying sex becomes largely impossible. Votiva helps to restore both the external and internal tissues of the vagina
b) Optimal results: Some who use Votiva have been seen to experience immediate results. Some others usually have to wait a short period to see results. But what they all have in common is getting optimal results
c) Sensitivity is increased: With a tighter vagina, your sexual experience is re-born. And this one of the most important factors when it comes to the well-being of and quality of life a woman
d) It addresses laxity of the vagina: As women grow, the vulva experiences so many changes. The vagina, over time, can have a drooping appearance. Votiva helps to restore it and give a pleasing look
e) It can assist with hypertrophy of the labia: Women struggle a lot with long and enlarged labia's. It can be something of a headache for any woman. But with the help of Votiva, you get a tightening effect on the tissue in this area
What is the next step?
Please call or send an email if you wish to arrange a consultation about treatment using the Votiva device. You can be sure that your experience afterward will be a life-changing one. To book an appointment, visit Albany Cosmetic & Laser Center today!
We also offer all type of cosmetic treatment such as facelift, urinary incontinence, wrinkle removal, stretch mark removal, laser treatment, cellulite removal, skin tightening