PRP for hair loss treatment
Platelet-rich plasma (PRP) can be used to accelerate the healing of multiple body parts. It may assist in restoring hair growth. This medication is frequently prescribed when hair loss is the result of androgenetic alopecia, a common condition in which hair follicles diminish. There is some scientific evidence that platelet-rich plasma can stimulate hair growth, despite the fact that it is a relatively new technique.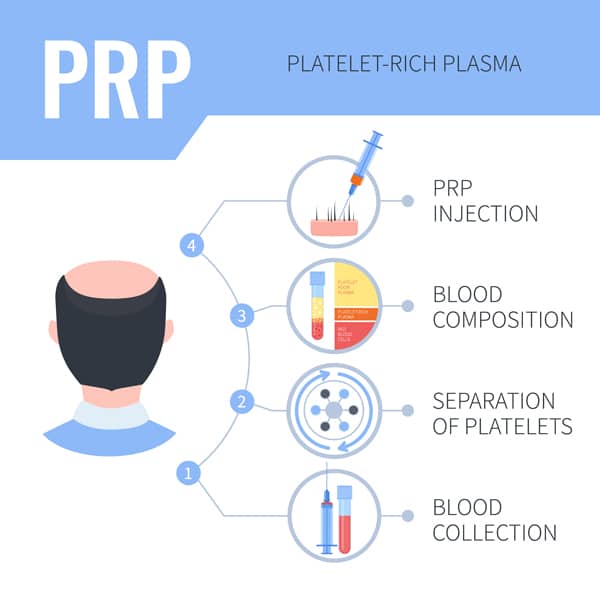 To comprehend how PRP works, one must understand the function of platelets in the healing process.
Platelets are blood components. Platelets are among the body's "first responders" to stop bleeding and promote healing following a cut or wound. The researchers hypothesised that extracting concentrated platelets and injecting them into injured body parts could accelerate the healing process.
A medical expert will take a blood sample and centrifuge it to create PRP
The centrifuge machine rotates rapidly, separating the blood's components
Following that, the medical expert removes platelets for injection
PRP is has a concentrated dose of growth factors and proteins that promote tissue restoration
Because some forms of hair loss are caused by damage to hair follicles, researchers investigated that PRP may aid in hair regeneration by reversing the process that happens in androgenetic alopecia. Since then, PRP has grown in popularity as a means of regenerating hair. Doctors have also employed PRP to heal tendons, muscles, and ligament injuries, such as those sustained during athletic activities.
Knee injuries are common in sports. Learn whether PRP is useful for knee injuries in this article.
Is PRP Effective?
A group of academics did a thorough review of PRP as a treatment for hair loss. The focus of the investigation was ultimately 11 research papers including 262 people with androgenetic alopecia. According to the authors, the majority of studies have demonstrated that PRP injections reduce hair loss and increase hair diameter and density. According to the authors, the majority of studies indicates that PRP treatments result in hair regeneration in patients with androgenetic alopecia and alopecia areata.
PRP Procedure
The following stages illustrate a typical procedure for PRP injections for hair loss:
We will collect a sample of blood, about 15 MLS
They centrifuge the blood sample
The centrifuge separates to prepare the PRP
Using a syringe, a medical expert removes the platelets
A physician injects platelets into specific parts of the scalp
The entire procedure may take up to an hour, and many sessions may be necessary.
After PRP therapy, the majority of patients may immediately resume their daily activities. Certain dietary and lifestyle modifications may promote hair growth or prevent hair loss.
How long Does PRP Effect Last?
PRP is not a cure for hair loss-related disorders. As a result, a patient would require several PRP treatments over time to sustain hair growth benefits. Similarly, drugs routinely used by physicians to treat androgenetic alopecia, such as topical minoxidil (Regaine) and oral finasteride, have a similar effect (Propecia). The frequency with which a doctor recommends PRP will vary based on the patient's health and the outcome of their initial therapy. Once hair loss is under control, the doctor may recommend maintenance injections every 3–6 months.
What is the PRP Injection Side Effects?
Headache, slight soreness at the injection site, and scalp tenderness are possible adverse effects. Because the PRP solution is composed of a patient's own blood components, there are few hazards associated with the solution itself. However, those taking PRP hair loss treatments may have the following adverse effects:
a tingling sensation at the injection location
tenderness of the scalp
swelling
a migraine
itching
bruising at the injection site
Female pattern hair loss is different from male pattern hair loss. However, regardless of the pattern and the cause, Plasma with a high concentration of platelets will help. The most generic type of hair loss – Androgenic alopecia has over 40% of women and 80% of men developing it as they get older. Before now, the only effective treatments were medications like finasteride, minoxidil, or hair transplants. Scientific research carried out recently has indicated that injecting PRP has a great effect on stimulating regrowth.
Plasma Injections for Alopecia, bald patches, and bald spots
Alopecia is a condition that brings about patchy baldness (bald patches and bald spots) or results in total loss of hair. There is enough research to recommend using the PRP injection to slow the loss of hair and gain some back. Our blood consists of cells called platelets, which contain several growth factors. The growth effects of the Platelet-Rich-Plasma are a result of the platelet efficacy on the hair follicles, this helps on how to grow hair faster. We produce Platelet-rich plasma (PRP) through a high-speed centrifuge that separates blood cells and isolates platelets in a small volume of plasma.
To summarize PRP injections for hair loss
In summary, the use of platelet-rich plasma injections and Microneedling offers an effective option for hair growth for those people who prefer a minimally invasive procedure. PRP is a powerful non-surgical alternative for patients suffering from thinning alopecia, how to grow hair faster and after a hair transplant procedure. We also use PRP for O' shot and natural fillers
Other Treatments for Hair Loss
About half of the men at the age of 50 experience different degrees of hair loss. Therefore, we frequently get questions about hair loss treatments. Alopecia and thin hair might hurt self-esteem special at a young age in men and women. Most of the clients seek helps after they tried different home therapies that do have not a scientific background. Moreover, different home therapies and wrong myths might interfere with the treatment results. Thus, it is important to discuss all past and current treatments. The less the treatment is the better the compliance is.
Minoxidil Treatment
Minoxidil's mechanism of action is not fully known. It is important to point out that patients might experience worsening hair loss in the first eight weeks of the treatment. Therefore, it is important to discuss this point with the patients, otherwise, the complaint will be very low.  Similar to all chronic diseases, Alopecia, and hair loss treatment is long term. The client needs to keep using Rogaine to maintain its effect.
Vitamin and Mineral Supplements
Many patients and dermatologists worldwide believe that vitamin and mineral supplements may improve hair loss. According to a study, 60% of dermatologists recommend supplements for at least one type of hair loss and also recommend supplements for the treatment of telogen effluvium. Moreover, a study in the United States revealed that 66% of American dermatologists recommend supplements to their patients. We will review some of the most commonly recommended supplements for hair loss, including zinc, iron, and biotin, and address specific supplement-containing products randomly evaluated in controlled trials.
Supplements containing zinc will increase hair growth.
Zinc is an important mineral that serves several functions in the hair follicle. Perhaps most importantly, it is an endonucleases inhibitor, which promotes keratinocyte apoptosis during the catagen phase. Acquired zinc deficiency is seen primarily in the elderly and in patients with poor nutrition, including alcoholics. Moreover, in patients with alopecia areata and low serum zinc levels, zinc supplementation increased hair growth in two-thirds of patients. There is no benefit yet for supplementing zinc in hair loss patients with normal serum levels. Additionally, zinc toxicity can lead to negative side effects, including copper and calcium deficiency.
Supplements containing iron will increase hair growth
Iron deficiency is widespread, with an incidence as high as 12% in premenopausal women. The role of iron in hair loss has not yet been established. Some studies have suggested a relationship between iron deficiency and hair loss conditions such as telogen effluvium, alopecia areata, and FPHL. In a study of over 5000 French women, premenopausal women with low serum ferritin reported subjectively greater hair loss than women with normal serum ferritin.
Supplements containing biotin will increase hair growth
Many patients believe that biotin supplementation may promote hair growth and decrease hair loss. Evidence suggests that biotin is most effective for treating hair loss in the setting of biotin deficiency, which causes alopecia, brittle nails, and dermatitis. Studies have also shown that biotin supplementation may be helpful in specific hair loss conditions. There are a few disadvantages to using biotin supplementation to treat hair loss given that biotin is a safe, water-soluble vitamin with no reported overdose syndrome and is also relatively inexpensive.
Patented hair-loss supplements will increase hair growth
Several patented supplements for hair loss were randomly investigated in controlled trials funded by companies that produce the supplements. Summary of supplement uses when advising patients on supplement use for hair loss treatment; it is important to consider efficacy, safety, and cost. In this case, the benefits of supplementation weighed should be against the cost and side effects.
Natural Topical Treatments
Patients often believe that treating hair topically with natural products from the pantry may decrease hair loss. These products are appealing because they are generally affordable, widely available, and unlikely to cause damage to hair if applied topically. However, very little research has been done to investigate the efficacy of these so-called natural treatments.
Hair Loss Summary
Many patients have different ideas about what contributes to hair loss and how to treat it. Above, we addressed several hair loss myths concerning minoxidil treatment, supplements, natural topical treatments, and hair care practices. When patients are frustrated, using treatments from poorly designed trials or those proven not to show efficacy will lead to more frustration. It is best to guide patients toward treatments with a long track record of efficacy and away from those where little is known scientifically.