Acne is a common skin condition that affects people of all ages. It is characterized by the appearance of pimples, blackheads, whiteheads, and other blemishes. Acne can be caused by a variety of factors, including hormones, genetics, and certain medications. In most cases, it is not a serious condition and can be treated with over-the-counter medications. However, severe acne can lead to serious health problems, such as scarring and infections.
Despite the availability of effective acne treatment in Edmonton, acne can be tough to control. The pimples and bumps take an inordinate amount of time to cure, and as one disappears, another appears. Acne can cause mental anguish and skin scars, depending on its severity. The sooner you begin therapy, the less likely you are to experience these complications. If you are concerned about your acne, please contact us for help.
Our protocol for acne treatment in Edmonton aims to control these factors, target bacteria, and remove Acne. It may also help reduce the appearance of superficial scars and dark pigmentation.
Clients must understand that they may stop using certain acne medications (topical or oral), such as Accutane or minocycline, for up to six months before treatment. Otherwise, the laser treatment may aggravate Acne and cause positive results to take longer to appear.
Acne Vulgaris Treatment in Edmonton
Acne vulgaris is the most frequent acne type. It produces comedones, papules, pustules, nodules, and cysts due to blockage and inflammation of the hair follicles and the sebaceous gland. Acne commonly affects the face and upper torso. Adolescents are most frequently affected. Diagnosis is made by examination. Several acne treatments are based on the severity of the acne condition; treatment may include a combination of topical and systemic medications to lower sebum production, comedones development, irritation, bacterial counts, and regulating keratinization. Acne is the most common skin condition in North America, affecting around 80% of the population at some time in their lives.
It is not a simple condition but is caused by the interaction of four key factors that cause Acne: Sebum production in excess and plugging follicles with sebum and dead keratinocytes.
Acne can be classed as either noninflammatory or inflammatory. Comedones are the distinguishing feature. Papules, pustules, nodules, and cysts are all signs of inflammation.
Non-inflammatory Acne
Comedones are affected sebaceous plugs within follicles. They are classified as open or closed according to the state of the follicle at the skin's surface. Plugs easily extrude from open comedones but are more challenging to remove from closed comedones. Closed comedones are inflammatory Acne precursor lesions.
Inflammatory Acne
Papules and pustules develop when C. acnes colonizes closed comedones, converting sebum to free fatty acids that irritate the follicular epithelium and prompting an inflammatory response by neutrophils and eventually lymphocytes, further disrupting the epithelium. The inflamed follicle ruptures into the dermis (sometimes triggered by manual manipulation or vigorous washing), where the comedones contents trigger an additional local inflammatory response, resulting in pimples. When an infection is severe, extremely purulent pustules develop.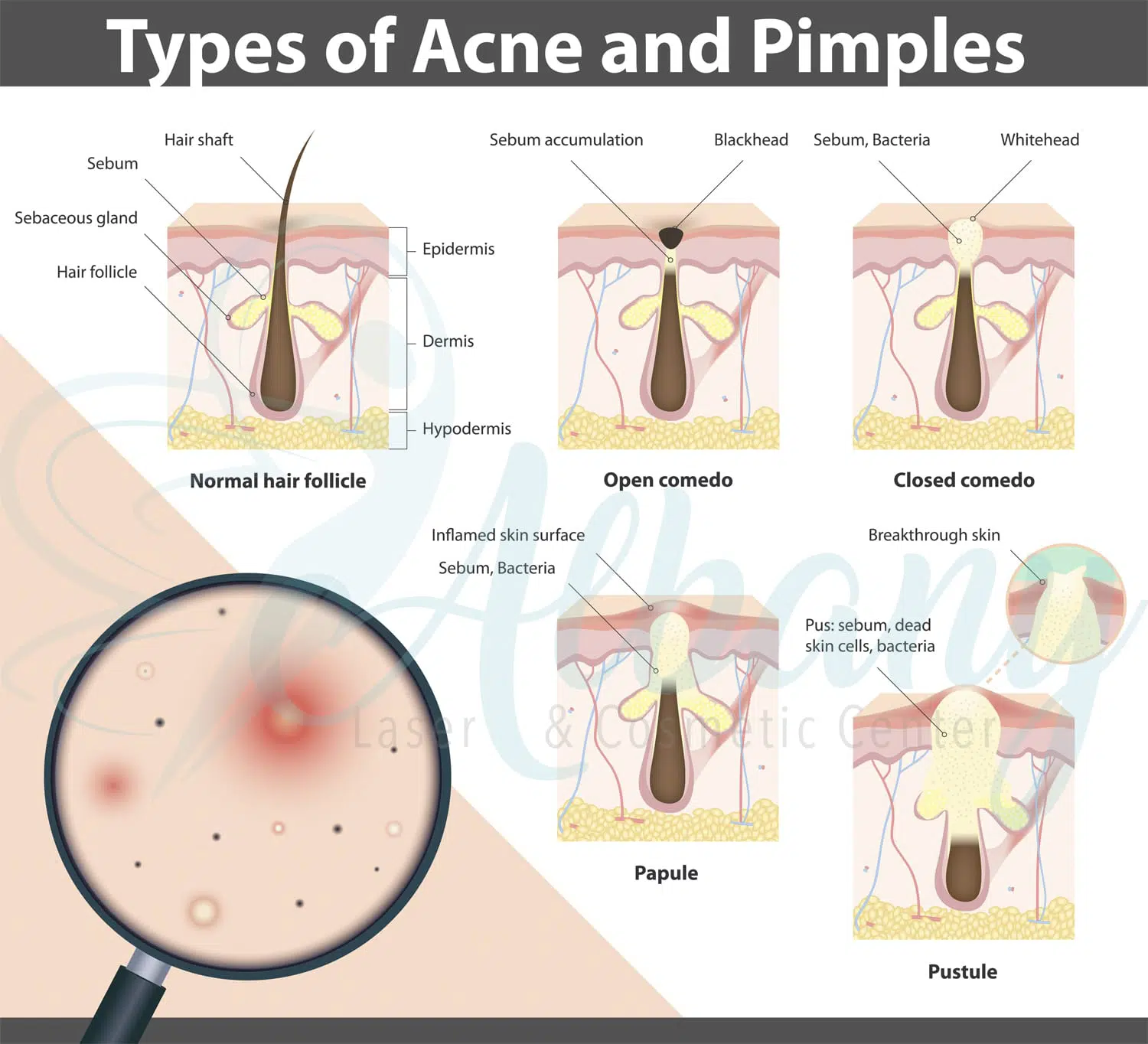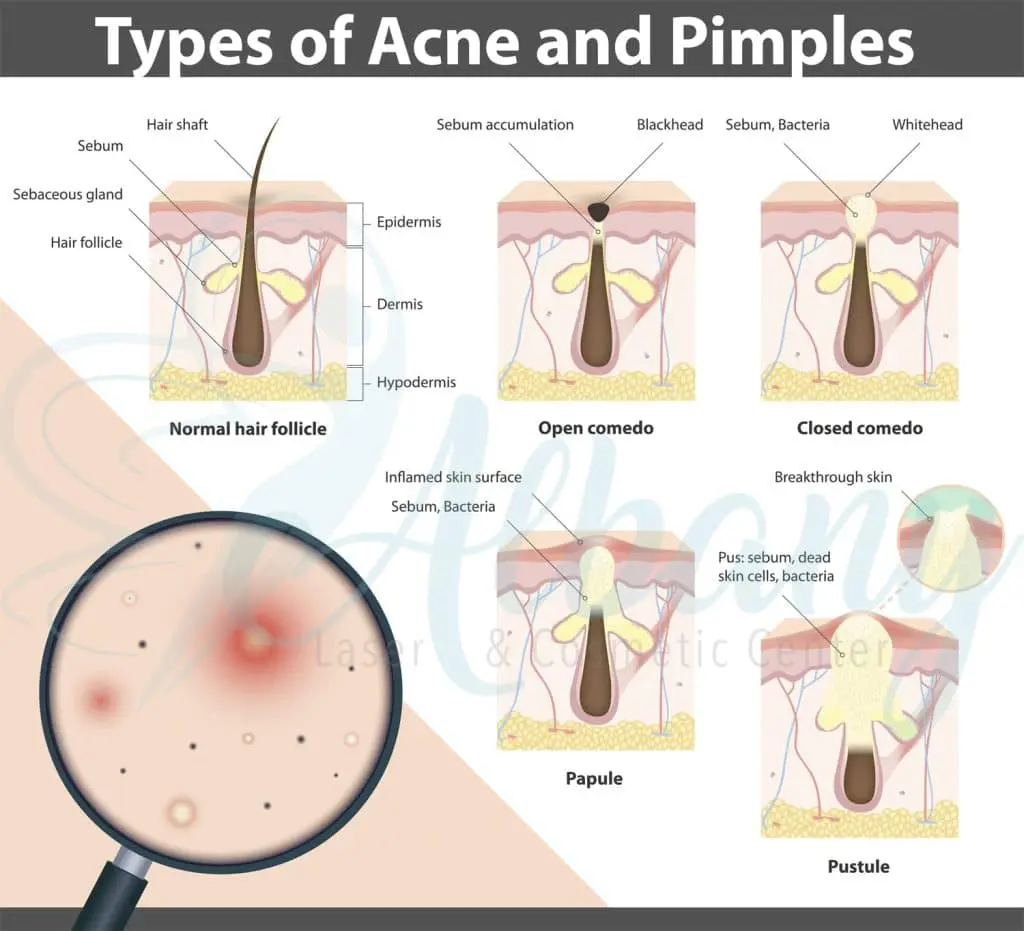 Acne Treatment Complete Guide
Dynamic therapy
Numerous laser and light technologies are now being employed and are effective in treating acne. Blue light is one of the earliest modalities with a long history of repeatable results. The FDA has approved the modality for treating mild to severe acne instances. According to Dr. Gold, clinicians should not disregard blue light as 'ancient technology' but recognize its significant value in alleviating symptoms. Intense pulsed light (IPL) systems also function quite well, and some are now fitted with 400-nm filters that enable the use of blue light settings that relieve acne symptoms. Among the available devices now available, practitioners at Albany Cosmetic and Laser Centre in Edmonton prefer the Lumenis M22, Sciton Joule, and Rohrer Spectrum IPL devices for patients with mild-to-severe acne.
Acne Laser Therapy
Laser Therapy is one of the most effective drug-free, no-wait, and side-effect-free acne treatment methods available, regardless of the severity of the acne or skin type. Albany cosmetic and laser Medical Spa has chosen the best lasers, such as the Fraxel laser and Fotona laser, which are effective, safe, and mild on visitors of all ages and skin tones, and all ages body areas. This innovative new acne treatment technique utilizes advanced laser technology to precisely administer high-intensity energy for rapid, side-effect-free results. How precisely does it work? The laser energy kills acne germs and lowers inflammation, which helps control current breakouts.  Moreover, lasers decrease sebum and oil production, which helps prevent future breakouts. Additionally, it stimulates the production of new collagen, which reduces the appearance of acne scars.
HydraFacial for Acne
HydraFacial treatment is safe for most skin types. We use it to address various skin concerns such as Melasma, fine lines, wrinkles, elasticity, firmness, skin texture, and tone. Moreover, It is especially well suited to those who suffer from acne and acne scars. Cleansing, exfoliating, peeling and moisturizing the skin in this groundbreaking 4-step method. HydraFacial successfully eliminates pollutants that block pores, resulting in glowing, healthy skin and a boost in confidence. If you have acne scars or breakouts, a HydraFacial can help you cure the problem and restore a healthy balance to your skin, regardless of your age.
What Is The Recommended Treatment Protocol?
It varies in severity according to the acne. If you are experiencing breakouts, Dr. Kamal (Ph.D. in Pharmacy) recommends six treatments every few months. To rebalance the skin, scarring and deep pigmentation must be reduced. Touch-up treatments will increase collagen production, help prevent acne, and improve your skin's overall appearance.
What Are The Side Effect of Albany Acne Protocol?
Since the protocol has different components, the side effects vary after each session. In general, redness and irritation are very common after the sessions. Some patients experience a transient acne breakout after the sessions.
Our first choice laser treatment is Carbon peel, a cutting-edge skin rejuvenation procedure. This treatment has gained popularity in recent years to combat oily, acne-prone skin. This peeling procedure, which only requires a carbon mask and a laser, effectively removes active impurity from the skin. We combine this acne laser treatment with Laser Gold Toning and a chemical peel. Spectra Gold Toning can help you relieve and manage it. This treatment does not remove abnormal blood vessels but normalizes them. The health of the cells that surround the micro-vessels is improved by gold toning.
What  Are the Available Fractional Lasers?
Lasers are used to treat skin conditions in a variety of ways. The wavelength, laser light, and quantity of laser absorption in the skin dictate the clinical uses of skin laser devices. Skin laser devices are divided into two categories: ablative and non-ablative lasers (NAR). The Ablative Laser, such as Fotona (Er: YAG), emits intense wavelength radiation that frequently damages the skin's outer layer. Non-ablative lasers, such as Fraxel dual, can penetrate the inner skin layer and boost collagen production in this area, aiding skin regeneration.
Is Albany Acne Protocol Safe?
Our protocol combines the most important features; safety and efficacy. We do not believe in a one-size-fits-all approach. Therefore, it is mandatory to consult with Dr. Kamal Alhallak, Ph.D. in Pharmacy. During this, you will receive a complimentary skin analysis so he can assess your conditions and go through your concerns and medical conditions. Moreover, it is mandatory to perform a test spot before starting our protocol. All our staff are highly trained and certified in laser and aesthetic treatments. consultation
How Many Treatments Are Required?
One cycle of the Acne protocol is four sessions and a take-home kit. Most of our patients were happy with 1-2 cycles. It is important to highlight that acne is an ongoing problem, and proper care and hygiene are essential.
Do Alberta Health Services Cover The Treatment?
Unfortunately, No. Therefore, we do not start this protocol unless we make sure that you consult your physician and are treated by a dermatologist, as the Health Care system covers these options.
What Is PDT Acne Treatment?
Photodynamic therapy boosts the action of light-based skin treatment by using drugs called photosensitizers. It's a type of phototherapy or light therapy becoming increasingly popular as an acne treatment, especially for severe instances that haven't responded to other options. Other skin disorders, such as sun-damaged skin, precancerous cells, and skin infection, may benefit from photodynamic treatment (PDT).
What Is IPL Acne Treatment?
IPL, or intense pulsed light, is a type of light therapy that has become popular in recent years for the treatment of acne. This treatment uses intense pulses of light to target the bacteria that are known to cause acne outbreaks. The light works by penetrating deep into the skin and killing off these bacteria at their source. In addition, IPL therapy also helps reduce redness and inflammation and can even promote collagen production, leading to smoother, clearer skin over time. Whether you're experiencing persistent breakouts or simply want to target certain problem areas, IPL can be an effective way to get rid of acne and achieve clearer healthier-looking skin. So if you're looking for a safe and effective way to treat your acne fast, talk to your doctor about IPL therapy today.
Facts about Acne
By their mid-teens, more than 40% of teenagers will develop acne or acne scarring.
Acne affects 85 percent of people at some point in their lives.
It affects around 40 to 50 million Americans, making it the most common skin condition in the country.
Even though acne most frequently comes with puberty, it has no age restriction. Adults can acquire it long into their fifties!
The most common varieties of acne are those on the face, chest, and back.
Scarring from acne can occur due to popping, squeezing, or picking at the pimple.
When over-the-counter drugs fail, consult the Albany Cosmetic and Laser Centre experts in Edmonton about treatment options.
Diet, contrary to popular perception, has not been confirmed to be a cause of acne.
Stress may not be a factor.
Cystic Acne – What Causes It?
Deep under the skin's surface, cystic acne develops. Cystic Acne and pimples happen due to blocked pores clogged with oil, dead skin cells, and germs. This causes the dermis (the main layer of the skin) to enlarge, resulting in an infected lump on the skin's surface. "Some of the reasons of cystic acne, such as age, stress, and heredity, are unavoidable," Dr. Alhallak explains. "Adolescents, as well as women through menopause, are more prone to develop cystic acne as a result of hormonal changes."
Where Is Cystic Acne Most Often Found?
"Typically, cystic acne affects the chin and jaw," Alhallak explains. "This is often caused by hormonal imbalances and alterations in the body. Hormones increase oil production, which promotes the development of bacteria trapped inside the hole." Additionally to hormonal factors, Rouleau notes that cystic acne outbreaks might suggest that you consume more dairy than your body can handle (more on that later).
What Are the Symptoms of Cystic Acne?
Cystic Acne often remains hidden under the skin's surface – regardless of the procedure used, cysts will never reach the skin's surface. While all skin types are susceptible to cystic acne, individuals with oily skin are more likely to have this condition due to germs, excess oil, and dry skin cells.
Due to the greater lipid content of melanin-rich skin, it is also prone to acne. "It is prone to inflammation and often creates an excess of melanin and sebum, which may result in cystic acne," Dr. Alhallak explains. "Additionally, some chemicals might contribute to the development of cysts on the skin. Mineral oil may clog pores, create pimples, and blackheads in skin that is melanin-rich. Mineral oil exists in moisturizers, face creams, and lotions. When skin of colour comes into touch with mineral oil, it creates an excess of melanin and sebum, clogging pores and causing irritation, which may result in cystic acne."
How to avoid cystic acne?
Eliminate any facial and chin contact.
You undoubtedly already know how important it is to cleanse your skin at night to eliminate acne-causing germs that may have formed throughout the day, but you may be unaware that decreasing the number of times you touch your face daily is equally critical. According to Dr. Alhallak, some bacteria are factors in most blemishes and acne problems. By avoiding resting our heads on our palms, we may prevent needless germs from finding their way onto our chins.
Additionally, what is necessary? Avoid facial picking, advises Dima Omran, R.N., an aesthetic nurse located in Edmonton. "Picking is often what transforms a sterile lesion free of germs into a conduit for bacteria to enter," she continues. "This is often the illness that develops as a result of picking — so please refrain."
Maintain a squeaky-clean phone.
They were ascertaining the cleanliness of your mobile phone. This is a little straightforward adjustment that may have a significant impact. As with touching your face, specialists warn that although cell phones do not cause acne, they might exacerbate the condition owing to the presence of germs on your device.
Wipe your phone down every day to prevent unwelcome microorganisms from getting into your skin and leading to cystic acne.
Incorporate stress-relieving activities into your routine – and increase your sleep
Not only may stress cause weariness and worry, but it may also be contributing to your breakouts. Stress stimulates the production of hormones such as cortisol, which stimulates oil production by glands in your skin. Excess oil may wreak havoc on the skin, resulting in outbreaks. That is why Dr. Alhallak advocates reducing stress via meditation, exercise, and other lifestyle adjustments (such as getting more sleep) to not only feel better but also perhaps enhance your skin.
Spot treats difficult cysts with a product made specifically for them.
Suppose you're looking for a spot treatment for your cysts. In that case, you may want to try the much-lauded Renée Rouleau Anti-Cyst Treatment, which, according to Rouleau, contains "a purified form of lactic acid that helps dissolve cells blocking the pore while also purifying the pore to help prevent future breakouts." Bye-bye, furious mountain that has festered on my face!
If you have cystic Acne, Kamal emphasizes the need to remove dead, dry skin cells via exfoliation. The more dry skin cells removed from the surface, the less oil will remain trapped and stuck under the skin, which should help those plugged bumps begin to dissolve. Rouleau recommends chemical exfoliation using alpha-hydroxy acids (AHAs) such as glycolic acid and lactic acid and beta-hydroxy acids (BHAs) such as salicylic acid.
In a ponytail, work up a sweat.
Addict of hot yoga? Dr. Alhallak advises that you brush your hair up and away from your face before exercising. Wash your skin immediately with a solution containing 1% salicylic acid to neutralize acne-causing germs when you finish the exercise.
Start your morning with a cup of hot lemon water.
As soon as you get up in the morning (and after several snoozes), Omran recommends heading to the kitchen and whipping up some hot lemon water, her particular skin secret. Why? It may help flush out and cleanse the body inside, perhaps lowering toxins and bacteria in the small intestine, where some people's acne cycle begins. When you wake up, squeeze the fresh lemon juice into a cup of hot water and consume it. Utilize sufficient lemon juice to provide a strong lemon flavor to the water.
Experiment with becoming dairy-free.
It is fairly unusual for us to give dietary suggestions in addition to topical acne treatments with regard to dairy. Indeed, a 2018 research found that consumption of any dairy product — including milk, yogurt, and cheese — "independent of quantity or frequency" increased the risk of acne in persons aged seven to thirty (when compared to individuals who did not consume dairy at all). Dr. Alhallak also advises patients to abstain from dairy-based powders such as whey protein for the same reasons.
Omran echoes this sentiment, stating: "The idea is that since the bulk of milk comes from pregnant cows . Milk hormone levels may contribute to excessive sebum production, which causes acne. Given that androgens and hormonal mediators (such as insulin-like growth factors found in milk and other animal products) influence sebum production, consumption of milk, cheese, and yogurt may influence endogenous hormones and mimic the hormones that trigger oil production in the skin to initiate the acne process." Finally, what is the outcome? Additional painful, tenacious pimples on your chin that would not budge.
Avoid using excessive amounts of masks and deep treatments.
When you're suffering from acne, it's natural to believe that the best course of action is to use the most aggressive therapy possible. However, Dr. Alhallak warns that frequent deep treatments may result in over stripping the skin, causing it to generate even more oil and, therefore, more outbreaks.
"Take it down a level by reserving masks and deep skin treatments for a once-a-week indulgence," Kamal said.
There is some validity to the old cliché "you are what you eat" – at least when it comes to your skin, Dr. Alhallak asserts.
Along with dairy, "Diet has a role in adult acne when patients consume a high glycemic diet, which means they consume a lot of processed sugar," she explains. R.N. Omran suggests that if a patient has acne and eats an excessive amount of sugar, they change out chocolate, baked goods, sweets, white pasta, white bread, and other high-glycemic, processed meals for a better sugar substitute, such as fresh fruit.
Additionally, Alhallak said, "If you're having breakouts on your cheeks and cheekbones, it might be because you're eating too many acidic foods, such as tomatoes, spaghetti sauce, salsa, and citrus fruits/juices. If you get breakouts in these places, consider reducing your intake; your skin may clear up as a result."
Do not hesitate to contact us for any of our medical spa laser or skincare treatment.