Acne Scars Treatment with Fractional Laser At Albany Cosmetic and Laser Centre
Albany Cosmetic and Laser Centre is proud to be one of the leading providers of Fractional laser treatments for acne scarring. We use the latest technology in laser skin resurfacing, allowing us to effectively reduce the appearance of acne scars while minimizing any discomfort or downtime.Fractional laser treatments are considered one of the most advanced and effective methods for treating acne scarring. By using a specifically designed hand-held device to deliver thousands of tiny pulses of light onto the skin, we can target specific areas with precision and accuracy. The laser energy creates microscopic channels within the skin's surface, which stimulate collagen production and encourage new healthy skin tissue growth, resulting in smoother, more even-toned and younger-looking skin.At Albany Cosmetic and Laser Centre, we understand that each patient is an individual with unique needs. That's why our Fractional laser treatment is tailored to your individual concerns and desired results. Our
experienced
team will work with you to assess your condition and create a custom treatment plan that works best for you. We offer single sessions for those needing only minor adjustments, as well as multiple sessions for more extensive treatments such as deep wrinkles or severe acne scarring. \Fractional laser treatments are safe and very effective in reducing acne scars from all forms of acne, including mild, moderate, or severe types, while still being gentle on the surrounding tissues as it creates channels into deeper layers of skin without damaging them. It can also help improve uneven pigmentation caused by sun damage or melasma, making it an excellent choice if you're looking to reduce signs of aging too.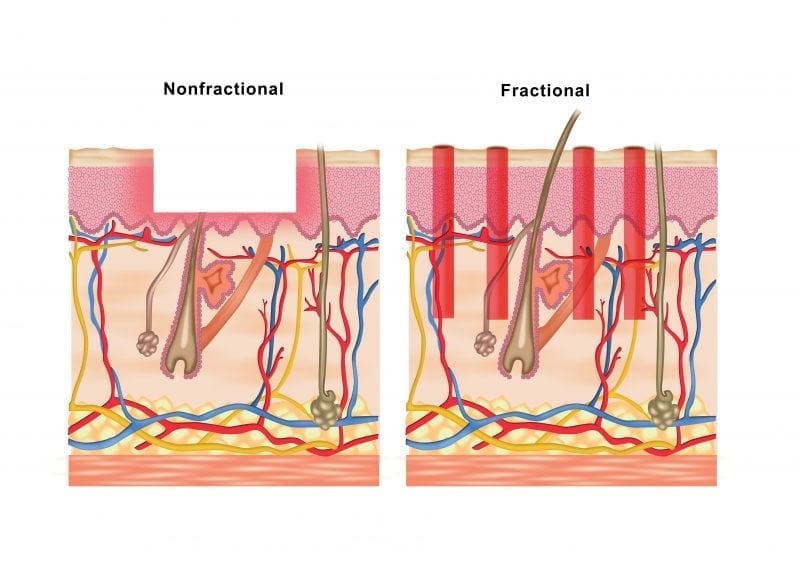 The benefits you can expect after a Fractional Laser treatment include: enhanced texture & tone, improved clarity & complexion, reduced wrinkles & fine lines around eyes & mouth area, diminished age spots & sun spots; improved overall complexion; minimized acne scars; increased collagen production leading to firmer healthier looking skin; zero downtime!We recommend scheduling a free consultation at Albany Cosmetic and Laser Centre so
our team
can assess your current condition and give you all the information needed about how Fractional Laser Treatments can benefit you specifically. Get ready to take back control over your appearance today!
Read about different acne scars typs, treatment benefits, possible side effecrs, aftercare and more