Lip Fillers Edmonton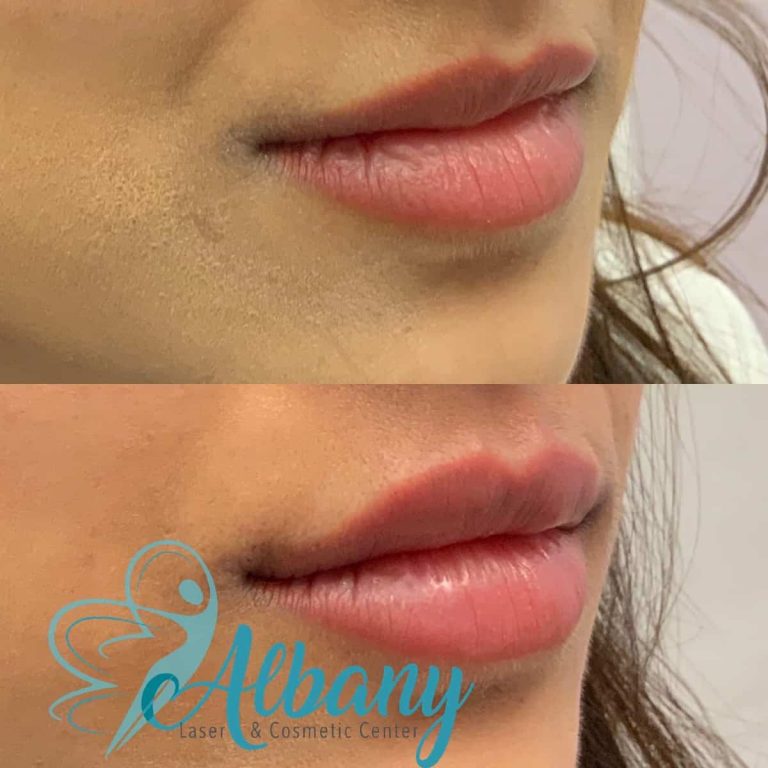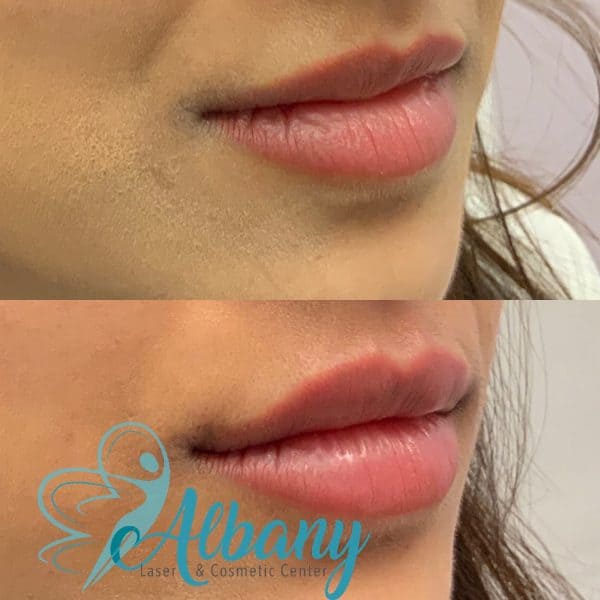 Lip Fillers in Edmonton
Lip fillers in Edmonton: The lips are the most visible feature of the face. They, like the eyes, convey the first impression of one's mood and attitude. Juvederm and Restylane injections are popular cosmetic procedures for enhancing the appearance of your lips and improving their shape. Albany Cosmetic and Laser Center has one of the highest satisfaction rates for cosmetic lip fillers. We provide the most natural-looking, long-lasting results for restoring lip volume and smoothing fine lines.
The infographic below details what to anticipate during your next lip filler appointment. It details the process, from the initial consultation to what to anticipate during downtime.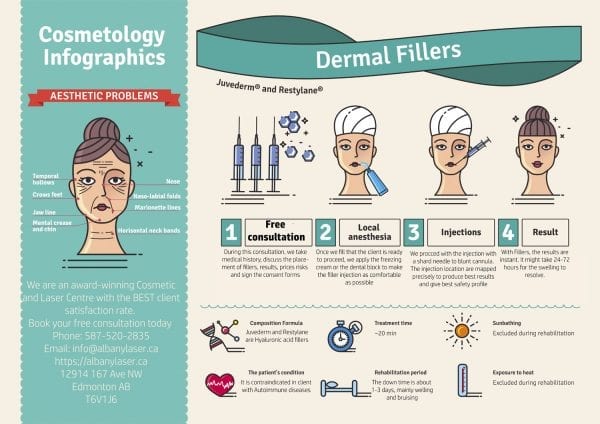 In the video below, Dr. Kamal, Ph.D. in Pharmaceutical Sciences, is seen performing a lip shape treatment filler injection at Albany Cosmetic and Laser Centre in Edmonton. To alleviate pain and bruising, he uses a blunt cannula. Juvederm Ultra Xc, Juvederm Volift, and Restylane Kysse are his preferred lip fillers. Injections of Juvederm and Restylane are popular procedures for improving the appearance of your lip shape. Albany Cosmetic and Laser Center has one of the highest satisfaction rates for cosmetic lip fillers. We provide the most natural-looking, long-lasting results for restoring lip volume and smoothing fine lines.
https://youtu.be/ljDf-Q4Ose0 Previous Next
Dr. Kamal Alhallak (Ph.D. in Pharmacy) is shown in the video above using a cannula for lip fillers and lip augmentation. This image demonstrates the difference between before and after lip augmentation and Juvederm XC filler treatments
Watch This Video of Dr. Kamal Injecting Lip Filler
Our medical director is Dr. Kamal; he is an expert in nanotechnology for drug targeting and advanced skin delivery. He consistently receives the highest client satisfaction ratings and reviews, particularly following Juvederm lip fillers and under-eye fillers.
What makes our lips look the way they do, for the best lip fillers results?
Lips are divided into two sections: upper and lower. The upper lip has three planes, while the lower lip has two planes. Understanding these planes enables the injector to gain insight into critical factors such as injection location, direction of lip filler placement, and the number of lip fillers (Juvederm, Restylane) injected in each location. The apex of the two upper lateral planes is located at the mouth's corners, while the base of the two upper lateral planes borders the middle plane.
What is the mechanism of action of lip filler injections?
The chosen filler material must be robust enough to withstand repeated kinetic movement. On the other hand, lips are constantly in motion. It is critical to inject the filler into the natural lip planes. Proper plane placement enables the implanted filler and sculpted shape to remain stable and long-lasting. When used in thin lips, different types of fillers produce varying cosmetic results.
Hyaluronic acid
This is an excellent illustration (HA). HA injected into the lips will retain its injected shape depending on the plane placement and flow of the material. The properties of HA cause tissue in the immediate vicinity of the injection site to displace. This effect can be exploited. Our preferred lip fillers are Juvederm Volift by Allergan and Restylane Kysse by Galderma. There are now a plethora of fillers available for cosmetic lip and facial fillers, and the injector must choose one in the same way that an artist chooses a medium of expression on a canvas.
Lip fillers cost
The cost of lip augmentation in Edmonton is determined primarily by the number of syringes required. During the consultation, Dr. Kamal will assess the desired shape and volume and then provide an estimate for the number of syringes and associated costs.
One Juvederm syringe costs between $600-800, but we offer discounted pricing as a result of our research participation. Juvederm ultra plus, Juvederm Volift, and Restylane kysse are three of our favourite lip fillers.
What are the best lip fillers
It is critical to understand that there are no "good" or "bad" materials; rather, there are a variety of fillers designed for a variety of applications and effects on the face. For instance, the nasolabial fold is unique. The fold is deep, and it is lateral to the malar fat and associated anatomy. This is in stark contrast to the fold's medial aspect, which is thinner and more tightly wrapped around the orbicularis oris and levitator muscles.
How to prevent bruising following lip fillers?
Bruising is a fairly common side effect. We can, however, help you reduce your risk of bruising by following the information in the chart below.
Contact Us
TO MAKE AN APPOINTMENT, PLEASE CALL US.
We would love to pamper you!
Address:
12914 167 Ave NW
Edmonton, AB
T6V1J6, Canada
Opening Hours:
Monday – Friday
10:00 am – 0500 pm
Saturday – Sunday – Closed
All Inquiries
For all service inquires, please fill out the form and we'll get back to you as soon as possible.
We'll be happy to answer all of your questions and make sure you have an amazing experience at our salon.
Albany Cosmetic and Laser Center
Where To Find Us