BODY SHAPING AND MUFFIN TOPS CORRECTION
Your belly has both subcutaneous and visceral fat. Visceral fat offers an extended waistband – which is a risk if your waist measures more than 40 and 35 inches for men and women, respectively. All the available exercises may not reduce your muffin top or waist circumference. Only a complete exercise plan can reduce muffin tops. However, these exercise plans take time. Some exercise properly and maintain a healthy diet without any results, making them go for painful or costly surgical procedures. However, you can get that perfect body with non-surgical body shaping procedures.
Such treatments make use of advanced technology to deliver energy underneath the skin's surface comfortably and safely. It works by improving muffin top skin's appearance and targets smaller areas (jawline, arms) and bigger areas like the thighs and buttocks.
What are the non-invasive treatments for body shaping?
Want to get rid of the muffin top without going under the knife? VelaShape is the perfect treatment for you. It is a medical device used for renewing collagen; it targets the connective tissue and dermal structure to minimize the muffin top while improving the quality of the skin.
How does it work?
VelaShape combines IR (infrared), Bi-Polar RF (radio frequency), and pulsed vacuum. This heats fat cells, dermal collagen, and connective tissues. The procedure enhances the growth of new and elastin and collagen, which results in a localized reduction in body volume and mass and the reduction of muffin top.
CoolSculpting
CoolSculpting is a minimally traumatic and non-invasive procedure that doesn't produce tissue damage created by invasive treatment.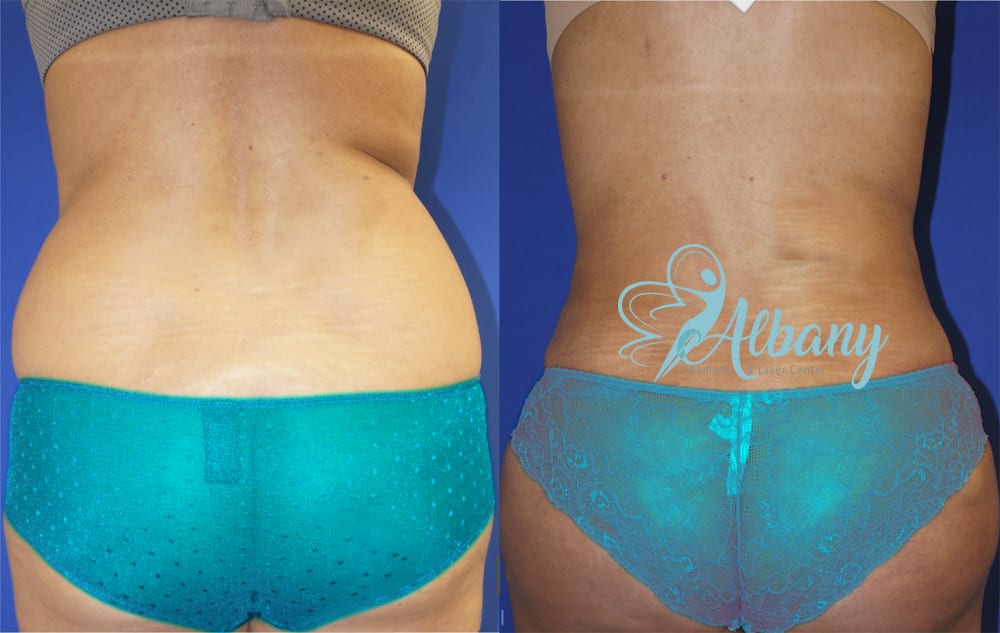 Also, it does not use more destructive energy applications like ultrasonic liposuction. The CoolSculpting system offers focused cooling of the targeted area, which stimulates changes in the fatty areas, resulting in removing the fat cells from the body. The treatment targets fat cells only, meaning non-fat cells like blood vessels and skin cells are not affected. Over the next 3months, the destroyed fat cells are gradually cleared from the body by the lymphatic and immune systems. As the cells deteriorate, the tissue in the targeted area improves. What is so amazing about CoolSculpting is that it eliminates fat permanently. The fat cell contents and membranes treated by CoolSculpting go away completely.
Velashape
This machine works more on the skin tightening in the treatment area. The treated skin is sucked in, and the machine exposes it to powerful massaging rollers with high temperatures due to IR and RF.
Who is the treatment for?
The ideal candidate is those who have excess fat around the stomach (muffin top), which they can't eliminate with exercise and diet alone.
You shouldn't go for this treatment if you have the following:
Active inflammation in the area to be treated
Cancer
A neurologic disease around the targeted area
Metal implants in the targeted area
Varicose veins
Thyroid gland disorder
Pregnant or lactating mothers
Silicone implants
Skin-related diseases
Is there any downtime?
There is no downtime. The treated area may look warm and sensitive to touch; however, this goes away within a few days. You can go back to your activities as soon as you are done with the treatment. Albany cosmetic and laser center is voted one of the top cosmetic clinics and Canada and has one of the best customer satisfaction rates for Laser, Ulthera, body-shaping, fillers, botox, facelift, lip fillers, pigmentation removal, skin tightening, and wrinkle removal.