The Lightsheer Due From Lumenis
The Lightsheer Duet is a powerful and efficient laser hair removal system created by Lumenis, the world's largest medical laser manufacturer. This revolutionary laser treatment uses 808 nm diode technology to safely and effectively reduce unwanted facial and body hair on all skin types while minimizing skin irritation and discomfort. Using advanced technologies such as ChillTip cooling, high-power diode lasers, and patented contact smart cooling systems, the Lightsheer Duet quickly and easily removes unwanted hair permanently with minimal side effects or downtime.
Advantages Of The Lightsheer Due 
The Lightsheer Duet works by targeting the melanin in the hair follicle with a specifically calibrated beam of light energy. This energy is absorbed into the hair follicle, where it damages it so that it cannot produce new hair. The result is a permanent reduction of unwanted hair after multiple treatments. The procedure is comfortable for patients because of its proprietary ChillTip cooling technology, which cools the skin surface before each pulse of laser energy is delivered to prevent discomfort or burning sensations.
With its high-power diode lasers, the Lightsheer Duet has greater power output than other lasers on the market, allowing it to cover large areas quickly with fewer passes over each area needed for effective results. In addition, its patented contact smart cooling system allows for maximum safety during treatments as well as increased comfort due to increased contact of the handpiece with the tissue being treated.

The Lightsheer Duet can be used on most skin types, including tanned skin, without any risk of complications or damage to surrounding tissue. It can also be used for treating both dark and light hairs on most parts of the body, including legs, arms, face, underarms, bikini line, chest/back and more! It is one of the fastest laser devices available in terms of coverage area size; a full back or legs can be treated in less than half an hour compared to traditional methods, which may take several hours!
Overall, the Lightsheer Duet is a great option for those looking for an effective method to remove unwanted facial and body hair permanently with minimal pain or downtime required—allowing you to enjoy smooth skin year round!
The LightSheer DUET is a revolutionary dual-head laser hair removal device that enables fast, comfortable, and permanent hair reduction from all areas of the body. Its advanced technology reduces pain while increasing efficacy thanks to its unique Pulse Widths of up to 400 ms, Fluence of up to 100 J/cm2, ChillTip™ continuous contact cooling and optimal wavelength of 800 nm diode systems on one versatile platform.
The LightSheer ET head has a spot size of 9 x 9 mm offering superior comfort and superior results in less time compared to other lasers on the market. This smaller spot size allows for greater precision, which helps target individual follicles with more accuracy for better results.
The LightSheer HS head has the largest spot size of any diode-based laser on the market with an impressive 22 x 35 mm. This larger spot size enables greater depth of penetration for improved absorption of energy at the target follicle, resulting in faster treatment sessions and enhanced efficacy with fewer missed spots or missed hairs.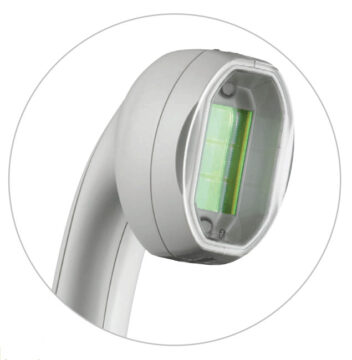 What really sets the LightSheer DUET apart from other laser devices is its integrated vacuum-assist technology which gently pulls skin closer to the handpiece throughout each pulse providing more effective targeting of unwanted hair while dramatically reducing discomfort even during large area treatments such as legs or backs. By combining this revolutionary Vacuum Assist Technology with its ChillTip™ Contact Cooling system which cools down the superficial layers of skin during each application pulse, LightSheer DUET offers practitioners a new level of comfort and pain reduction that can't be found anywhere else!LightSheer DUET's dual technological features make it ideal for treating large areas quickly but also allows you to customize treatments depending on your patient's needs: if they have sensitive skin or require precise targeting then opt for using just the LightSheer ET; if they are looking for faster coverage then utilize both heads simultaneously. With its wide range of settings options practitioners can truly customize their treatments to best meet their patient's needs without sacrificing safety or efficacy!
Read about laser hair removal, how it works, expected results, aftercare and more
Contact Albany Cosmetic & Laser Centre in Edmonton