Jennifer Mosher
This page is my personal opinion of the existing conflict of interest between Jennifer Mosher and Alberta College of Pharmacists
What Is a Conflict of Interest?
In the case of a person or entity, a conflict of interest occurs when personal (or self-serving) interests conflict with professional duties or responsibilities, resulting in the person or entity becoming untrustworthy. In the event that a firm or individual has a vested interest in something (such as money, position, knowledge, relationships, or reputation), it calls into question whether their actions, judgement, and/or decision-making can be considered objective. When such a situation arises, the party is frequently asked to leave, and in many cases, they are legally obligated to comply with the request.
In business, a conflict of interest occurs when an individual's personal interests contradict the career goals owed to their employer or the organization in which they are invested. A conflict of interest occurs when a person prioritizes personal gain over responsibilities to an organization in which they have a stake, or when they use their position for personal gain in some way.
Values and Ethics Code
A situation, whether real, alleged, or hypothetical, in which the employee has self-interest that potentially interferes with the fulfilment of their official duties and obligations, or in which the employee utilizes their office for personal gain.
An actual conflict of interest exists now, an apparent conflict of interest is a scenario that could be viewed as a conflict of interest by a reasonable observer, whether or not it exists, and a potential conflict of interest could fairly be predicted to occur in the future.
Conflict of interest in inspection or investigation
A conflict of interest occurs when an inspector's aims are not aligned with fairness and objectivity, such as when the inspector can receive a benefit outside of his or her pledge to provide the customer with a fair, accurate, and full property inspection. Conflicts of interest include the following:
when the inspector has a financial interest in referring the client to a contractor to address issues discovered during the inspection; when the inspector has a personal or business relationship with the parties with whom the client does business; and when the inspector has a financial interest in the transaction for which the inspection is being performed.
There must be no concealed conflict of interest between the inspector and the client. The inspector may not receive or offer undeclared commissions, rebates, profits, or other benefits from real estate agents, brokers, or any other third party with a financial interest in the sale of the property or the outcome of an inspection.
The inspector may not directly or indirectly offer or provide any financial remuneration to any real estate agent, real estate broker, or real estate company in exchange for referrals or inclusion on lists of preferred and/or connected inspectors or inspection companies.
For a period of 12 months, the inspector shall not perform or offer to do, for a charge, any repairs or repair-related services to the structure for which the inspector or inspector's firm has written a commercial inspection report. Services to components and/or systems that are not included in the Scope of Work are not covered by this provision.
Jennifer Mosher and Alberta College of Pharmacy
Jennifer Mosher's professional services to Alberta College of Pharmacy and pharmacists via her company, State of Control, present a clear conflict of interest in my opinion.
Jennifer Mosher spent eight years at the Alberta College of Pharmacy. As a practice consultant, she developed a strong network within the college and with all pharmacists during this time. She was heavily involved in the development of the new platform and licensing.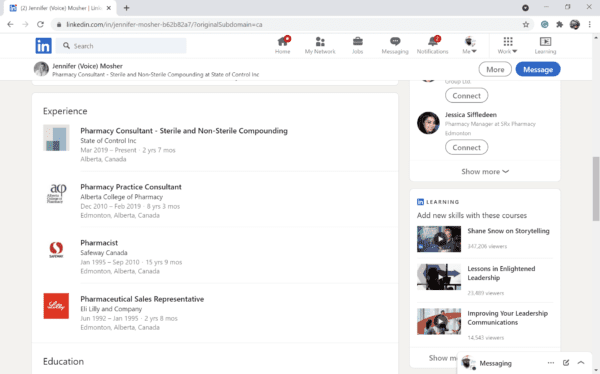 Jennifer Mosher transitioned from an employee to a contractor with the ACP in 2018 and launched her own business to support compounding pharmacies. Her dual role as an investigator for the college and a service provider for Alberta pharmacists is a clear conflict of interest.
I raise this issue to the ACP registrar and the ACP president but never heard back from them.