CoolSculpting Technology
CoolSculpting Technology is a trend in Edmonton, It uses the fat freezing method (cryolipolysis) to eliminate unwanted fats. Some people prefer to use it instead of liposuction treatment with other skin-tightening procedures to plug away any contour irregularities.
WHEN WAS IT APPROVED?
CoolSculping, as a new technique, was approved by the United States Food and Drug Administration (FDA) in 2012. Since that date, millions of people used it and vouch for its efficacy, in Canada and all over the world.
HOW DOES COOLSCULPTING TECHNOLOGY WORK?
CoolSculpting uses controlled Freezing technology to target and freezes a portion of the fat cells beneath your skin. The body naturally begins to process the fat cells frozen during treatment and remove them from the treatment region in the weeks following treatment, affecting the presence of the treated bulge. Changes may occur as early as three weeks after your CoolSculpting procedure, with the most dramatic results occurring one to three months later. Your body will naturally process the injured fat cells for at least four months following your procedure, and the results may take up to four months to become visible.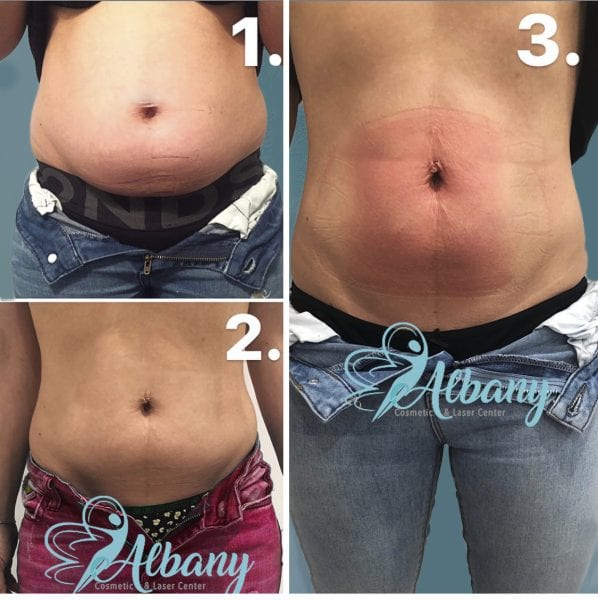 WHO SHOULD AVOID IT?
CoolSculpting is regarded as a safe and effective method of reducing the number of fat cells in a small target area. It is not a type of weight loss and is not recommended for the treatment of obesity. The procedure is intended to assist in the dissolution of stubborn fat cells that normally shrink through diet and exercise. People with weak immune systems are not good candidates for this cosmetic procedure. People who have certain medical conditions that alter or weaken the body's ability to cope with the cold may also face serious medical complications.
WHAT ARE THE SIDE EFFECTS OF COOLSCULPTING TECHNOLOGY?
Pinching sensation, redness, minor swelling, bruising, tenderness, stinging, tingling, numbness, skin sensitivity, mild to moderate pain, and muscle cramping are common immediate side effects of CoolSculpting. These side effects may persist for several weeks after CoolSculpting.
Other common side effects that you may experience in the first few weeks after CoolSculpting include: itchiness (the first few days of treatment), diarrhea as dead fat cells are expelled from the body, and a feeling of fullness in the throat after treatments that include the neck or chin region. Some rare complications that may occur after CoolSculpting include pain that begins days after the procedure and usually resolves when numbness is no longer present, or after about one-month scarring or changes in skin shading, reduced movement or response of the tongue, lower lip muscle weakness, and dry mouth following procedures such as the chin or neck frostbite, or first-and second-degree freeze burns dizziness, unsteadiness, sweating, fainting, nausea, and flushing hyperpigmentation, or dark skin coloration that often resolves on its subcutaneous induration, a generalized hardness, or specific hard nodules that develop in the treated region and can be painful and unpleasant.
WHAT SHOULD I EXPECT DURING COOLSCULPTING?
CoolSculpting is a non-surgical procedure that can take one to several hours to complete, depending on your treatment plan. There is no need for pain medication or topical anesthesia. As the procedure begins, vacuum pressure pulls tissue into an applicator cup between cooling panels. The vacuum pressure usually causes tugging, pinching, and pulling sensations in the treated area. Acute aching or cramping, stinging, and tingling may also occur. As the site becomes numb, these sensations fade.
WHAT SHOULD I EXPECT AFTER THE FIRST FEW DAYS AND WEEKS AFTER COOLSCULPTING TECHNOLOGY?
It is normal for the treated area to feel bloated and swollen in the days and weeks following CoolSculpting. You may experience a temporary dulling sensation that can last for several weeks. You may experience one or more of the following sensations during the first two weeks after treatment: deep itching, tingling, numbness, tenderness to touch, pain in the treated site, muscle spasms, strong cramping, diarrhea, aching, and soreness. Consult your doctor if these symptoms persist for more than two weeks or worsen over time. Following the procedure, the thickness of the fat layer will be gradually reduced. You may notice changes as soon as three weeks after CoolSculpting, with the most emotional results occurring after 1-3 months.
IS THERE ANY CONDITION THAT SIGNIFICANTLY rules OUT THE USE OF COOLSCULPTING TECHNOLOGY?
Yves, conditions that preclude CoolSculpting use include pregnancy, attempting to become pregnant, breastfeeding, cryoglobulinemia, a disorder in which proteins that normally increase in response to cold are in unusually high concentrations, cold agglutinin disease, an autoimmune condition in which temperature changes cause red blood cells to die, and paroxysmal cold hemoglobinuria, a condition in which red blood cells die in response to changes in temperature. Raynaud's syndrome chilblains reduced circulation or skin sensation at the treatment site, nerve conditions such as diabetics, neuropathy, immune-related skin conditions such as eczema and psoriasis, inflammatory skin conditions such as dermatitis and hives, a recent injury to the skin area being treated including scar tissue, long-term use of blood-thinning medications, bleeding conditions that thin the blood, a history of a hernia or a hernia.
DOES COOLSCULPTING HAVE LONG-TERM EFFECT(S)?
Reduced lip and tongue movement and dryness in the mouth are likely to side effects of CoolSculpting on the neck and chin. In some cases, fat cells react to CoolSculpting by enlarging rather than dying. This condition is known as paradoxical adipose hyperplasia (PAH).
WHAT ARE THE BENEFITS?
One admired benefit of CoolSculpting Technology is that fat cells are destroyed and removed from the body, unlike with diet and exercise. That is, the same fat cells cannot return or enlarge due to weight gain. CoolSculpting has several additional advantages: For the most part, it is a risk-free procedure. Because the skin barrier is not broken or compromised, most of the risk of complications, such as infection and scarring, is eliminated.
There is no need to miss work or other routine activities following the treatment. The outcomes are natural, as they emerge gradually in the weeks following surgery. It can benefit people who have lost weight or are at a healthy weight but have excess fat in certain areas. Because fat cells are destroyed and removed from the body, there is less risk of regaining weight, long-lasting results. Because fat cells are destroyed evenly across the affected skin, the risk of skin dimpling or bumps is low. The procedure can help boost self-esteem, especially when combined with weight loss achieved through exercise and a healthy diet.