Chin augmentation overview
If you're considering getting a chin augmentation, you're not alone. According to the American Society of Plastic Surgeons, this is one of the fastest-growing cosmetic procedures. And it's no wonder why. A chiselled jawline can give you a more youthful appearance and increase your confidence.
There are two main types of chin augmentation: fillers and implants. Fillers, such as Juvederm and Restylane, are injected into the chin to add volume and definition. Conversely, implants are surgically inserted into the chin to create a more pronounced jawline. Both fillers and implants can correct a recessed chin, improve the appearance of a double chin, or balance out your facial features.
Fillers may be the way to go if you're looking for a less invasive option. However, implants may be your best bet if you want a more permanent solution. Ultimately, the best option for you will depend on your unique goals and concerns. Book a consultation with Dr. Alhallak to discuss which chin augmentation procedure is right for you.
Chin augmentation with Dermal fillers
Chin filler results are usually immediate and last for around twelve months. This is because fillers are used to provide the desired shape and volume. Fillers are made from materials similar to what is found naturally in the body, so they are eventually broken down and absorbed. As a result, repeat treatments may be necessary to maintain the desired results. Therefore, chin injection with fillers may spare you from the downside of surgery because it is more invasive and requires a longer recovery period. Besides filler, we can also inject Botox into some muscles to decrease the flat appearance of the chin. Moreover, We could combine the chin augmentation procedure with double chin correction or Bekyra injections to reduce submental fats.
The filler chin augmentation procedure is a minimally invasive way to add definition and prominence to the chin. The procedure involves injecting a small amount of dermal filler into the chin, adding volume and improving the overall shape of the chin. The HA filler is injected into the chin using a blunt cannula, and the entire procedure takes less than 30 minutes. There is little downtime associated with the procedure, and most people report minimal discomfort during the injection. The results of the chin fillers are immediate and can last up to 1 year.
Dr. Alhalak's blunt cannula technique
The traditional method for this procedure is to insert a sharp needle into the chin and inject the filler material. However, this can often result in bruising and swelling. A blunt cannula is a newer needle designed to minimize these side effects. The rounded tip of the blunt cannula helps to reduce tissue trauma, and the flexible design allows the needle to glide smoothly through the skin. As a result, patients who undergo chin filler injection with a blunt cannula often have less swelling and bruising than those who use a sharp needle. In addition, the use of a blunt cannula can also help to reduce the risk of nerve damage.
Chin filler cost
The following is the cost of injecting one syringe of dermal fillers for a chin injection
| | |
| --- | --- |
| Juvederm Ultra | $450 |
| Restylane | $450 |
| Croma | $450 |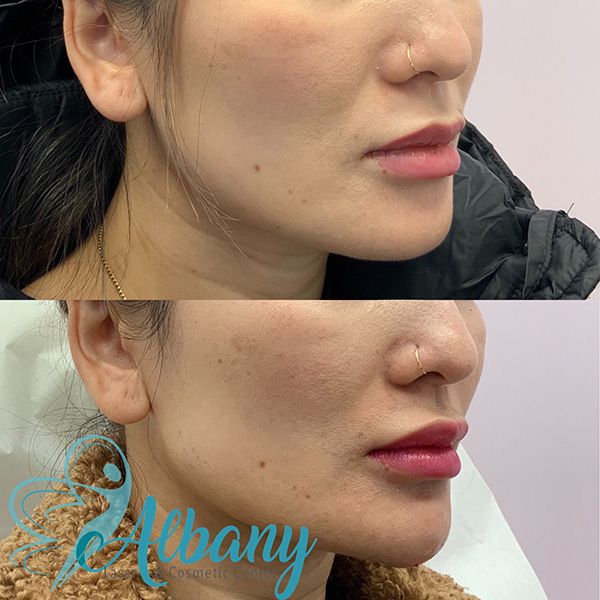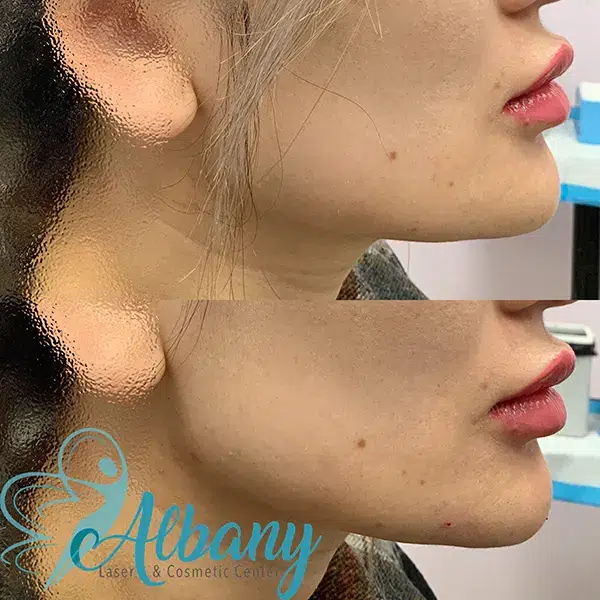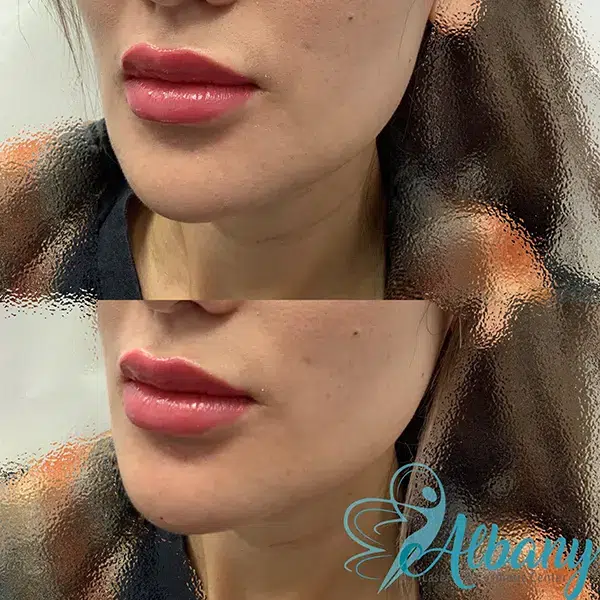 Chin augmentation with fillers can provide immediate results that last six months to a year. Fillers are safe and effective, with minimal risk of side effects or allergic reactions. The procedure results are temporary, so you must repeat the treatment every few months to maintain your desired look. However, many find the results well worth the time and effort required to keep up with the treatments. If you're interested in getting chin fillers, Albany Cosmetic and Laser Center can help. We offer various filler options to suit your needs, goals, and budget. Contact us today to book your consultation.