Can You Trust Sentient Lasers?

The simple answer is No! There are many reasons, but the most important one is the Poor after the service you get. These people, including Eric and Michael, do not keep their promises. My advice is to try a different vendor or buy a brand new one as you might get a broken machine and has no value, and you are 100% stuck with it. Do not pay down payment as you will never be able to get it back for any reason. Once you paid them, it is a done deal… I am currently fighting a $1M claim with sentient lasers after they received an arbitration award via fraud and corruption, If you need help please reach out to me kalhallak@albanylaser.ca and I will try my best to get you out of the trouble
What Happened between Albany Laser and Sentient Laser

To make it short, we agreed on buying some second-hand, blue dot certified machines, and Eric was very cooperative at first. As most of you know, financing a second-hand machine is not very easy as we are in Canada and the Sentient Laser is in the state. I signed the contract a put 10K as downpayment, and the contract was conditional as if the finance was not approved, then the downpayment should be refunded.
Albany Cosmetic and Laser Center had no difficulty securing the funds, even for the used machines, because we have excellent credit as a medical spa. The issue stemmed from the lender's relationship with the sentient laser. It appears as though sentient laser has poor credit or something similar. I inquired of Eric. He stated that it is simply a different company operating under the same name. Regardless, the financial institution refused to release the funds until I signed acknowledging receipt of the machine's inspection, which I refused to do. Eric and his manager attempted to persuade me to do so, citing their impeccable reputation. I refused to sign because it is deemed fraudulent! I was stuck after nearly two months of negotiation. As a result, I called Eric and requested that he cancel the transaction and refund the downpayment. To my surprise, he refused, claiming that the fund had already been approved and the issue was with the money hand change! Regardless, we were able to obtain the machines after nearly three months. I inspected the machine and determined that both were operational, at which point the fund was released to the sentient laser.
Chris Cella from Sentient Laser
Chris Cella, the CEO of Sentient Laser, called me on my phone and assured me that Sentient Laser has an impeccable track record. Additionally, he assured me that he will handle the transaction himself in order to establish a long-term business relationship. Tp be able to secure the fund, Eric agreed to provide an extended warranty for 1 year. 
Sentient Lasers Arbitration
It is critical to carefully read the contract and consult with an attorney to ensure that you fully understand the sentient laser contract. It is stated on page 4 of the contract under Dispute Resolution:
1. Choice of Law. This Agreement shall be governed by and construed in accordance with the laws of
the State of Utah without reference to its conflicts of laws principles.
2. Dispute Resolution. The Parties agree that mediation and/or arbitration encourage broad enforcement
of extrajudicial dispute resolution agreements into which, like this Agreement, the Parties enter voluntarily. The Parties agree that any dispute, controversy, or claim arising out of, relating to, or in connection with this Agreement, including but not limited to issues regarding the formation, applicability, breach, termination, validity or enforceability thereof, shall be submitted for extrajudicial resolution only; first to mediation, and if not resolved in mediation, then to arbitration.
3. Mediation. As the agreed initial step of the Parties' agreement to submit disputes for extrajudicial
dispute resolution only, the Parties agree that for any matter in which the amount in controversy is $100,000 or less, and SL does not elect also to seek an order of replevin, the Parties shall submit the matter for an online, maximum of 2-hour mediation with JAMS Endispute Online Mediation. If the matter is not resolved in the 2-hour mediation, the matter shall go to arbitration, as described here: https://www.jamsadr.com/endispute/ and in the following FAQ: https://www.jamsadr.com/files/Uploads/Documents/JAMSconnect/Endispute-FAQ.pdf.
SL may elect to bypass mediation, if in its sole discretion, it elects to seek an order of replevin in a State court of competent jurisdiction, regardless if the amount of damages SL may seek is less than $100,000.
4. Arbitration. With the sole exception of judicial enforcement of an arbitration award, and SL's
absolute right to seek an order of replevin in a State Court of competent jurisdiction, the Parties agree that no court shall have any jurisdiction over any matter of substantive or procedural arbitrability. All such questions shall be the sole province of one arbitrator. While the Parties do adopt Utah's pubic policy favoring extrajudicial dispute resolution, e.g., arbitration, the Parties specifically agree that this Agreement is not subject to the Revised Uniform Arbitration Act (RUAA) as codified in UTAH
Sentient Laser Machines problems
My first problem came from a broken handpiece. Please look at the picture below.
Consumable. Do not believe their promise of helping them with consumables. It is just lemon, and once you buy the machine, you are 100% on your own. If they offer consumables, it would be overpriced and at least 20% over market value!
After less than six months of use, the Ulthera became locked under code O. Sentient lasers refused to assist with the issue. Nevertheless, we have a spare Ulthera that we can use in the interim.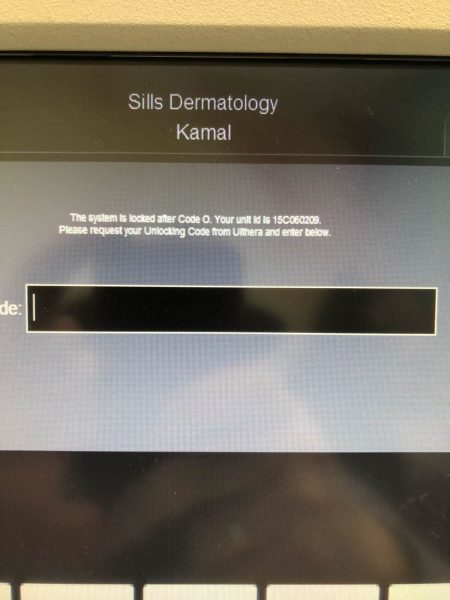 First Email to Sentient Laser
From Dr. Alhallak: The handed pieces you sent me are all cracked. This one is even glued!!!!
Sincerely
Second Email from Sentient Laser
From Eric: Hi Dr Alhallak, Thanks for sending over. I will send this to Service for you and should hear from someone shortly.
Third Email from Sentient Laser
From Eric: Dr. Alhallak, Per the terms of your agreement, you have 48 hours to inspect the machine for shipping damage at the time of arrival and an additional 30-day warranty on anything that was shipped to show you we stand behind our work. The machine was delivered on 7/8/19 and reaching out in November is far outside the 30 day warranty period.We would be happy to evaluate the handpiece if you want to work with Eric to get it shipped back in, but unfortunately, your warranty period is expired and this will have to come in as an evaluation. Thank you,
Forth Email from Sentient Laser

From Eric: Hi Dr Alhallak Happy to help. If you would like to send this in I will offer you a 50% discount on the initial evaluation work, from $450 down to $225. Any additional work needed would of course be billed separately. Unfortunately this is out of warranty (and has been for a number of months). From one message you sent me you mention "We used the cooladvantage piece for the first time" and in another message you sent me you stated "We use the applicator for 6 treatments only!". We're not sure what the truth is, but we are happy to help you out and offer a one-time 50% discount on the evaluation. We hope that helps. Please let me know and I can send you the paperwork for completion to send the applicator in. Thanks
Fifth Email From Me to the lende:

Hello Marie, I want to keep you in the loop to advise the future customer about the scam that Sentient laser is operating. One of the Coolsculpting applicators was broken and glued at their workshop. The fracture is in a very critical latch. We used the machine coupe of times, and the latch fell apart. Now Eric wants to charge me to fix the handpiece.
Sixth Email from Sentient Laser
From Michael to me: Dear Dr. Alhallak and Ms. McKend, I write to you both in my role as Director of Business & Government Affairs. Part of my job is to solve solvable problems. I hope a solvable problem is all we have here. I don't want this to escalate but I do see that potential. I have read all the correspondence and note one to Ms. McKend calling Sentient scammers, and also, some false factual assertions.
Michael Sweig
Michael Sweig is a felon, this is what he said about himself "In hindsight, I was an entitled, greedy bastard," said Sweig, now 51. "I was making over $100,000 a year, and I thought that was a pittance. I was just out of control. My moral compass and judgment skills were pointing completely south."
"Here I was, this guy who grew up in Highland Park, got the great education (a law degree) from DePaul University and had a great family," Sweig said. "I started my own law firm and got into a huge mess with my biggest client. I started doing stuff you just can't do if you're a lawyer."
When the big client refused to pay a substantial legal fee, Sweig started using trust account money to run the firm. Though his former law partner bailed out the firm, they couldn't recover from the loss of revenue — especially with Sweig paying himself way too exorbitantly from the firm's coffers.
"Things got tense, and with the advice of counsel, I came to the conclusion that the only choice I had was to turn in my law license, voluntarily," he said.
 Sweig was never charged with a crime. Sweig's attorney approached the state's attorney and negotiated a plea agreement that resulted in Sweig pleading guilty to one count of theft. The firm ceased operations in 1997.
Sweig stated that he avoided prison due to a combination of following his attorney's advice and his former partner making amends with their clients. However, his life took an unexpected turn.
Sweig received a one-year home confinement sentence, four years of probation, and 500 hours of community service.
Seventh Email from Sentient Laser
From Michael to me: Dr. Alhallak, if you wish to solve this in a controlled, professional, calm, factual, contractual and business-like manner, I am here for you. If you wish to sling mud, I caution you not to get it all over yourself, because that might be what will happen. You have two choices. We have mandatory mediation and arbitration provisions in our contracts. You can resort to those procedures and commence either, now. You can retract the scam allegation immediately with an apology in writing, and we can then attempt to solve what should be solvable. What is your decision? Thank you, both. Sincerely,
Eighth Email from Sentient Laser
From Michael to me: Dr. Alhallak, Thank you for your additional correspondence. You are conflating issues in your social media threats. First, we don't respond to social media terrorists. And you have at least one business problem that harms your credibility. You admit you did not inspect the goods and you admit you are out of warranty. As a self-stated MBA candidate so indicated in your email signature, it's is an interesting confession against the backdrop of social media terrorism: "business is not a contract, it's trust." That goes both ways.Second, if you wanted to raise a quality or customer service issues, being a gentleman instead of a social media terrorist helps. I told you if you wish to retract and apologize to us in writing for telling your lender we are scammers, we have open ears. And one more thing about your unwise involvement of your lender. IF you make your payments, the lender has no stake in this. So telling an essentially disinterested third party we are scammers was unwise. Your contractual, quality and trust issues are not the lender's concern. Presumably, you are a businessman; an MBA candidate, and wise enough to fight your own battles without threatening and bragging about your past social media terrorist exploits and letting people outside your own tent know about it. So do take your own counsel, Sir. Threatening to harm reputation to obtain a financial benefit to which one is admittedly no longer contractually entitled is a crime and a professional and ethical precipice one wonders about being on (before you fall). You must know that. We stand ready and able to address your extra-contractual trust and quality concerns on receipt of your written retraction and apology. You do what you wish regarding social media. Good luck with that.
Sincerely, Michael Sweig
Nineth Email with Sentient Laser
From Michael to me: Dr. Alhallak,I was observing that you are an MBA student, not challenging that you are an MBA student. I'm quite sure at best you are an MBA student, as you indicate. In fact, the transcript you sent me suggests you are not really even a "candidate," but that you took some MBA courses 4 years ago. With all your other degrees and credentials listed in your email signature, I was pretty sure there would be no way that once an MBA had been conferred – if ever – that you would forget to edit your email signature to indicate that you actually have an MBA (which you don't have, apparently). Thank you for attaching your transcript indicating you began MBA studies in 2015. But I also know you are not candid. Your LinkedIn profile, of which I took the attached screenshot earlier today – before you admitted that at least in 2015 you took some MBA courses – unequivocally states that you have an MBA. So does a similar reference you made on your own website or blog. I attach that screenshot, also. I have copied Dean Doucet of the Alberta School of Business, University of Alberta, from which you claim to have an MBA on LinkedIN and your blog. My guess is pretending to have a degree is not a good thing. So, if you do have an MBA, where is the proof? Sir, the reason you can get nowhere with us is you are a demonstrated liar and you likely dropped your own handpiece and broke it. That is the most consistent explanation for all of this. I reinforce my statement that your social media terrorism is unprofessional and illegal. And it is terrorsim; just a 21st Century form of it. I have also received your additional, separate email indicating that you are preparing a social media post about Sentient Lasers, LLC. As I said in my separate email response, be careful.
Sincerely,
Michael Sweig
Complaints against sentinel laser
According to the BBB website, sentinel laser has over 12 complaints in the last three years, which is very concerning
https://www.bbb.org/us/ut/park-city/profile/medical-equipment/sentient-lasers-llc-1166-22290758
Sentient Laser-ICDR coalition
Within the contract, Sentient laser has a clause that the AAA-ICDR must mediate all disputes. Therefore, in my opinion, this arbitration service is biased, money-driven and controlled by Sentient lasers.
Here is an email from Mr. Sweig on 16/4/2021
Time is of the essence.
Doctors Al – Hallak, Tomi and Abdulhafid:
Attached please find Sentient Lasers, LLC's proposed scheduling order. As you know, Arbitrator Zimmerman has directed us to attempt agreement as to how to proceed in this arbitration. Arbitrator Zimmerman's Procedural Order No 2 is also attached.
Please note that Sentient Lasers has asked Albany to stipulate to many facts, and if Albany will not provide the requested discovery, we ask that Albany stipulate to liability and some damages. We will prove the rest of our damages.
In plain language, we are asking that if you will not participate in this arbitration, you agree that your silence should be deemed by the Tribunal as agreement that you are guilty of trademark infringement, defamation per se, intentional interference with Sentient's prospective economic opportunities, and owe us at least the sums of money articulated in the attached proposed order. To be clear, if we obtain an arbitration award against Albany, we will bring individual lawsuits against each of you in Canada because you are vicariously liable for Albany's conduct. This is why you might consider defending this arbitration.
I am spelling this out so perhaps you can show this email to counsel. Dr. Al Hallak, you had counsel in your recent proceeding led my Mr. Kempian. I saw him sitting next to you. He seemed very competent. Perhaps all three of you would benefit from counsel here. The broad, sweeping stipulations we are requesting are intended to save time, and are based on the assumption that you three doctors will continue to ignore this matter as you have to date.
Dr. Al Hallak, one of your recent emails to ICDR Administrator Quiroz questioned the ICDR's authority in this matter. Procedural Order No. 2 should clarify that for you and certainly for any attorney with whom any or all of you three doctors might share this email and the attachments.
Please contact me with questions, comments or counter-proposals, so we can present an agreed scheduling order at the next preparatory conference on April 22, 2021. It will be Sentient's position that unless we hear from you with some formal participation in this proceeding. that you agree to all aspects of the proposed scheduling order, and that you are content to permit the Tribunal to determine what the ultimate scheduling order will be, and ultimately to rule on the merits – without any input from the three of you.
Thank you, Gentlemen
Michael
She is the director of the ICDR and she is personally handling the case! She is an acquaintance to Michael Sweig