Microneedling and injection of plasma
Microneedling is a ground-breaking therapeutic procedure in dermatology. Microneedling enhances a wound healing cascade with less epidermal damage from needle entry-related physical trauma. This enhances the absorption of routinely used topical medications through the stratum corneum's thick layer. Microneedling has gained popularity due to its simplicity, low cost, high tolerance, and cosmetic and therapeutic effects. Due to its capacity to target specific disease areas, numerous studies have been done to evaluate its potential in inflammatory, dyschromia, and photodamage-related disorders. This article discusses the fundamental principles and evidence that underpin Microneedling rising applications. It has shown promising results as adjuvant therapy for atrophic scars, alopecia, actinic keratoses, and pigmentary diseases such as melasma. Treatment for vitiligo remains ineffective. The treatment has fewer adverse effects than other resurfacing procedures, is exceedingly successful, and is a viable option for persons with darker skin. Additional research is required to determine the device's frequency, interval, and specific parameters. Additionally, well-controlled trials are necessary to demonstrate the efficacy of microneedling as an evidence-based regimen for the treatment of a variety of dermatologic disorders.
Terminology Used in Procedures
Non-invasive skin rejuvenation procedures such as subsurface resurfacing and laser toning have been referred to by various terms. Combination treatment is described as a technique that combines at least two independent and unrelated modalities, such as microneedling and platelet-rich plasma (PRP, vampire face) or trichloroacetic acid (TCA) or a laser or light device and a non-laser technology, such as radiofrequency.
Appropriate patient selection and many strategies result in individualized treatment with the greatest results achievable. Multiple sessions of integrated minimally invasive modalities, combined with future home devices, may bridge the clinical and histological improvement gap between ablative and nonablative treatments.
Combinations of minimally invasive procedures are used to treat a range of aesthetic skin concerns, including acne scars, skin laxity, hyperkinetic facial wrinkles, and hyperpigmentation disorders.
Treatment of Acne
Acne affects about 90% of adolescents and may persist into adulthood in approximately 12%–14% of cases, resulting in psychological and social problems. Certain types of acne patients develop permanent, disfiguring scars due to accelerated tissue development or as a result of tissue loss or injury.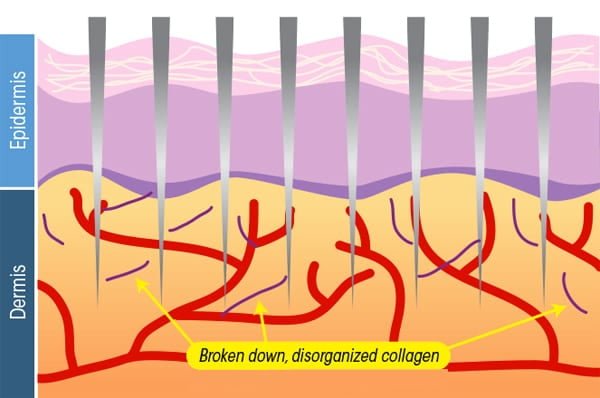 There are several therapy options for post-acne scars, including medicinal, surgical, procedural, and tissue augmentation techniques and a variety of ablative and nonablative lasers and light intensities. Treatment must be tailored to the patient's needs, tolerance, and desired outcomes, as well as the physician's assessment, abilities, and expectations, from among these countless options. The patient should be informed that the ultimate goal of any intervention is to improve the appearance of the scars and that no treatment now available will entirely eliminate or perfect the scars.
As demand for minimally invasive, highly successful cosmetic operations develops, a combination of acne scar treatments has shown favorable results with no substantial failure rates or missed workdays. Patient satisfaction is high, downtime is minimal, and the treatment is cost-effective for the patient.
Microneedling
Microneedling is a relatively new technique for collagen production. Microneedling is gaining popularity as a minimally invasive alternative to laser skin tightening, rejuvenation, wrinkle reduction, and scar treatment. It originated as a handheld instrument and grew into a microneedle-equipped roller. The most advanced devices are automated and are capable of moving perpendicularly in a continuous or actuated mode.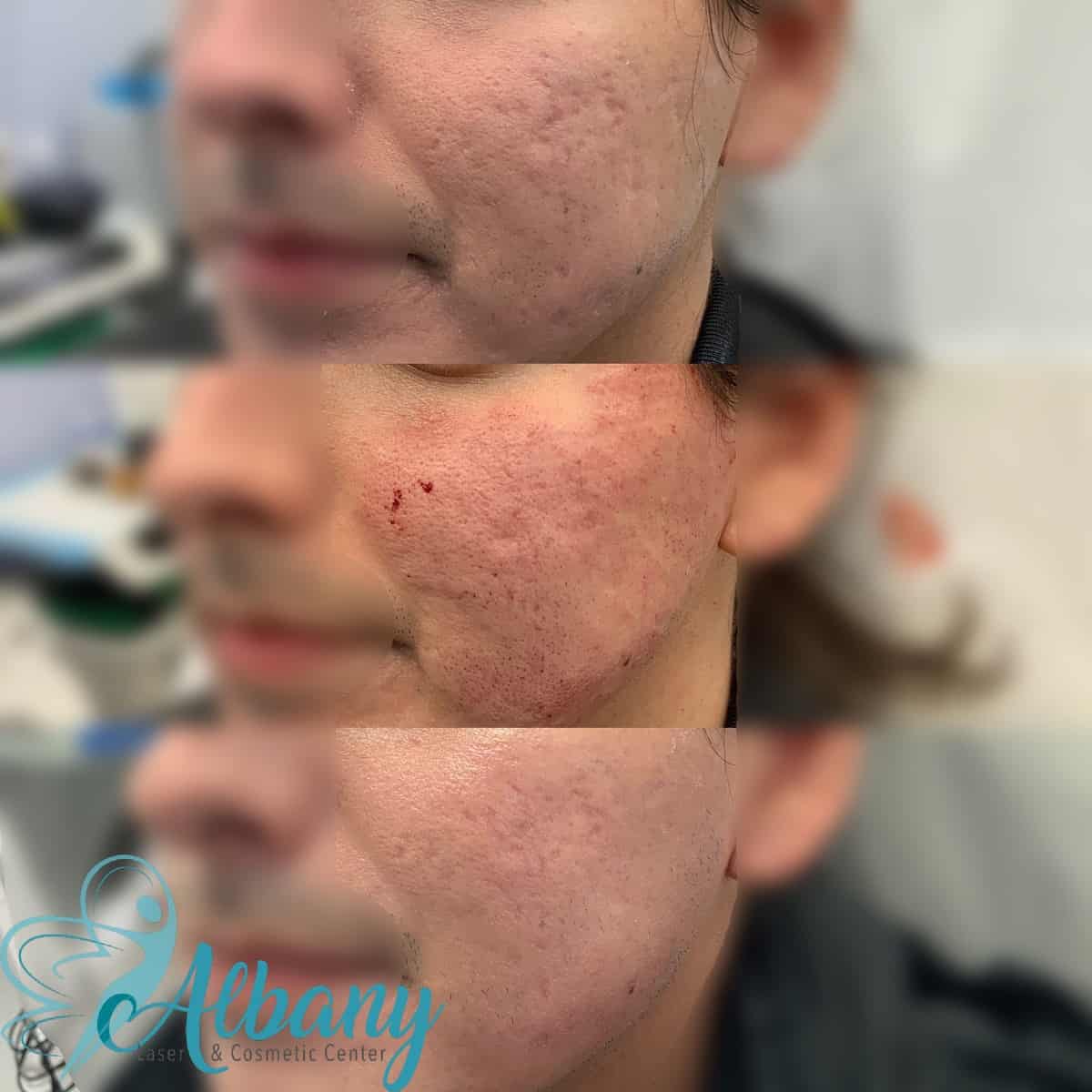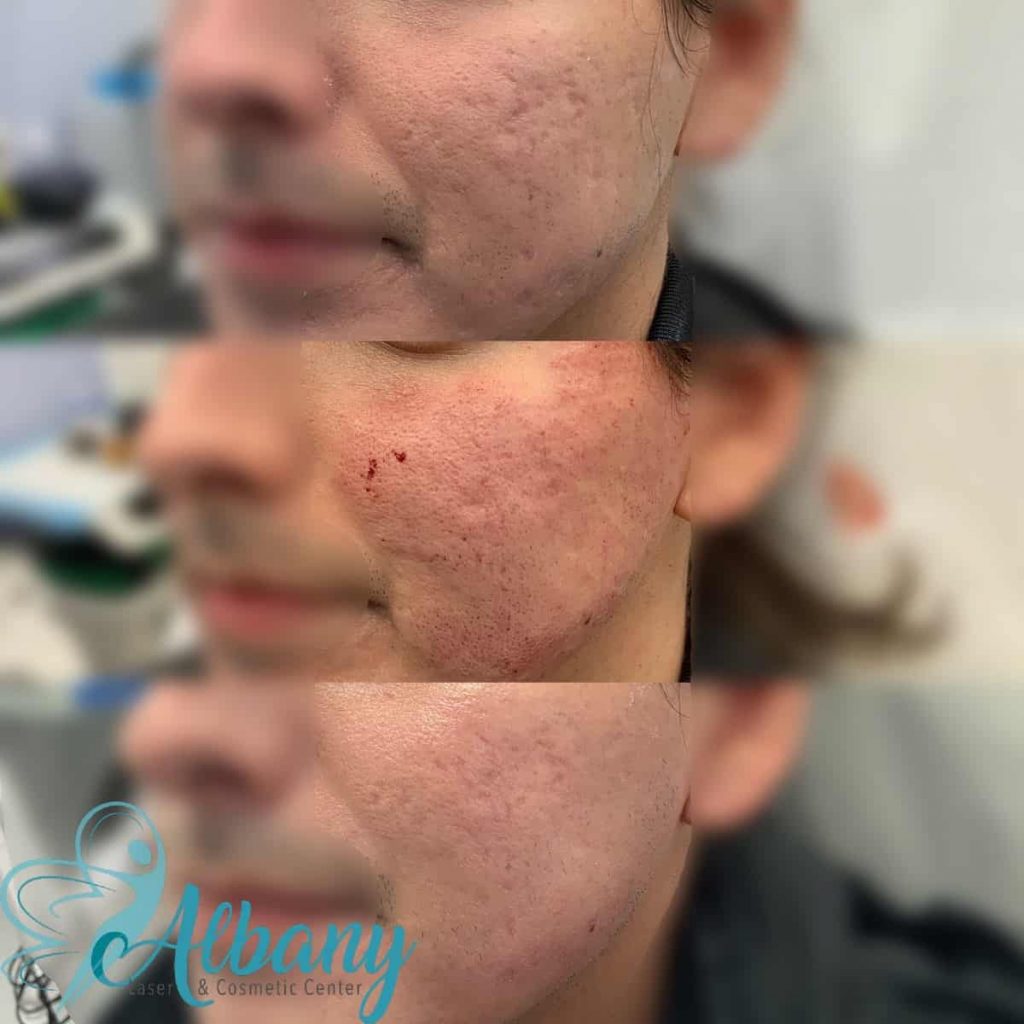 Microneedling devices are more convenient and produce less discomfort than the conventional roller. Adjust the depth of the needle between 0.25 and 3 mm. The needle's micro-punctures promote tissue remodeling and collagen induction, which results in skin tightening and wrinkle reduction. This approach of mending micro-wounds stimulates the fibroblast to form new collagen bundles and straightens the skin. It is mostly used in places with thicker skin, such as the perioral area. It is used to rejuvenate photoaged skin, cure wrinkles, and fade acne scars. In certain cases, up to six microneedling sessions over three months may be required to see meaningful improvement. According to another study, as few as three sessions may be necessary to generate meaningful results on atrophic acne scars. The most frequently reported adverse reactions to include pain, erythema, and edema. Because the bulk of the skin is preserved, several adverse effects are avoided with other modalities (lasers). The newest, most expensive microneedling equipment is powered by radiofrequency energy. This energy will be converted to heat and substituted for the laser beams. Microneedling radiofrequency fractional microneedling radiofrequency fractional -microneedling fractional radiofrequency -microneedling fractional radiofrequency -microneedling fraction with a high frequency (MFR).
Infinite microneedling system
Autologous platelet-rich plasma (vampire facial) therapy has gained popularity in recent years, mostly for skin tightening, acne scar removal, and wrinkle reduction. PRP is derived from the patient's own blood and is high in platelets, a strong source of growth factors. ONE STUDY FOUND THAT combining PRP and microneedling enhances skin tightening, acne scar reduction, and wrinkle elimination compared to microneedling alone. A 20-week prospective, randomized, split-face study compared the effects of a 1450-nm diode laser's effects on microneedling radiofrequency on mild-to-moderate acne vulgaris and seborrhoea in Korean patients. Both the diode laser and FMR successfully treated acne and seborrhea with a tolerable safety profile. FMR outperformed DL in terms of long-term maintenance and subjective texture and scar repair assessments. As a result, a few sessions with one of these devices may be an effective treatment option for acne.
Conclusion
In conclusion, increasing evidence supports microneedling as a safe and effective scar and wrinkle treatment alternative. The present corpus of information involves methodological problems, and additional research is required to truly establish microneedling as an evidence-based treatment option for scars, wrinkles, and other skin conditions.
Kindly contact us to schedule a no-cost consultation. The Albany cosmetic and laser surgery center is Edmonton's most highly advanced beauty facility. Our top-of-the-line laser and microneedling machines, combined with the expertise of our medical aestheticians, are the best choice for skin tightening, wrinkle removal, laser hair removal, pigmentation removal, melisma treatment, body shaping, fat reduction, fat removal, body slimming, and body contouring, as well as skincare, skin resurfacing, and skin rejuvenation.