O'Shot for Better Sex
O'shot helps many women suffer in silence because of a loss of interest in sex or orgasm problems that may result from pregnancy, hormonal changes, or aging. Fortunately, you can revitalize your sex life using Platelet Rich Plasma (PRP) with O'Shot.
O'Shot can increase lubrication and urinary incontinence, strengthen orgasms and offer huge benefits with sex and intimacy. O'Shot uses platelet-rich plasma to stimulate the regeneration of cells and tissues of the vaginal wall and clitoris. This regeneration increases tension, blood supply, lubrication, and sensations. All of these benefits play an important role in improving sex, with stronger orgasms and greater intimacy.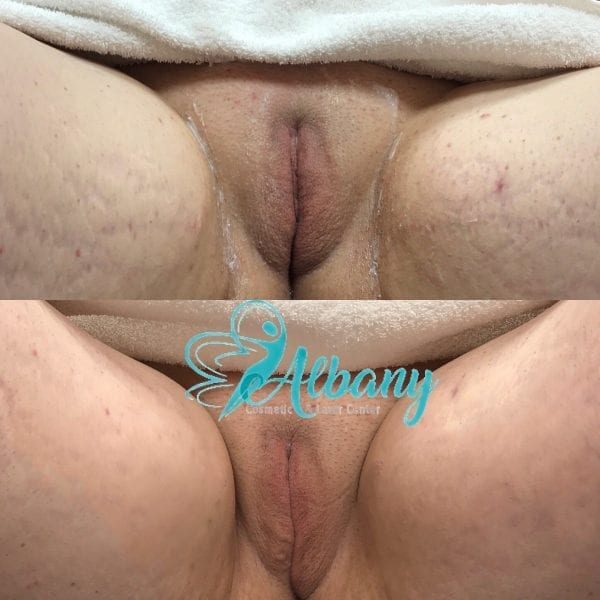 What is O'Shot?
O'Shot is an injection of Platelet Rich Plasma (PRP) into the anterior vaginal wall (the G-spot) and the clitoris. PRP is a serum of concentrated growth factors that participate in the normal healing of wounds and are recovered from the blood. Having the best sex in your life is a natural rejuvenation of tissues.
How does O'Shot work?
The O'Shot method begins with a simple blood sample to prepare PRP. The platelet-rich plasma that contains the growth factors extracted from your blood is injected into an area close to the clitoris and into a region of the upper vagina that is more important for the sexual response (the "o-spot"). These areas are anesthetized with local anesthetic cream before injection so that patients experience little or no discomfort during the procedure.
What to expect
O'Shot is a way for women to improve lubrication, sensation, incontinence, and orgasm. The effects of this simple treatment are visible only 2 days after the procedure but will continue to improve until 8 weeks; the result increases desire and sex more pleasantly.
Is O'Shot safe?
The medical literature to date does not mention any severe side effects of platelet-rich plasma injection with a kit EVER approved by the FDA. The FDA has approved about 20 different laboratory kits for this purpose. PRP is obtained from the patient's blood; therefore, there is no possibility of allergic reactions.
How long does the procedure take?
This procedure in the office takes about 30 minutes. It takes 25 minutes to extract and prepare the blood and 5 minutes to inject it back into the body.
How long will my results last?
Your results won't be permanent, and their longevity will depend on how many O'shots you have and whether they're joined with other vaginal rejuvenation treatments. You can expect the effects of the shot to last anywhere from 8 to 16 months maybe longer.
How painful is the O'shot?
firstly, we apply topical anesthesia (and possibly an ice pack), followed by an injection of local anesthesia, the O'shot shouldn't feel worse than a pinch and some pressure. But because the O'shot has the potential to be extremely painful, some doctors prefer other procedures.
Is O-Shot good for me?
O'Shot is for women who wish to improve their sexual relations and relieve the symptoms of urinary incontinence due to real stress. This injection helps to increase sexual desire, strengthens orgasms and enhances the ability to get vaginal orgasms more often, causes greater excitement of clitoral stimulation, helps to tighten vaginal opening, reduces pain in women suffering dyspareunia (painful intercourse) and increases natural lubrication. It is also ideal for women who want to rejuvenate their vaginal area without surgery or hormones. O'Shot can relieve the symptoms of sexual dysfunction and other female problems such as:
Decreased libido
Pain during sex
Achieve a difficult orgasm
Difficulty reaching excitement
Vaginal dryness
Stress incontinence
Benefits of O'Shot
No surgery
Drug-free
Greater excitement due to clitoral stimulation.
Younger and softer skin of the vulva (lips of the vagina)
A tighter introitus (vaginal opening)
More pink, younger, the color of the vulva.
A stronger orgasm and more frequent.
Increased sexual desire
Decreased pain in people with dyspareunia (pain during intercourse)
More natural lubrication
Improved symptoms of urinary incontinence.
Reduction of inflammation in the condition of lichen sclerosus (revealed by biopsies before/after)
Fast and painless: The injections are fast and not painful, if any because we freeze the area before the injections.
Urinary incontinence: O-Shot can help fight urinary incontinence and women with common sexual conditions.
Rejuvenation safely: O-Shot uses platelet-rich plasma from a person's blood and is not a chemical or synthetic substance. It's completely safe.
Vaginal rejuvenation: For women of all ages who have a dull vaginal sensation or vaginal looseness. For women who have never had an orgasm or are trying to improve their impression during sex.
What are the common side effects of O'Shot?
The process is generally positive for most patients. There may be small redness or swelling around the injection site for one or two days. The most remarkable side effects are rare.
Other side effects sometimes seen may include:
Itching
Discoloration
Contrariety
Bruising
Most patients can follow normal daily activities after the O-Shot. However, you must hold strenuous efforts, the transport of heavy objects and intense sexual activity for one or two days. Moreover, you might need to use Gentle cleansing products to clean the injection site for the first few days after injection.
Who can benefit from O'Shot?
If you are a woman experiencing sexual problems such as lack of desire, inability to reach an orgasm or urinary incontinence, you know how much these problems can be frustrating. Most women are embarrassed or nervous about talking about these issues to their doctor or gynecologist, and many doctors do not have much to say about these critical issues. Until recently, there were very few ways to address these women's concerns, other than the prescription of hormones or the suggestion of psychotherapy. There is now a new treatment called Orgasm Shot or O-Shot, which offers hope for these disorders through a simple and relatively comfortable procedure in the office.
Can every injector manage the O'Shot?
The O-Shot procedure is a particular method of injecting PRP to rejuvenate the tissues of the vagina. Although the process is simple, adequate training and special laboratory tub to prepare the PRP are required.
How much does the O-Shot cost?
O'Shot costs vary from one patient to another, depending on various factors, such as the number of treatment sites and the need for subsequent injections.  We regularly charge 1200 for one session