WHAT ARE NASOLABIAL FOLDS AND WRINKLES
Nasolabial folds and wrinkles are lines situated on either side of the mouth. They are easy to notice when you grin.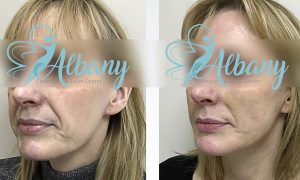 Except for infants and individuals whose appearances are deadened because of a therapeutic condition, nearly everybody has nasolabial folds and wrinkles. As the skin progresses toward becoming droopy and thinner, many individuals find that their nasolabial folds and wrinkles become more discernible. Threads have been promoted as another option for more invasive treatments such as a facelift because of the long recuperation time or cost of undergoing a surgical facelift.
WHAT ARE THREADS, AND HOW DO THEY WORK FOR FOLDS AND WINKLES REMOVAL?
Threads enhance facial lift and aid skin restoration developed from research and involvement in both surgical facelift procedures and the utilization of needle therapy. Two sorts of facial threads exist that mirror the two not alike yet co-occurring objectives of treatment, which are to:
Stimulate neo-collagenases and neovascularization using an inflammatory interceded wound healing component, prompting enhanced skin tone and surface (like numerous other skin restoration treatments), bringing about skin revival/fixing through guided incitement of Collagen, Elastin, Reticulin, and Extracellular; and
To draw in the subdermal tissues with projections or snares coming from the thread itself, empowering the tissues to be immediately pulled, lifted, and settled in another attractive hoisted position. This is successfully a method for mechanical help and physical lifting, repositioning, and re-molding drooping or sagging tissues.
WHAT DO I NEED TO KNOW ABOUT PDO THREADS FOR FOLDS AND WRINKLES?
While numerous materials have been tested before, the most secure and best items are currently developed from fine fibers of Polydioxanone (PDO).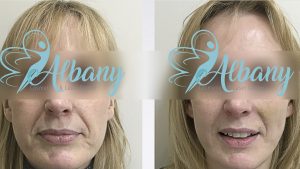 PDO is a dreary, crystalline, biodegradable engineered non-animal-based polymer. It has been used as a suture material for wound closure for a long time and has been used in facial thread treatments for more than 15 years. When discussing PDO threads, we, for the most part, talk as far as "mono threads," which are straightforward PDO strands utilized exclusively to accomplish the objective of dermal rejuvenation; and as far as "cog threads," which are PDO strands with snare like projections, used for both dermal improvement and to draw in and "lift" drooping tissues.
WHEN DOES BIODEGRADABLE PDO OCCUR?
Biodegradation of PDO happens through hydrolysis over a time of around six to eight months and keeping in mind that prompt "lifting" impacts can be seen instantly upon item placement, results keep on improving over time. Despite the threads themselves corrupting after this period, full results are kept up for up to two years as a region of flexible fibrosis is formed around where the thread was embedded, subsequently making a thick auxiliary supporting system long after the thread has dissolved.
WHAT ARE THE THREADS MADE OF?
The threads are polydioxanone (PDO), a safe material used consistently in heart surgery. It doesn't create unfavorably susceptible responses or dismissal and has no side effects. The threads normally break down and dissolve more than 6-8months into carbon dioxide and water.
HOW LONG DOES IT LAST?
The threads themselves break up and dissolve in around 6-8 months, yet the impacts keep going for one-two year.
IS THIS A PAINFUL TREATMENT?
A solid topical anesthetic lotion is applied 1 hour before treatment, limiting pain. The sensation is portrayed as a slight stinging like a needle therapy treatment.
HOW LONG DOES IT TAKE? WILL I BE ABLE TO RESUME MY DAILY ACTIVITIES?
The procedure takes 40minute to an hour (this depends on the region being treated). Around 50-70 threads are utilized to treat the entire face. Immediately after the treatment, you will have the capacity to drive and resume your daily routine, however, wounding is likely and downtime of 3-7 days is plausible, depending upon the individual's reactions. Make-up can be used after treatment.
HOW CAN I DIFFERENTIATE PDO THREADS?
First, it is vital to recognize differences between threads used for skin rejuvenation or restoration and threads utilized for lifting ptotic skin.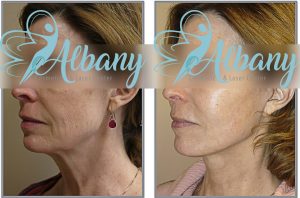 These are both free-skimming threads and not moored to any point. Those for skin restoration are utilized to improve the texture and tone of the skin and are monofilament threads, which are used as part of lattice-work settings embedded into the dermis. More often than not, around 10-120 threads are embedded at a one-time contingent upon the indication. These straight and smooth threads are mounted on a 25G-31G needle, embedded into the skin, where because of the folding of the thread on the needle mount, it turns into a 'V' shape and stays in the skin. These threads are most typically made of polydioxanone (PDO). If histology is performed, a remote body response can be found from the center dermis to the subcutaneous layer, and there is fibrosis and lymphocyte bunching. After monofilament inclusion, there is an inconspicuous yet quick lift evident. Threads for lifting can be either cogs or barbs, which mechanically lift the skin.
WHAT IS THE MAXIMUM AMOUNT OF LIFT THAT CAN BE ACHIEVED USING BARBS AND COGGED THREADS?
The greatest measure of lift that can be accomplished utilizing barbs and cogged threads is around 1cm.
WHAT ARE THE SIDE EFFECTS OF PDO THREAD?
The intricacies and potential side effects include Haematoma formation, Nerve harm, Sensory weakness, Chronic pain, Palpability (more typical in cogged threads; however generally settles following a few days), Hypersensitivity.
WHAT IS THE COST OF REMOVING NASOLABIAL FOLDS AND WRINKLES?
The average cost of expelling Mid facelift, including cheek lifting and nasolabial folds and wrinkles, is $1,104
ASIDE FROM NASOLABIAL FOLD AND WRINKLES, WHAT CAN THREAD TREAT?
As a skin restoration treatment, PDO threads can treat fine lines and wrinkles and enhance skin tone and texture. With their mechanical "lifting" impact, threads can help in cheek and mid-face upgrades, treat cheeks and upgrade jawlines, offer answers for nose augmentation and brow lifts, the presence of double chins and marionette lines. In the general range of facial rejuvenation, Threads are used early in treatment design, after utilizing Botulinum Toxin to lessen the activity of depressor muscles like Platysma and before the use of dermal fillers, which can frequently serve to overload the face further. The capacity to reposition tissues is decreasing, and in some cases, getting rid of the significance of the utilization of other costlier and capricious treatments. The best results are accomplished in facial rejuvenation when a mix of treatments is utilized together to handle the different parts of the aging process.
WHAT IS THE ADVANTAGE OF USING PDO THREADS OVER OTHERS?
The carrier needles or cannulas permit substances such as hyaluronic acid and blood concentrate like Concentrated Growth Factors (GCF) to be conveyed to the deep layers of the skin and further stimulate tissue healing.
WHAT MAKES PDO FACIAL THREADS ONE OF THE MOST SOUGHT-AFTER COSMETIC PROCEDURES?
The fundamental reasons that PDO facial threads have turned into a huge thing in skin restoration is a direct result of the usability and the brilliant reproducible and sustainable results that can be accomplished amid a half hour procedure, in the seat, under local anesthesia, that additionally brings about just minor side effects (e.g., gentle transient wounding and swelling), and the low rate of complications.