Juvederm in Edmonton
If you have been considering Juvederm Dermal Fillers in Edmonton, Albany Cosmetic and Laser Center is your spot.
What is Vycross and Hylacross?
"Which Juvederm dermal fillers should I use?" "Do I want Vycross of Hylacross?"Are these questions you may have?
Vycross and Hylacross are two types of dermatological fillers that are made to be used on the face. Although these two products are designed to do a similar job, there are many differences between these two fillers
The differences between Vycross and Hylacross
There are a few differences between these two products and knowing the differences will help you to decide which is the best option for you for when you book your appointment with Albany Cosmetic and Laser Center.
Vycross is a slightly more expensive product. Vycross is one of Allergan's 2016 range of Juvederm products. These products are biodegradable, last longer than their predecessors, are smoother to inject and are completely reversible.
The products that use Vycross include:
Volift – best used for depressions in the nasolabial folds and gives brilliantly defined muscles.
Volbella – best used around the eyes, for tear trough, and under-eye corrections. 
Voluma – best used on the cheeks and mid-volume areas.
Indications that Vycross might be the right option for you:
Volbella Juvederm
Improves radiance and quality of the skin. Reduces wrinkles, acne scarring, dry or rough skin, increase volume and brightens skin.
Volift Juvederm
For patients wanting to improve lips, lip lines, marionette lines, fine lines, crows feet, nasolabial folds, chin, and jawline contouring
Voluma Juvederm
For patients who want deep injections in their cheeks. Correcting age-related skin issues and problems around the mid-face.
Hylacross
The main difference between Hylacross and Vycross is that Hylacross is a gel. Hylacross is also known as Hyaluronic Acid Gel, which is a product specifically designed to be a smoother facial fillers. Hylacross is not as thick in consistency as Vycross. It was developed exclusively by Allergan and is patented to the Juvederm brand.
The products that use Hylacross include:
Juvederm – plain Juvederm, without any other name attached, uses Hylacross over Vycross. It has a smoother consistency compared to other facial fillers found on the market. 
Ultra Plus – acts as a sponge to absorb nutrients and transport them while it fills. It is thicker than Juvederm.
XC – used on the mouth and nose to give long-lasting smoothness and natural results that the Dermatology Institute says will last up to one full year.
Indications that Hylacross may be the right option for you:
Ultra Plus Juvederm
For patients who are seeking moderate to severe corrections of wrinkles or facial folds.
Juvederm XC Juvederm
Treats moderate to severe facial wrinkles, including nasolabial folding.
Take the Filler Survey for Better Results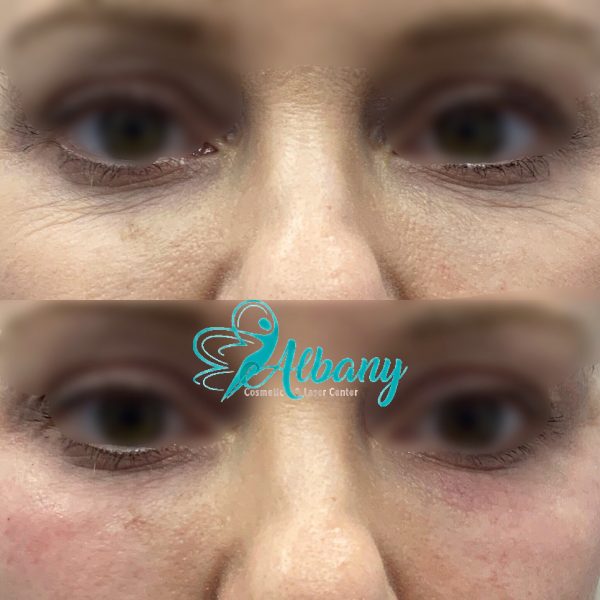 Safety
Non-crossed linked fillers will break down in the body within 12-months until there is no trace of filler left in your body. However, Vycross and Hylacross will not. We do not need to perform skin or allergy test for dermal fillers as they are hypoallergenic. Moreover, they should only ever be administered by a trained medical professional.
They should not be used by patients who have/are:
Sensitivity to Hyaluronic Acid or lidocaine
Epilepsy, cardiac or rheumatic issues
Taking anti-coagulants
Swollen skin or those with hypertrophic scarring
Pregnant or breastfeeding
Side effects
There are very few known side effects to either Vycross or Hylacross. Those that we do know about are listed below. There is a very small chance that you will be sensitive to some of the ingredients.
After a Hylacross treatment, side effects may include:
Itching, discoloration, lumps, and bumps in the area
Swelling and inflammation, tenderness and redness
Bruising and physical pain on the treated site
Dermal filler injections side effects may include:
Pain and tenderness in the treated area
Bruising, itchiness and swelling
Discoloration, lumps or bumps and firmness
Any side effects from either product are generally very mild and should be completely reversible should they arise. Any pain experience will likely be as a result of breaching the dermis with the needle, and not related to the product or treatment.
Before and after instructions
Most clients go back to work the next day. A little redness or tenderness is the worst to expect. Turn up for your consultation about Juvederm in Edmonton and your specialist will tell you the rest!
Cost of Juvederm
The average cost of either Juvederm Vycross or Hylacross is between $500 and $600 per syringe. Consult with your health professional to choose the treatment that will be best for you.
Duration of Juvederm
Dermal fillers last between 6 to 18 months. However, You will likely want to book your next session before the end of that period. Allergan improved both Juvederm products to last longer than normal fillers.